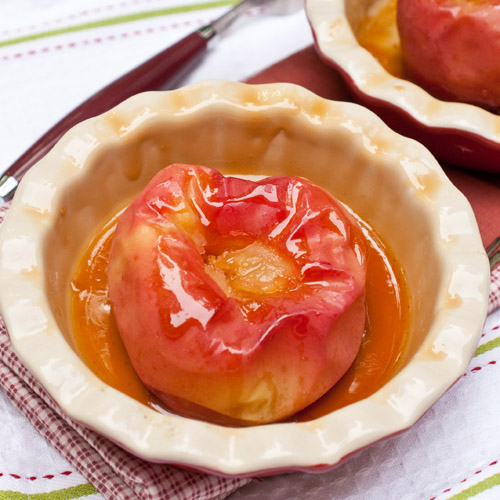 My family and I bought way too many apples at a pick-your-own farm recently–that's my grandson lugging one of the baskets we picked. As a result, we've been eating them both raw and cooked nearly every day. I like traditional baked apples, but I also like having baked apples ready, from start to finish, in less than 15 minutes. So, most of the time, I make hurry-up microwave-baked apples.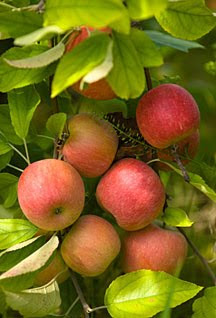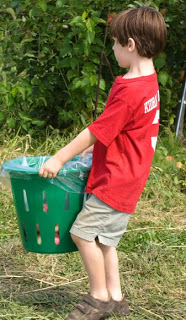 Microwave-baked apples come out tender and appetizing, but quite different from oven baked. Juices don't evaporate from the dish; the apples don't cook down much; and they keep more of their color than oven baked.
Some apples are definitely better for baking whole than others. Honeycrisp, shown here, are wonderful for baking because they retain their color and shape well. Some comparison pics, here, show how several different varieties can come out. Check out the results of my extensive side-by-side apple testings here.
To ensure that all the apples are done at the same time, choose ones that are all the same size. Microwaving time will depend not only on apple size and variety but wattage of your oven. If you decide to reduce the total number of apples be sure to also reduce the baking time.
(To make sure you don't miss any of my recipes, sign up for my free newsletter here. Issues always include an exclusive recipe not published on my site, plus behind the scenes info on what happening at Kitchenlane.)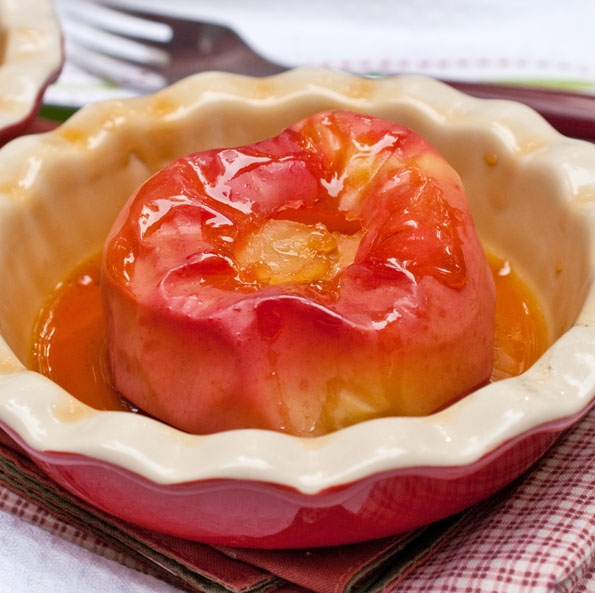 Tip: If you ready baked apples often consider buying a new, good quality apple corer. The modern ones have a sharp bladed cylinder that plunges down through the center, making the core extraction very fast and tidy.
Tip: If you'd like more info on what apples are best for baking, I've done an extensive side-by-side apple bake-off and posted my results here.  I've also come up with an even easier 2-ingredient "baked" apple recipe (it calls for only sugar and apples!); check it out here.

Hurry-Up Microwave-Baked Apples
Ingredients
½ tablespoon unsalted butter, softened
3 tablespoons firmly packed light brown sugar (can increase this for very tart apples)
¼ teaspoon ground allspice or ground cinnamon (or use ¼ teaspoon of both)
4 6- to 9-ounce baking apples, such as Braeburn, Empire, Honeycrisp, Jonathan, or Rome
2 tablespoons water combined with 1 teaspoon lemon juice
Instructions
In a small bowl thoroughly stir together butter, brown sugar, and spice. Using apple corer (or small, sharp paring knife), core apples; if possible, remaining center cavity should be no more than 1 inch in diameter. If necessary, trim bottoms so apples stand up. Using tip of a paring knife, puncture each apple about halfway down and ½-inch deep on four sides. This aids release of steam, helping the apples to stay intact.
Arrange apples upright in a deep microwave-safe casserole large until to comfortably hold them; drizzle the lemon water over them. Spoon the sugar mixture into the apple cavities.
Microwave apples, covered with a microwave-safe cover, at 100% power. At 6 minutes begin checking to see if apples are tender by piercing with a fork; baking time may range from 6 to 12 minutes. Let apples stand a few minutes before serving. Transfer apples to individual bowls and spoon the cooking juices over them, dividing equally. Serve plain for breakfast or snacks, or with a scoop of ice cream for a healthful, but yummy dessert.
Makes 4 servings.
It's amazingly easy to turn these apples into a fabulous dessert just by adding scoops of ice cream, drizzling over some
amazing caramel sauce (shown below),
and if desired, a pinch of sea salt–oh my! Or if you're in the mood for another fine homestyle apple dessert check out my favorite
Apple Crisp
or
Blueberry-Apple Crumble
.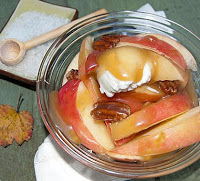 To simply look at some beautiful pics of autumn bounty, including  apples, squash, pumpkins and corn, click here.