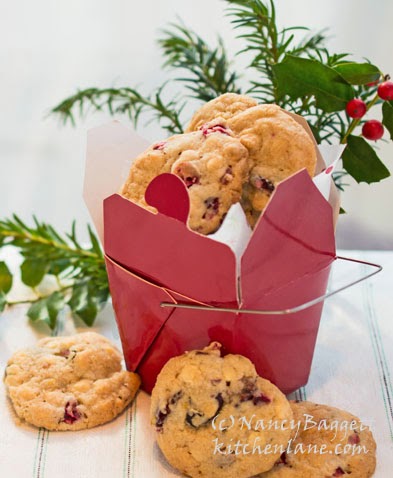 This unusual drop cranberry-white chocolate cookie calls for both fresh and dried cranberries. They add color and balance the sweetness of the white chocolate. The recipe is from my All-American Cookie Book. I showed this cookie on an appearance on NBC's Today Show and on a satellite media tour in 2004, and it was a big hit. (Another recipe from the book that's been really popular is the cream-cheese frosted pumpkin cookies here.)
The cranberry, which ripens in autumn, is native to the American north, northeast and northwest coastal areas and was part of the diet of some native Americans. They introduced cranberries to the early colonists–but–just so you know–nobody ate cranberry sauce at the "first Thanksgiving." (For one thing, the settlers had no sugar to make it with.)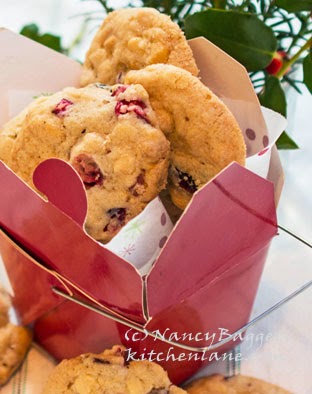 What's up with the name "cranberry?" The plants have nodding blooms with stamens that look like long, thin bird beaks. So, Dutch settlers dubbed them  "kranbeere" (crane-berry in English), and it stuck.

Cranberry-White Chocolate Drop Cookies--Unusual, Festive, Delish
Don't even think about leaving the fresh cranberries out of the recipe. They add a zing that not only contrasts the white chocolate nicely but provides bright color. And they help keep the cookies moist. These cookies are perfect for any fall menu, especially for Thanksgiving and Christmastime. Actually, they are so popular at my house, I keep some fresh frozen cranberries in the freezer and make them all winter long.
Ingredients
1⅔ cups all-purpose white flour
1 teaspoon ground cinnamon
1 teaspoon baking powder
¼ teaspoon baking soda
¼ teaspoon salt
1 cup unsalted butter, slightly softened
1 cup packed light brown sugar
1¼ teaspoons finely grated orange zest (colored part of the skin)
1 large egg
2 ½ teaspoons vanilla extract
1 ½ cups (6 ounces) each chopped pecans
and dried sweetened cranberries
1¼ cups (7 ½ ounces) white chocolate morsels
½ cup chopped fresh (or thawed frozen) cranberries
Icing (Optional)
1 cup sifted powdered sugar
2 to 3 teaspoons fresh lemon juice
⅛ teaspoon vanilla extract
Instructions
Preheat oven to 350 degrees F. Generously grease several baking sheets, or coat with nonstick spray.
In a medium bowl, thoroughly stir together the flour, cinnamon, baking powder, baking soda, and salt. In a large mixer bowl with the mixer on medium speed, beat butter until lightened. Add brown sugar and orange zest. Continue beating until well blended. Add egg and vanilla. Beat until very light and fluffy, about 1 ½ minutes longer.
Beat or stir flour mixture into butter mixture until smoothly incorporated. Add pecans, dried cranberries, white chocolate morsels, and chopped fresh cranberries, stirring until evenly distributed throughout. Drop dough by heaping tablespoonfuls, spacing about 2 ½ inches apart on baking sheets.
Bake the cookies, one pan at a time, in the middle third of oven for 8 to 12 minutes or until lightly tinged with brown all over and just firm when pressed in the center; turn the pan around half way through baking to ensure even baking. Let cookies stand on the sheet briefly to firm up slightly. Using a wide spatula, carefully transfer cookies to racks set over sheets of wax paper (the cookies will still be tender).
For icing: Stir together powdered sugar, lemon juice, vanilla and enough water to yield a slightly runny icing. Using a spoon (or a piping tip) immediately drizzle the icing back and forth over cookies until lightly decorated. Let stand until they are thoroughly cooled and the icing sets, at least an hour. Pack airtight and store for up to 2 weeks or freeze for up to a month.
Makes about 35 to 40 2 ½-inch cookies.
Other posts you might like: How to hold a holiday cookie exchange
here
. Check out my cranberry pudding
here
or pumpkin bread pudding
here.