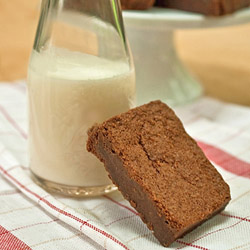 It's hard to imagine American baking without brownies, but so far as I can tell, not a single recipe for these fudgy, uniquely American favorites was published before the 20th century. The 1905 and 1906 editions of Fannie Farmer's The Boston Cooking-School Cook Book included a chocolate brownie recipe, and two more appeared in the Lowney's Cook Book, published in 1907 by Boston chocolate and cocoa purveyor, Walter M. Lowney. At the time, he was a major competitor of Baker's, but, obviously, eventually lost out. (If you're hungry for brownies but are counting calories or trying to eat healthfully, check out my Better for You Brownies. or Shauna Ahern's Gluten-Free chocolate brownies.)
Lowney's Brownies are not fancy but are incredibly good—moist, dense, and chocolatey— and reminiscent of many brownies that cooks began preparing around the country in the early 20th century. Most of these called only for unsweetened chocolate and contained no additions except nuts. They are remarkably uncomplicated to make. A variation of this recipe appears in my All-American Cookie Book.
Lowney's 1907 Heirloom Brownies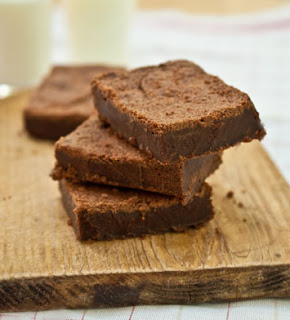 Notice in the pic at the bottom that the brownies have been removed from their pan; this makes them easier to cut. I also like to trim away the overdone edges, but this is entirely optional. Even though early recipes didn't call for lining the pan with foil so the finished slab can be lifted out, now that we actually have foil available, it's a wonderfully handy step.
It also means the brownie baking pan may not need to be washed after baking.
The brownies are delish as is but are also terriffic as a base for brownie sundaes like the one below. Either my old-fashioned hot fudge sauce or quick, light chocolate sauce is tempting with these brownies. (If you're in the mood for more easy chocolate recipes, also check out my rocky road faux fudge.)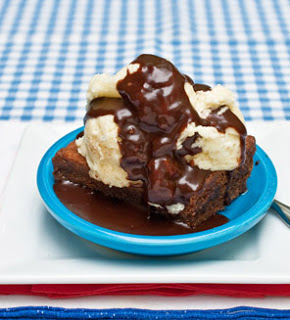 Tip: Mixing the batter by hand, as the original recipe directs, yields dense, fudgy, fairly thin brownies. If you prefer to use a mixer be very careful not to overbeat or too much air will be whipped into the batter and the flavor will be less intensely chocolately.
3 ounces unsweetened chocolate, coarsely chopped
3/4 cup unsalted butter, slightly softened
1 1/2 cups granulated sugar
3/4 cup all-purpose white flour
1/4 teaspoon salt
3 large eggs
½ cup chopped walnuts or pecans, optional
Preheat the oven to 350 degrees F. Grease an 8-inch square baking pan, or coat with nonstick spray.
In a small, heavy saucepan, melt the chocolate over lowest heat, stirring frequently until nearly melted. Immediately remove from the heat, stirring until completely melted. Let cool slightly.
Using a large wooden spoon and working in a medium-sized bowl, vigorously stir together the butter and sugar until well blended and smooth. Stir in the chocolate until smoothly incorporated. Stir in all remaining ingredients until well blended.
Turn out the batter into the baking pan, smoothing to the edges. Bake on the center oven rack for 21 to 26 minutes, or until a toothpick inserted in the center comes out clean.
Cool on a wire rack until thoroughly cooled. Cut the brownie into squares using a large sharp knife and wiping the knife clean between cuts. Will keep, packed airtight, for several days and may also be frozen for up to a month.
Makes 16 2- by 2-inch squares (or cut as desired).