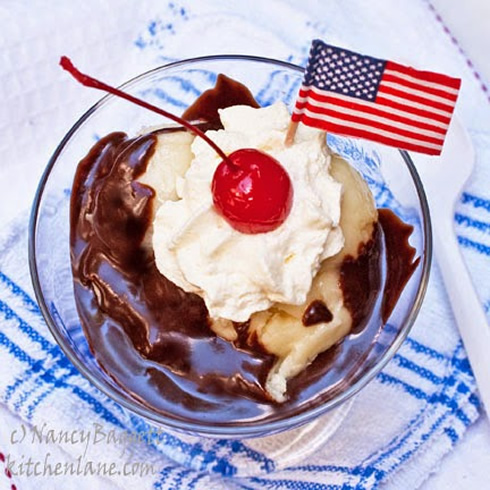 One of my most eagerly anticipated childhood activities was visiting the drug store soda fountain. I'd climb up on one of the tall stools, request my fudge sundae, then spin around on my perch as I watched the clerk (called a soda jerk) deftly ready my order. The best part was plucking off the cherry, dipping down through the whipped cream and ice cream, and savoring it with the dark, gooey, chocolate pools of sauce. Sheer heaven!
In case you didn't know, hot fudge sundaes originated in America, when, due to Prohibition, people began to gather in soda shops rather than saloons to socialize and enjoy a treat. At first the offerings were just fizzy flavored water from soda fountains, but gradually ice cream sodas, floats and hundreds of sundaes were added to the repertoire. The hot fudge sundae and banana split were among the most popular and are still sold in some ice cream shops today. My delish raspberry sundae is shown at the bottom on this story and posted here.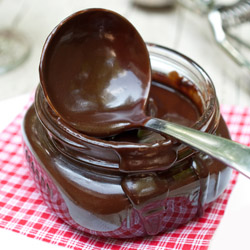 The days of the old-time soda fountains are now mostly a memory (a few have been preserved in towns here and there), but a gloriously good hot fudge sundae can still be enjoyed whenever the hankering hits. After lots of experimenting, I've come up with a sauce that's every bit as scrumptious as the ones I remember—rich, shiny, chewy-gooey chocolatey and deeply satisfying. It keeps well in the refrigerator and makes a terrific gift.
Please remember that hot fudge is not the same regular chocolate sauce. Like fudge, hot fudge always features cooked-down cream or evaporated milk. You have to serve it warm, as it is too thick to flow at room temperature. Click on the article here for more details.
The photo below shows hot fudge sauce drizzled over peppermint ice cream and served in my favorite antique sundae dish. Of course, the sauce is stupendous over vanilla, cherry, mint chip, and banana ice cream as well.
Old Timey Hot Fudge Sauce
This recipes is adapted from my All-American Dessert Book.  The sauce keeps well, refrigerated and stored airtight, for up to 3 weeks.
Tip: Serve hot fudge sauce warm, not hot. Hot causes the ice cream to melt too fast.

Old-Timey Hot Fudge Sauce
Serves:
Makes generous 2 cups sauce.
Ingredients
1 cup heavy cream (or substitute full fat evaporated milk)
1⅓ cups granulated sugar
⅓ cup light corn syrup
1 stick butter (not margarine), cut into chunks
¼ teaspoon salt
6 ounces unsweetened chocolate, coarsely chopped or broken in pieces
½ cup hot water, plus more as necessary
2 teaspoons vanilla extract
Instructions
Thoroughly stir together cream, sugar, corn syrup, butter and salt in a 3- to 4-quart saucepan. Bring to a boil over medium high heat, stirring; it will boil up pot sides, then gradually subside. Continue to boil briskly, uncovered and occasionally stirring, for about 2 minutes, or until mixture begins to boil down and thicken slightly.
Immediately lower heat. Continue simmering gently, stirring constantly and watching carefully to prevent scorching, until mixture turns a light caramel color (a little lighter than caramel candies) and thickens to a gravy-like consistency, 6 to 8 minutes. Remove pot from the heat. Add chocolate all at once; let stand, without stirring 1 minute. Then keep stirring until completely melted and smooth. Slowly stir in generous ½ cup hot water to thin sauce; if necessary, keep stirring in additional water until fluid. Add vanilla, stirring well.
Cool sauce to warm. If still too stiff to pour, gradually thin it with more warm water. (It will stiffen a lot during storage.) Serve sauce immediately, or store, tightly covered and refrigerated, for up to 3 weeks. Then warm in a double boiler over simmering water. (Or reheat in microwave-safe container in microwave oven on 50 percent power, rotating container and stirring fudge at 30 second intervals.) If necessary, thin with warm water after rewarming.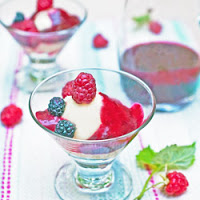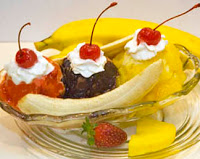 Check out the banana split here.
Another easy sundae you may like, with raspberry sauce, is here.