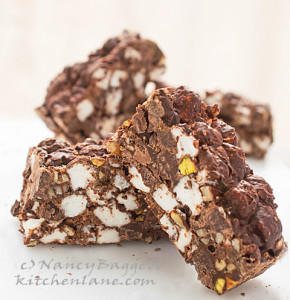 If you're looking for a truly fast homemade treat, party sweet or last minute chocolate gift for Valentine's Day, Mother's Day or any other occasion, this incredibly quick and easy, crunchy-munchy, rocky road faux fudge is a perfect choice.
Technically, it's not really fudge because sweetened condensed milk stands in for the boiled-down caramelized milk-sugar mixture in authentic fudge recipes. It's a bit reminiscent of certain heavenly hash candy bar recipes. Still, it's tempting and fudge-like enough to satisfy all but the most finicky fudge fans. You can also see the fudge when I featured it on a holiday tv segment here.
If, on the other hand, you have time to make real fudge (which frankly is even better) my pretty nearly foolproof recipe is here.
For other tempting chocolate recipes check out my rich, dark, old-fashioned Lowney's Brownies, or my Better for You Brownies or Chocolate Pot de Creme.
Tip: Be sure to use chocolate mini-morsels. If the fudge is chilled, the regular-size morsels become too hard to easily bite into.

Quick Crunchy-Munchy Rocky Road Faux Fudge
Serves:
Makes about 2½ pounds faux fudge
Ingredients
1 14-ounce can sweetened condensed milk
1 12-ounce package semisweet chocolate morsels
2 ounces unsweetened chocolate, chopped
3 to 4 cups mini-marshmallows, as desired
1 teaspoon vanilla extract
1 cup chopped walnuts or pecans, or a mix of nuts
1 cup semisweet chocolate mini-morsels
Instructions
Line an 8-inch square pan with aluminum foil, allowing it to overhang on 2 sides. Place condensed milk in a 2-quart saucepan over medium heat just till hot, stirring. Add chocolate morsels and unsweetened chocolate chunks. Lower heat to very low and warm, stirring, just until chocolate melts.
Remove from heat; stir in marshmallows, vanilla, nuts, and chocolate morsels until evenly incorporated and marshmallows just begin to melt. Immediately turn out into pan. Smooth surface with a lightly greased table knife. With lightly greased hands, press mixture into pan until smooth and compact. Let stand on a wire rack until completely cooled. Refrigerate about an hour before cutting. Lift fudge slab from pan; peel off foil. If desired, trim off and discard uneven edges of slab. Using a sharp knife, cut slab crosswise and lengthwise into 1- by 2-inch pieces (or as desired). Pack airtight with wax paper between layers.