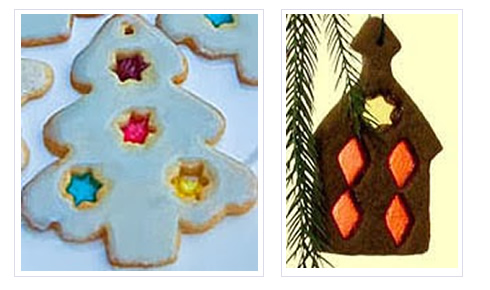 It's fun and easy make eye-catching "stained glass" or "jewel studded" cookies like the ones pictured. You can use a gingerbread or my tried and true Sugar Cookie Dough from my All-American Cookie Book. Just be sure it's a recipe that doesn't puff up too much or call for more than about a teaspoon of baking powder. You can cut out the cookies with whatever seasonal cutters you like–such as my "jeweled" hearts for Valentine's Day, or pumpkins for Thanksgiving, or evergreen trees and stars for Christmas, etc.  (For the best method of rolling out dough, see my short how-to video here.)
Then, using mini-cookie cutters, mini fondant cutters or the end of a metal pastry piping tip (or a thimble or small bottle cap) cut out a cut-away or several small cutaways from each cookie. (The cookies are easier to eat if the cut-aways are not too large as shown above or at left, though if you plan to use them mainly as light-catcher decorations, a large expanse of "glass" such as in the star below is very pretty.) Next, bake the cookies as you normally would following the recipe directions. If you plan to hang up the cookies, be sure to make a stringing hole in each before you bake. (Insert a piece of toothpick to keep the hole open during baking. Remove it after the baked cookies have cooled just slightly.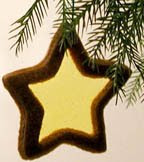 Once the cookies are completely baked, lay them, slightly separated, on a foil-lined baking sheet; do not omit the foil or the cookies will stick to the pan. Fill the cut-aways in the cookies with crushed clear hard candies, such as lollipops, Lifesavers, or Jolly Ranchers.
One way to prepare the candies is to put them in a tightly closed triple layer of plastic bags and crack them into fine pieces using a mallet, heavy rolling pin, or heavy metal spoon. Even better, if you have a plastic chopping mat–place the candies centered on a cutting board, then lay the chopping mat over top and whack away!  You need to spoon in enough candy bits to fill the cut-aways, but don't pile in too much or it will overflow. If necessary, use a small, clean artist's paint brush to brush away any candy bits that spill onto the cookie surface.
Put the cookies back into the oven just long enough for the candy to melt but not boil over, about a minute or two–keep checking, as the time will vary depending on the brand of candy and the amount used. Let the cookies stand on the baking sheet until completely cool again. Be sure not to touch the "stained glass" parts during cooling as they will be extremely hot and can cause bad burns. After the cookies are cooled, they peel right off the foil. Use them as gifts or attractive edible ornaments.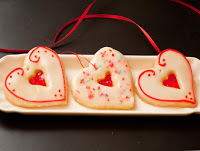 For another look and season, see my iced and "jeweled" stained glass Valentine cookies here.
For holiday cookie decorating using icings instead of "glass," see the tips and how-to for creating the pretty cookies shown below plus others, here.