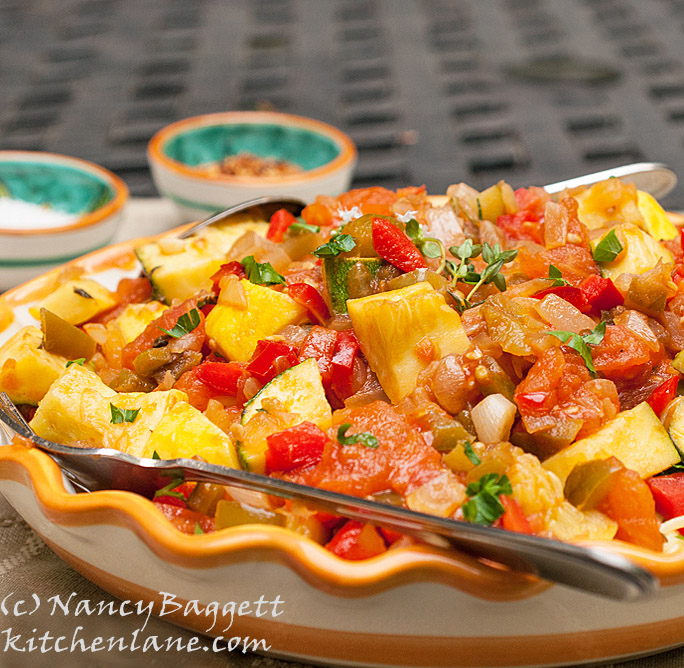 The colors and flavors of this healthful, amazingly tasty summer vegetable skillet are so vibrant they make me think of the Mediterranean, though in truth, I wasn't served anything like this during my recent visit to Rome, Florence, and Naples. It features onions and sweet peppers sauteed in just a little olive oil and butter until melting and aromatic, then simmered with fresh herbs and tomatoes until their juice is reduced and flavor intensified. At the end, chunks of summer squash are stirred in and barely cooked so they remain crisp, and the skillet mixture is spooned over fresh-cooked, olive-oil dressed cappellini.  It is vegetarian, and if you wish to replace the butter with another tablespoon of olive oil, it is also vegan.
Though I first served this as a side dish with grilled chicken and fish—and it's excellent that way—most of the time I sit right down and make a meal of it. It is wonderful still warm, but equally appealing at room temperature or on a hot day, eaten slightly cool. You could add a few cubes of fresh mozzarella, or dust the top with freshly grated Parmesan for a more substantial dish, but honestly, it doesn't really need either of these. In fact, I think the sprightly taste of the summer bounty comes through best when there are no dairy distractions.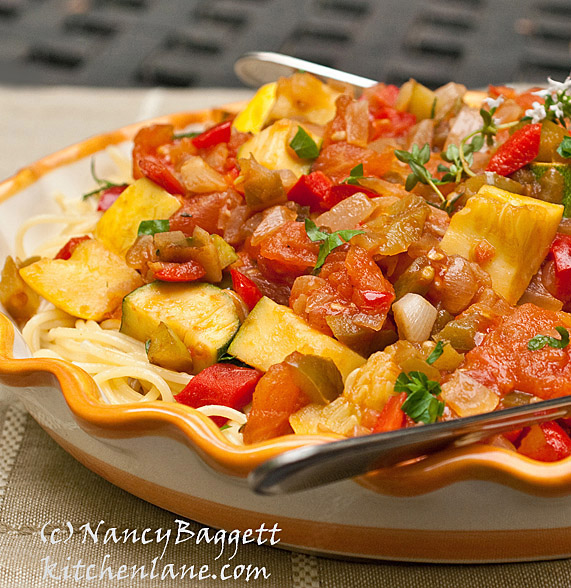 What does enhance this summer vegetable skillet mightily is a generous sprinkling of fresh, tender chopped herbs strewn over the top right before serving. Thyme in particular really makes the dish sing, so be generous with it and never, ever leave it out.
Tip: To peel tomatoes easily, drop in boiling water for about 50 to 60 seconds. Then, quickly cool them again by dropping in cold water. The skins slip right off!
2 tablespoons extra-virgin olive oil, divied
1 tablespoon unsalted butter
1 medium-sized onion, finely chopped
1-1/4cups diced mixed red and green sweet peppers
2 large garlic cloves, peeled, smashed and minced
2-1/2 cups peeled, cored and very coarsely chopped
vine-ripened tomatoes (about 1 1/3 pounds)
1 teaspoon chopped fresh oregano leaves (no stems)
1 teaspoon chopped fresh thyme leaves (no stems),
1/8 teaspoon coarsely ground black pepper, plus more for garnish
2 1/2 cups 3/4-inch cubes mixed zucchini and yellow squash
Scant 1/2 teaspoon sea salt, plus more for garnish
10 ounces cappellini or other long, thin pasta, cooked al dente and drained
Freshly chopped tender herb leaves (no stems), including 1 generous teaspoon fresh thyme, 1 teaspoon oregano, and 1 tablespoon flat leaf parsley
Dried hot red pepper flakes presented at the table, if desired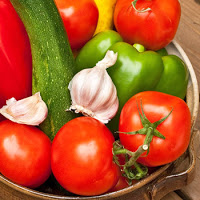 In a 12-inch nonstick skillet or saute pan, combine 1 tablespoon oil, the butter, onion, and sweet peppers. Cook, stirring, until onions are beginning to brown, 5 to 6 minutes. Add garlic; cook 1 minute longer. Raise heat to high, and add tomatoes, oregano, thyme, and black pepper. Cook over high heat, stirring, just until most liquid has evaporated from skillet; be careful not to burn. Lower heat so mixture simmers; stir in squash and salt to taste. Continue simmering, stirring occasionally, until squash is heated through, but still barely cooked and tender-crisp, about 2 minutes.
Place the pasta in a serving bowl and toss with the remaining olive oil. Spoon the sauce over top, tossing lightly with the pasta. Sprinkle the top with coarse salt, freshly ground pepper and the fresh herb mixture to taste.  Provide a dish of dried hot red pepper flakes at the table, if desired.
Makes 4 side-dish servings or 2 main-dish servings.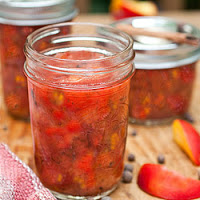 Another post you may like, Easy Summer Tomato Chutney.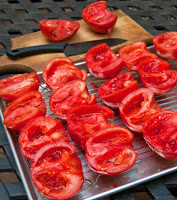 Or perhaps, Oven-Dried Tomatoes, at right.