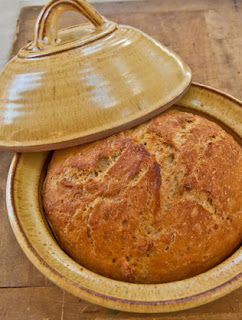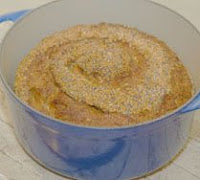 If you're looking for a great holiday gift for a "no-knead" bread baking fan or for somebody who would like to make yeast bread but is a little intimidated, I have a suggestion. Give them a good bread baking pot, and, perhaps a copy of my popular Kneadlessly Simple bread book. Now in paperback, the book is very affordable, and so are a number of suitable pots on the market. Just remember that for nicely shaped boules, the pot should be around 8 1/2- to 9-inches in diameter and hold 3 to 3 1/2 quarts. In larger pots, the bread will spread out too much and yield an overly flat loaf.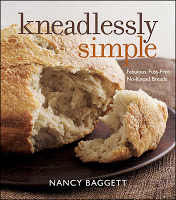 I tested a lot of Dutch ovens and pots in the process of writing my Kneadlessly Simple cookbook: Cast iron, enamel-coated cast iron, enamel-coated carbon steel, anodized aluminum, stainless steel, and several oven-proof ceramic casseroles just to name some. (Only certain ceramic casseroles are safe for baking; see details on stoneware containers like the handsome one shown.) They all worked, even a light-weight very inexpensive ($20) stainless steel stewpot that I'd initially thought might be too flimsy.
Tip: Even though dough doesn't usually stick to pots, it can, and I've never found a way to predict which pots will have sticking problems in advance. If you're not sure, head off trouble by simply spritzing the pot with non-stick spray just before you put in the dough. (If you grease the pot before you preheat it, it will smoke.)
>Looks Don't Matter–
The very pretty but pricey French pots are not the only ones that will work for crusty artisan-style loaves: Seasoned
plain cast iron pots
, which are much cheaper, are just fine. And some plain cast iron pots come already seasoned and ready to use. Enamel-coated carbon steel and anodized aluminum pots will also do a good job–and they are a lighter, so are easier to lug around. Enameled carbon steel pots tend to have hot spots, so I always bake at a slightly lower temp with them.
> Bigger Is Not Necessarily Better–Many pot bread recipes circulating around today call for pots that are larger than is optimum. Loaves calling for 1- to 1 1/4-pounds (3 to 4 cups) of flour will dome more and look better if baked in a 3 1/2 to 4 quart pot. (A 3-quart pot with a domed lid will work, too, as the dough can expand up into the top.) The 6-quart pot I've often seen called for results in loaves that flatten out too much, although, of course, they taste fine. (The recipe for the handsome "kneadless" Seeds-a-Plenty Wheat Boule shown below right is here.)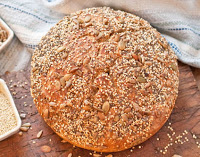 >Hot Enough for You?–Some pot bread recipes call for preheating the pot at high heat (450-500 degrees F), so be sure the knob or handle of the pot you choose is heat-tolerant. I've bought several great pots only to discover the knob or handle could only be heated to 400 F or so degrees. In one case, I just unscrewed the phenolic knob and replaced it with a brass one purchased at the hardware store. The preheating step means that pots made of glass and ceramic can be a risky proposition: They may crack or shatter when the cooler dough is dumped in. Skip them unless the manufacturer specifically says it's safe go directly from freezer to oven.
You'll find more helpful info on selecting bread pots here. For more bread pics and hotlinks to more free bread recipes, click here. The recipe for the crusty wheat bread at the bottom left is here.