The sap is running in America's maple country, and as I found during my own trip, it's fun to be there during the harvest season. If you are interested in this culinary-related outing, start planning right away. Do call and check on the weather though; the sap doesn't run when temps are too low.The picture on the left shows how the sap used to be collected–with thousands of buckets that were emptied by hand. Nowadays, most sugaring is done by running tubing from the trees to collecting tanks; a lot more efficient, but lacking charm!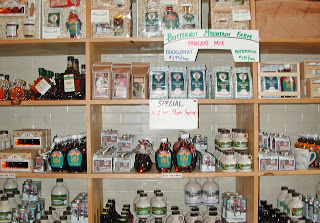 The pic above right and here show the Butternut Mountain Farm retail "sugar shack" in Johnson, Vermont, which I visited some years ago. It's owned by David Marvin, one of the regions "maple moguls," and is one of a number of New England shops featuring all things maple. Products range from maple cream, to syrup, to mustard, to numerous confections. Some places even sell fresh maple doughnuts and soft maple ice cream–yum!
In the top floor of the shop shown, a small staff makes the fresh maple leaf candies pictured here each week. Some families in Vermont own their own molds and make the candies at home. They also make Sugar on Snow, a pure maple taffy cooled and eaten over fresh snow. (There's a recipe for the simple taffy, plus all kinds of other American specialties in my All-American Dessert Book.)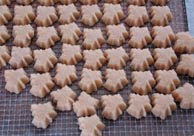 Pure maple syrup is also wonderful in my Maple Custard Pie and Maple Bars recipes; click here for the pie, pictured below, and here for the bars.
For more on Vermont maple season, check out the
maple sundae recipe below, or my maple kettle corn recipe, plus storyand pics on Montpelier maple man Burr Morse.