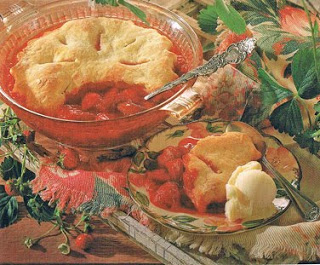 I'm happy to report that my rhubarb plants survived the winter and are now leafing out nicely. I'm guesstimating that the stalks might be big enough to cut by June.
As you can see from the pic, they are still tiny, though experts say it's better to err on the side of harvesting too early when the it's small but very tender. Yes, very mature rhubarb delivers a bigger yield, but it can be less succulent and even become tough and stringy.
I love strawberries and rhubarb together and fortunately there are lots of options, like this homespun strawberry-rhubarb cobbler, or light, refreshing fool, or an amazing (and amazingly easy) strawberry-rhubarb freezer jam click here.
The cobbler is mellowed with a biscuit crust and bursts with flavor–the berries lend a sweet, fruity taste and the rhubarb adds a welcome tang. The recipe is easy to make and guaranteed to be a hit.
If possible use a casserole or baking dish (I love the one in the pic) that can go from stove-top to oven. But if you don't have one, ready the filling in a large, non-reactive saucepan. Then transfer it to an oven-proof casserole or an extra-large and deep pie plate for the baking.
Strawberry-Rhubarb Cobbler
This is one of those dishes that seems to call out for a generous dollop of ice cream or whipped cream. It's best served warm or at room temperature. The recipe is from my Dream Desserts cookbook and the photo was taken by the very talented Marty Jacobs. (My scanned copy really doesn't do his original justice.)
Generous 3/4 cup sugar, plus more to taste
2 1/2 tablespoons cornstarch
6 tablespoons cranberry juice cocktail, or orange juice
3 cups 3/4-inch pieces fresh rhubarb
1 3/4 cups halved fresh strawberries
Dough
1 1/4 cups all-purpose white flour
2 1/2 tablespoons granulated sugar, divided
1/2 teaspoon baking powder
Scant 1/2 teaspoon salt
2 1/2 tablespoons cold butter, cut into bits
1 1/2 tablespoons corn oil or canola oil
5 tablespoons milk, plus more if needed
Preheat oven to 375 degrees F.
For filling: In a non-reactive 3-quart or larger stove-top and oven-proof casserole thoroughly stir together 3/4 cup sugar and cornstarch. Slowly stir in cranberry juice until well blended and smooth. Add rhubarb; cook over medium-high heat, stirring, just until liquid is thickened slightly and clear. Remove from heat; stir in strawberries. Taste and add more sugar, if desired.
For dough: In a medium-sized bowl, thoroughly stir together flour, 1 1/2 tablespoons sugar, baking powder and salt. Add butter and oil. Using a pastry blender, forks, or fingertips, cut in fat until mixture resembles coarse meal. Add milk to mixture, tossing with a fork just until evenly incorporated; if it seems dry, add a teaspoon or two extra milk. If mixture seems wet, let it stand 5 minutes to reduce stickiness.
Gently press dough together into a ball. Then press out into a flat 5-inch disc on a sheet of wax paper. Dust dough top with flour. Top with another sheet of paper. Press or roll out into a round slightly small than the diameter of the casserole used. Peel off one sheet of paper. Center dough, dough-side down, over fruit mixture. Peel off and discard second sheet. Make several decorative slashes radiating from center of dough top. Sprinkle reserved 1 tablespoon sugar over top.
Bake in middle third of oven for 35 to 45 minutes or until top is nicely browned and a toothpick inserted in center top comes out clean. Let cool at least 15 minutes before serving.
The cobbler will keep, refrigerated, for up to 3 days. Serve at room temperature or reheated to warm in a low oven.
Makes about 6 servings.