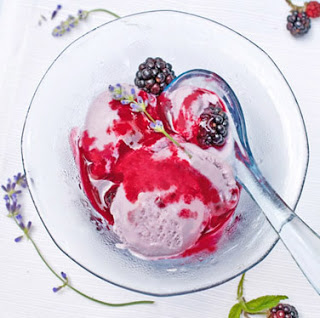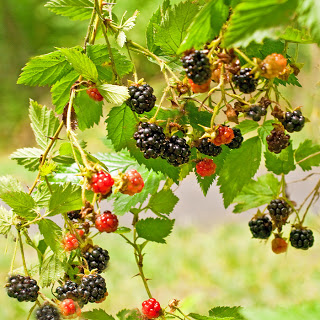 If you happen to have fresh berries now, but sorbet just doesn't sing to you and you don't have time for a blackberry cobbler, consider making this easy blackberry sauce. (Use the same recipe for a red or black raspberry sauce.)  It is an especially good choice for wild blackberries like those pictured at left. They tend to be intensely flavorful, but quite seedy, and this isn't a problem because the seeds are simply strained out and discarded!
The sauce makes a great vanilla or blackberry ice cream sundae topping. Try it over lemon sorbet or peach ice cream as well. If you like using lavender for culinary purposes, do add a few flower heads to the sauce when it cooks. They will lend a subtle but delightful flavor element. Note that this sauce is cooked, so it is not a coulis–which although it sounds fancier (and will likely cost you more in a restaurant) is not, in fact, as good.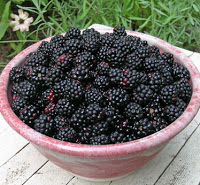 Yes, uncooked fruit coulis are in vogue now, but, trust me, brief cooking produces a sauce with much fuller flavor, more body, and more vibrant color. A cooked sauce is also more convenient, since it can be held in the refrigerator a few days. (For a berry sauce that can be frozen and is suitable for making ice cream ripple ice cream, go here.)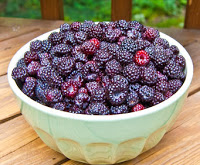 BTW, you can also use the recipe for black raspberries. If you're not familiar with them (shown at left), they aren't quite like either red raspberries or blackberries.They are tart, bold, and black like blackberries, but have the complex berry flavor and aroma more reminiscent of raspberries.
Another key feature that marks them as raspberries is that, like red raspberries, they are hollow on the bottom. (Look carefully at the picture.) Each fruit grows up around a little nub in the manner of a cap, and when ripe the berry neatly pulls away from from its base. (This is why some people call these berries "blackcaps.") The best place to find black raspberries (other than growing wild in wooded areas!) is at farmer's markets and roadside stands during June and July.
All the berries pictured are ones I picked along a path in the woods behind my house. The canes shown below are from earlier in the season when the nearby blackberry bushes were blooming and just beginning to set their fruit.
6 to 7 tablespoons granulated sugar, or to taste
1 teaspoon cornstarch
3 cups fresh or unsweetened frozen (thawed) blackberries or black raspberries
1/4 cup blackberry or peach brandy or orange juice
Generous pinch of finely grated lemon or lime zest (colored part of skin) or 3 or 4 lavender flower heads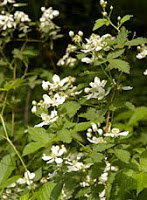 In a heavy, medium non-reactive saucepan stir together the sugar and cornstarch until well blended. Mash the berries with the back of a large spoon or the bottom of a large drinking glass.Stir the berries, brandy (or juice) and lemon zest or lavender into the saucepan. Bring to a gentle boil over medium-high heat, stirring. Continuing to stir, cook until the mixture thickens and clears, about 3 or 4 minutes. Remove from the heat; let cool. Press the mixture through a fine sieve, forcing through as much juice and pulp as possible and discarding seeds. Be sure to scrape off the sieved pulp clinging to its underside. Refrigerate in a nonreactive airtight storage container at least 1 hour, and up to 5 days. Stir briefly before using and thin it with a little water if it seems too thick.
Makes a generous 3/4 cup (enough for 4 to 6 sundaes).
Other berry recipes you may like–a delectable blackberry sorbet here.
Or a crumb-topped cobbler here.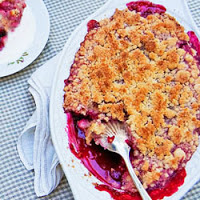 Or perhaps a lavender syrup infused with a few blackberries here.