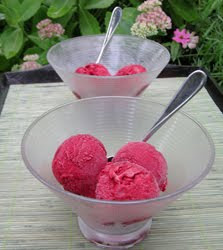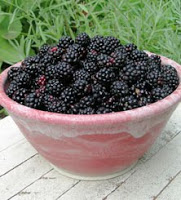 Seems like I'm always waiting forever for the wild blackberries in my neighborhood to ripen. But eventually every summer, Mother Nature delivers, and her gifts are always worth the wait.
Last week one morning instead of working, I grabbed a bucket, a hat, and long sleeve shirt and went out to seek my treasure. Just look what I found!
I'd like to talk about the idyllic setting of the berry patch, but I can't. These berries came from a stand of canes right beside a busy Maryland highway near my house. So the whole time I picked, cars and trucks kept whizzing by. I just kept picking though, and collected almost 1 1/2 quarts in an hour.
To celebrate my good fortune, I created this Blackberry-Plum sorbet. It's about as close as I will ever come to catching the essence of summer in a bowl. Sweet-tart, vibrant, intensely fruity, and utterly refreshing, it was just perfect for savoring in the shade of my deck.
By the way, if you have the good fortune of coming upon some boysenberries, you can use them in place of blackberries in the following recipe. Boysenberries are actually a blackberry-raspberry-loganberry cross created by a horticulturalist named … Rudolph Boysen in the early 1930s.
High Summer Blackberry-Plum Sorbet
There are two good reasons to add plums to a blackberry sorbet: They are a clever way to stretch the berries when you don't have enough. Even more important, underripe, unpeeled plums have a lot of pectin, which helps keep the sorbet pleasantly smooth in texture and readily "scoopable" even when stored a week or more.
Tip: If your berries are extremely tart, you may want to increase the sugar by a tablespoon or two. For best texture, don't reduce the sugar to under 3/4 cup.
3 cups blackberries
2 medium underripe, tart red or black plums (unskinned), pitted and chopped
1 cup water
1/2 teaspoon fresh lemon zest (yellow part of the peel) or 4 or 5 lavender flower heads
3/4 cup plus 2 tablespoons granulated sugar
Thoroughly stir together the blackberries, plums, 1 cup water, sugar, and lemon zest (or lavender flower heads) in a large, non-reactive saucepan. Bring to a boil, stirring, then adjust the heat so the mixture boils gently until the berries and plums are soft, 5 to 7 minutes. Remove from the heat; let cool.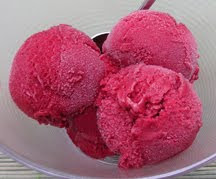 Cover and refrigerate for at least 2 and up to 24 hours. Strain the mixture through a fine sieve, pressing down hard to extract as much pulp as possible. Process the strained mixture in an ice cream maker according to the manufacturer's instructions. Place in a storage container and freeze, airtight, until firmed up at least 2 hours, and up to a week.
Makes 1 generous quart.
Don't have an ice cream freezer? Therefreshing minted lime sorbet below doesn't need one.
Or perhaps you're more interested in the refreshing popsicles here.