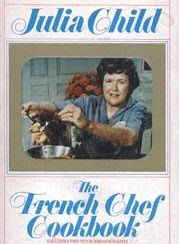 There are a number of good reasons to go see "Julie & Julia:" Fans who fondly recollect Julia Child from her TV French Chef heyday will enjoy rekindling memories and getting to know more about this likeable dynamo. Meryl Streep's deft performance reveals Julia as not only lively, but a lot more complex than the affable auntie type they might have imagined.
Foodies of all ages will also leave the theater thoroughly sated. Scenes featuring the characters cooking and lustily enjoying French food and wine are so numerous that many in the audience will want to rush home and whip up the boeuf bourguignon from her Mastering the Art of French Cooking (or at least pop open a fine bottle of Burgundy). Butter is brandished about and savored with such abandon that Land O' Lakes executives may already be handspringing around offices at the surge in sales. (My beef stew with red wine inspired by Julia's recipe is here .)
I went to the film mostly because I'd known Julia professionally and wanted to see if she was accurately portrayed. Streep plays her as bright, ebullient, down-to-earth, intellectually curious, dedicated to her calling, and fiercely competitive but not unkind. Which is quite consistent with what I recall.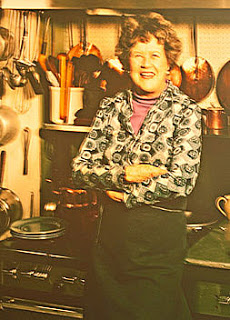 I didn't have the good fortune to know Julia well, and we only became acquainted after she was already America's greatest culinary luminary. The pic at right shows her in front of her Garland stove in her Cambridge, MA home and sometimes cooking show set. I'm told she bought the stove secondhand.
We met and briefly chatted at a number of professional culinary conferences, and she never seemed evenly slightly self-absorbed. She was, in fact, the consummate colleague: gracious, approachable, more interested in learning from her compatriots than in touting her latest tome, and always, always encouraging of other cookbook authors. Instead of grandstanding or making cameo appearances, she often mingled and attended the various workshops, including a primer on cooking on TV and one on cookbook writing, both topics she, of course, should have been teaching herself. (I happened to be instructor in the cookbook writing class—she was completely unassuming but, gulp, her presence was still unnerving!)
The Grande Dame of cookbooks apparently never forgot her own early struggles to be published, and identified with others still enduring the usual indignities of the cookbook business. She was a particularly great supporter of new authors, allowing the International Association of Culinary Professionals' annual "Best First Cookbook" award to be named the "Julia Child Award" in her honor. (The interesting peeks behind the publishing industry curtain are another reason cookbook junkies will enjoy this flick: In one particularly ironic manuscript rejection scene—which I'm sure my current-day friends at Houghton Mifflin wish had been cut—the publisher flatly informs Julia and Simone Beck that their work would not interest American housewives.)
I actually got to know Julia Child best through a quirk of alphabetical fate. Since C follows B, Baggett and Child often sat next to one another at conference book signings. Before the doors opened and the crowd ascended upon her, she usually took time to look through and compliment my latest work, once exclaiming over my cookie cookbook in that unforgettable, lilting voice, "Why, what a lovely book! You should be so pleased." Even more revealing was her response to the excited fans queuing up for an autographed copy. She understood that what they wanted most was a moment of her undivided attention, and they got it even when the lines were long and she didn't feel well. Yes, she was a true Grande Dame, and the movie does her proud.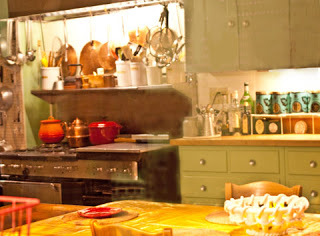 That's a shot of Julia's stove at left. If you are interested in seeing more pics of Julia's famous kitchen, which is now a part of a Smithsonian exhibit, go here.