Decades ago at a gourmet shop I encountered my first fancy herb vinegars. You know–the ones that come with real sprigs of tarragon or basil or some other culinary herb tucked inside. I was charmed, but after checking the prices, immediately decided to see if I could make my own. I could, and have been ever since!
In fact, I make a point of growing certain herbs, like purple basil, garlic chives (shown at the very bottom), nasturtiums, and tarragon partly because they are so useful in creating tasty and enticing-looking vinegars. (Yes, nasturtiums are sometimes categorized as herbs and they taste a lot like watercress–which can actually be used in their place in vinegars if necessary). Just for the fun and the color, I also grow pansies to tuck into the vinegars–they are edible, too, though they don't add much flavor.
Don't worry if you don't have a garden–the vinegars will taste just as good made with fresh herbs purchased from the grocery store or farmers' market. But you absolutely must use fresh dried herbs to make these vinegars!)
The bottle in the top left pic is brightened with a red nasturtium bloom and a couple pansies that after a few hours will tint the vinegar an orange pink!) The center bottle in the pic at the was also made with a nearly colorless unseasoned rice vinegar and purplish basil sprigs that will also infuse it for a purple color in few days. The bottle on the right contains creamy green and white varigated and a couple Mexican marigolds; these won't change the color of the vinegar much. Though these vinegars are all quite easy to make, they are so tasty and stunning-looking it's no wonder the bottles in shops are pricy.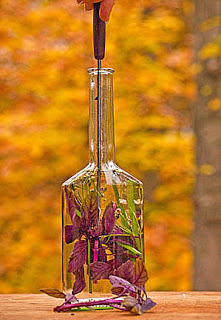 Homemade Herbed Vinegars
The pictures here and just below show the nasturtium-chive and purple basil- chive vinegars during preparation. As you can see, an old fondue fork is an especially handy tool for inserting the herbs into small-mouthed bottles.
The exact same approach can also be employed to ready a lovely tarragon or tarragon-chive vinegar, or a chive-watercress vinegar, or a very simple but pretty garlic chive vinegar using both the leaves and white flowers (see the pic at the bottom). A blend of thyme, chives, and parsley is nice, too. This year, I grew Thai cinnamon basil (it's greenish-gray leaves have purple veins), which lent the vinegar a distinctive spicy taste and pale pink-tinged color. Oregano is a bit strong and dillweed yields a vinegar that tastes like pickle brine, so I don't recommend these herbs.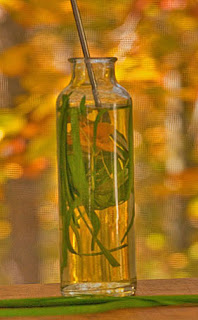 Due to the unique character of each of the various herbs, every vinegar will have its own unique and savory appeal, so it's fun to experiment with using them in recipes. Try a little splash to enhance a simple butter sauce for seafood or a pan sauce for sauteed meat. Or use a little to perk up sauteed cabbage or slaw; add life to store-bought mayo; or whisk into a pleasing vinaigrette.
Herb vinegars can be kept unrefrigerated but away from bright light or heat for up to a year. After that the flavors and colors fade, so plan to use them up and make more each season!
Tip: While it's easiest to just add herbs to the bottles the vinegar comes in, for a more decorative look, try interesting recycled bottles topped with corks or non-reactive caps. The herbs stay in the bottle, so the flavor intensifies further over time.
For each bottle of vinegar, have on hand either: 3-4 large fresh basil, tarragon, or thyme sprigs, or 6-8 watercress springs or nasturtium leaves (plus a nasturtium bloom or two, if desired); or 1 small handful of fresh chives or garlic chives (include blooms, if desired); or some of both for a more complex blend. (The pic below shows garlic chives, which send up their white, lacy-looking blooms in fall.)
You'll also need: About 12- to 16-ounces white wine vinegar or unseasoned rice wine vinegar or red wine vinegar
Cut (or purchase) some fresh sprigs of the herbs of your choice. Discard any brown, yellowed, or bruised leaves. Rinse the sprigs under cool water. Gently pat dry with paper towels. Push the sprigs down into a nearly full bottle of vinegar (a fondue fork is great for this but a long skewer can be used). Keep working until all the leaves are completely submerged in the vinegar. If the vinegar overflows the top, just pour off the excess. Let the mixture steep at least a few days so the flavor can develop.
Makes 1 12- to 16-ounce bottle of vinegar.