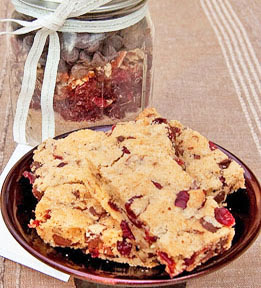 Thanksgiving always brings my first big burst of autumn kitchen activity. The beginning of December marks the start of the second stage, when I make assorted holiday cookies and candies and ready my homemade gifts from the kitchen. I look forward to it every year. (For a hazelnut bar click here ; for a cranberry white chocolate drop cookie click here. ) Or, if you're interested in foodie gifts of kitchen utensils and ingredients, I've got ideas and handy hotlinks here.

Over the next few weeks I'm going to share some of the seasonal recipes in my repertoire that have been popular kitchen gifts. I get great pleasure out of making rather than buying holiday presents for family and friends. As I was growing Christmas just wasn't Christmas unless we handmade some of the presents, and I still feel that way today. It's gratifying to provide the personal touch, plus I enjoy the opportunities to be creative. Most of my kitchen gifts are very economical, too.
Several years ago I created some "bars in jars" gifts—ready-to-use jars of attractively-layered bar cookie ingredients that are finished simply by combining them with butter and a fresh egg or two and then baking. The jars look a little like the eye-catching stratified sand art creations of several decades ago, and each yields a pan of brownies or bars. They were a hit with the recipients because they could ready a really fresh tasting and yummy treat with almost no work. If you're interested in seeing a video showing how a bars in jars recipe is made go to the video tab at the top of the page, then select the "Daily Cafe," video. (It's not this recipe, but it's made the same basic way.)
Last year I created a pair of gift kits for the Washington Post food section, one a jar of yeast bread mix, the other a jar of soup mix. With them a whole meal could be prepared! These were a big success, too, so I'll be posting those recipes shortly.
You'll need 1-liter or 1-quart canisters or jars for making the bars-in-jars recipe. This time of years supplies of appropriate containers dwindle in stores, so you may want to shop for them on line. Leftover 1-quart canning jars or recycled 32-ounce mayo jars also work well (but not the typical 26-ounce pasta sauce jars, which are too small). The manufacturers' lids can be dressed up by pasting a colorful paper or felt disc over the brand name, or by covering over them with acrylic or enamel paint. You can also buy decorative jar lids on line. Whether new or recycled, the jars need to be clean and completely dry when filling begins.
Readying the jars makes a fun family activity—younger children can help fill the jars, and older kids can prepare the gifts on their own. Recycled Christmas cards, purchased tags and labels, squares of colored construction paper, and decorative index cards all work well as recipe tags. The necessary how-to details can be quickly printed out with a computer and printer and pasted in place, or handwritten, if desired. Plain and fancy ribbons, yarns, raffia, and even twist-ties can add a unique decorative touch to the tags and jars.
Chocolate Chip-Cranberry Bars-in-Jars Mix
This mix recipe yields a quick batch of festive bars for the holidays. Notice that the recipe suggests using "Brownulated" sugar. Often stocked with other sugar in supermarkets, this granular brown sugar lends mellow flavor but is less likely to lump or cake during storage than regular brown sugar. If you can't find Brownulated, substitute ordinary light brown sugar.
Tip: "Bars-in-jars" recipes such as this one are specifically designed to layer attractively and to fit into 1-quart or 1-liter jars; regular bar cookie recipes usually won't work.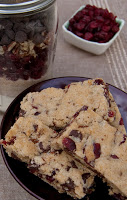 1 cup all-purpose white flour
1/2 teaspoon baking powder
Generous 1/4 teaspoon salt
1/2 cup granulated sugar
1/4 cup Brownulated sugar or packed light brown sugar
3/4 cup dried, sweetened cranberries
2/3 cup chopped pecans or walnuts (or substitute white chocolate morsels if needing to avoid nuts)
3/4 cup semisweet chocolate morsels
On a large sheet of aluminum foil (or wax paper) thoroughly stir together the flour, baking powder, and salt. Using the foil as a funnel, pour the mixture into a 1-quart jar. Shake the jar, then rap on the counter to even the layer. On the same sheet, stir together the sugars until very well blended and smooth. Using the foil, add the sugar mixture to the jar. Shake and then rap the jar on the counter several times to even and compact mixture. Wipe down the jar sides, if necessary. Continue the layering, adding the cranberries, nuts, then the chocolate morsels, shaking and rapping the jar after each addition. If the jar isn't full and will be shipped, tucked crumpled wax paper in the top.
Secure the lid firmly. Attach a tag or card with the following recipe mixing instructions to the jar. The mix will keep up to 1 month unrefrigerated, 2 1/2 months refrigerated.
Makes 1 quart of mix.
For the Hanging Tag on the Jar:
Chocolate Chip-Cranberry Bars (Makes 12-16 bars)
1/2 cup (1 stick) unsalted butter, melted and cooled to warm
1 tablespoon water
1 large egg
1 1-quart jar Mix
Mixing instructions: Set oven to 350 degrees F. Grease a 7- by 11-inch (or 9-inch square) baking dish. In a large bowl, using a fork, mix together cooled butter, water, and egg until well blended. Gradually stir in jar contents until evenly blended. If too dry to hold together, stir in a tiny bit of water. Spread evenly in dish. Bake on center oven rack 25-30 minutes, until nicely browned and a toothpick inserted in center comes out clean. Cool completely before cutting. Store, covered, 2-3 days; or freeze, airtight, 3 weeks.