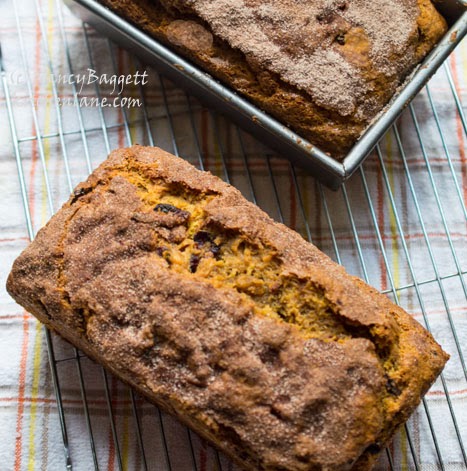 Autumn just wouldn't be autumn without pumpkin and cranberries on the menu at my house. The amazing aroma that fills the air when pumpkin and spices are baked together is almost reason enough to turn to this fall fruit. (Yes, pumpkins are technically fruits.) And the bright color and zest of fresh cranberries add a memorable, enticing touch to both sweet and savory dishes.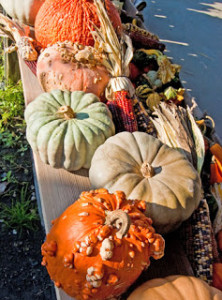 Another reason I enjoy using pumpkin and cranberries is that they reflect our culinary past. We're part of a long line of American cooks who have turned these fruits of the season into something special. It's fun to imagine our "foremothers" (our forefathers rarely cooked) cleverly capitalizing on winter squash and cranberries to add variety and nutrition to the household diet, especially in the coldest months when larders grew bare.
I also like to picture the Pilgrims coming together at a huge table with the neighboring Native Americans to share a meal reminiscent of our modern Thanksgiving dinner. But it turns out such romantic notions are way off base! The Pilgrim men and about ninety Wampanoag tribesmen probably stood around a fire where they ate venison and other wild game. No nice tables, linens, or fancy eating utensils–those assembled were just thankful to have anything to eat at all. Sad to say, the few remaining Pilgrim women who hadn't already died from the harsh conditions didn't join in the celebrations either–they were just scurrying around serving the menfolk. For more on the real story, click here.
PUMPKIN-CRANBERRY QUICK BREAD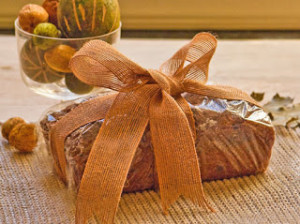 This is a hearty, moist, well-flavored quick bread that's also very easy to make. Not too sweet nor overly rich, it makes a wholesome snack, or can accompany coffee or tea or almost any autumn meal. Note that the recipe yields two substantial loaves; if you can bear to part with one, you'll have a perfect gift! The bread stays moist for several days and freezes beautifully if you wish to make it ahead or stash the second loaf for later giving or eating.
Tip: If you have fresh gingerroot on hand it will add a wonderful kick and extra aroma, but if necessary you can leave it out.

PUMPKIN-CRANBERRY QUICK BREAD
Serves:
Makes 2 medium-sized loaves, 12 to 14 slices each (or 1 medium loaf and 4 mini-loaves).
Ingredients
4½ cups all-purpose white flour
1 tablespoon ground cinnamon
1 tablespoon ground allspice
1 tablespoon baking powder
½ teaspoon baking soda
1¼ teaspoons salt
1 15-ounce can pumpkin (not seasoned pumpkin pie filling)
2½ cups granulated sugar
1½ cups nonfat or low-fat plain (unsweetened) yogurt
2 large eggs
⅔ cup canola oil, corn oil or other flavorless vegetable oil
2 tablespoons peeled minced fresh gingerroot, optional
1 cup dried sweetened cranberries
1 cup fresh or frozen (thawed) cranberries, chopped moderately fine
2½ tablespoons granulated sugar combined with 1 teaspoon ground cinnamon for garnish
Instructions
Place a rack in the middle third of the oven and preheat to 375 degrees F.
Generously coat 2 8½- by 4½-inch (or slightly larger) loaf pans with nonstick spray.
In a very large bowl, thoroughly stir together the flour, cinnamon, allspice, baking powder, baking soda, and salt.
In medium bowl using a fork, beat together the pumpkin,sugar, yogurt, eggs, oil, and dried cranberries until very well blended.
Gently stir the yogurt mixture and fresh cranberries into the flour mixture just until thoroughly incorporated but not over-mixed; excess mixing can cause toughening.
Immediately turn out the batter into the pans, dividing equally and spreading evenly to the edges.
Sprinkle the sugar-cinnamon mixture over the loaves, dividing equally.
Bake on the middle oven rack for 50 to 65 minutes or until well browned on top and a toothpick inserted deep in a center comes out clean. It's normal for the tops to crack. If the tops begin to brown too rapidly, lower the heat to 350 degrees F. and cover them with foil the last few minutes of baking.
Let the pans stand on a wire rack for 15 minutes.
Run a table knife around the pans and under the loaf edge to loosen the loaves and place on wire racks.
Cool thoroughly.
Keep airtight at room temperature for up to 2 days; or freeze packed airtight in heavy plastic bags for up to 1 month.