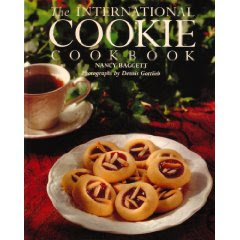 It's truly amazing how the Internet so easily links passionate bakers from all over the nation. I have baking friends I chat with from all around the globe!
Several days ago, Washington State baker, Jeanne Sauvage, posted her gluten-free adaptation of a recipe from my International Cookie Cookbook. The recipe she chose to bake happens to be the thumbprints shown on the cover of that book (at right). She explained her choice, saying " The Hussar's Kisses are delicious–and they're a personal favorite of mine!"
Jeanne said she is a big fan of both of this cookie book (published back in the 1980s) and my more recent one, The All-American Cookie Book, which is still in print. She adapted the original recipe to a gluten-free version for her daughter. This was exciting to me, because I am always looking for gluten-free baked goods I can serve my daughter-in-law. With her permission, I have reposted Jeanne's gluten-free flour blend adaptation below.

Jeanne's Gluten-Free All-Purpose Flour Mix
Jeanne is working on a gluten-free holiday baking book to be published in 2012, and I can't wait. In the meantime, here is her gluten-free flour mix. Thank you, thank you, for sharing!
1 1/4 cups brown rice flour
1 1/4 cups white rice flour
1 cup tapioca flour
1 cup sweet rice flour (also known as Mochiko)
2 scant teaspoons xanthan gum
Mix the ingredients well. Store airtight and refrigerated.
Or use the gluten-free flour mixture of your choice; just be sure it contains xanthan gum. Or, you can add 1/4-1/2 tsp. xanthan gum per cup of gluten-free flour. Note that if you choose to use bean flour, it will add a bean taste to the cookies.
Thumbprint Butter Cookies (Hussar's Kisses)
Remember that you can make the thumbprint cookie recipe using the same amount of "regular" all-purpose flour if you don't want or need to use Jeanne's gluten-free flour mix provided above. Jeanne is right–this is a very tasty cookie! The recipe has been one of my favorites for a long, long time! The cookies are both easy and festive.
1 1/2 cups (3 sticks) unsalted butter, slightly softened
1 cups granulated sugar
3 egg yolks
2 teaspoons vanilla extract
1/8 teaspoon almond extract, optional
1/4 teaspoons salt
3 1/2 cups unbleached all-purpose flour or Jeanne's Gluten-Free All-Purpose Flour Mix
2/3 cup seedless raspberry jam (or any other jam you like)
1/3 cup slivered blanched almonds, optional garnish
Place a rack in the middle of the oven; preheat to 375 degrees F
Grease several large baking sheets, or line with baking parchment paper.
In a large bowl, with a mixer on medium speed, beat the butter until lightened and smooth. Beat in the sugar until smoothly incorporated. One at a time add the egg yolks, then vanilla and salt, beating after each addition. Working on low speed,beat in half the flour. Stir in the remaining flour just until fully incorporated. If the dough seems a little soft, let stand to firm for 5 minutes.
Pinch off small pieces of dough and roll into balls slightly smaller than ping-pong balls. Space about
2 inches apart on the sheets. Make a deep indentation in the center of each ball with your finger or knuckle.
Bake (middle rack) one sheet at a time for 7 to 9 minutes. Remove the sheet from oven and fill each indentation with a heaping 1/2 teaspoon jam. If using almond slivers, sprinkle a few of these over the center of each cookie. Return the baking sheet to oven and continue to bake for about 7 to 9 minutes longer, until the jam is starting to melt and the cookie bottoms are a golden brown. Remove from oven and transfer cookies to a wire rack to cool.
Makes about 45 to 50 cookies.