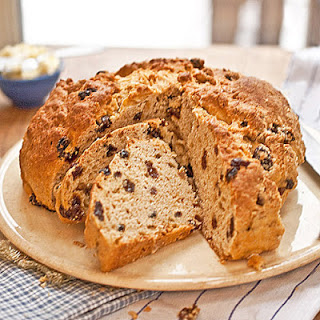 I often find that preparing recipes my mother and grandmother made conjures up fond memories of them. Pulling out a faded, dog-eared recipe for soda bread from my mother's collection last week certainly reminded me of her. I could vividly picture her standing in our old linoleum- floored farmhouse kitchen, mixing up a dough in the tiny drainboard/countertop area by the enamel sink.
When I was very young I mostly watched and took a turn stirring as my mother made simple quick breads like cornbread, biscuits, bran muffins and popovers—all from scratch, of course. Later, I helped measure and learned to crack and separate eggs; the activities seemed so comfortable and routine and I acquired my skills so gradually, that baking never seemed difficult or out of the ordinary. In fact, it was a lot of fun!
Once the necessary reading skills were acquired, I would look through my mother's little collection of tattered cookbooks and pamphlets and pick out recipes for us to try. By the time I was eight or maybe nine, I could prepare several quick breads and muffins all by myself. My only flops (literally) were popovers, which I never mastered and avoid to this day!
Since our family wasn't Irish, soda bread didn't appear regularly at our table. But my mother liked to mark every holiday with the appropriate dish—plum pudding for Christmas, pancakes on Shrove Tuesday, Hot Cross Buns for Good Friday, and Irish soda bread usually on St. Patrick's Day. (She was also fairly obliging when we requested Lime Surprise—a "dreamy" Jello-whipped cream concoction—or green-frosted cupcakes for dessert.)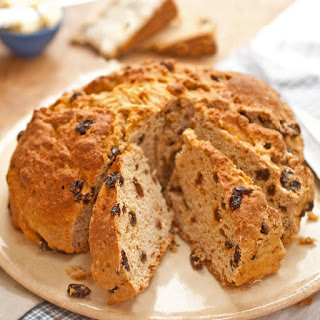 I've since learned that purists think real Irish soda bread shouldn't have raisins—that this turns it into an altogether different loaf, called Spotted Dog. In fact, they say that incorporating anything other than flour, salt, baking soda and buttermilk is just wrong. Nevertheless, my mother's version had raisins, so it seems absolutely right to me.
But I have made some changes in her basic recipe: Although I don't think a sack of whole wheat flour ever darkened my mother's door much less her pantry, I've come to prefer a part whole wheat soda bread. (It adds a nice, nutty flavor.) Yogurt wasn't in our home either, so would never have gone into her soda bread, but I add it because I discovered it helps keep the loaf tender and moist.

Irish Soda Bread--A Homespun Slice of Life
This loaf deserves to be called improved because, thanks to the addition of yogurt, honey, and a little oil, it has a moister, more tender crumb than traditional soda bread. Due to the yogurt it also keeps better and has more protein than classic versions prepared with just buttermilk.
I use some whole wheat flour not only for the fiber and nutrients, but because its wheaty flavor is extremely appealing. But, if preferred, you can use all white flour with excellent results.
The bread is at its best served still warm from the oven with, as the Irish say, "lashings" of butter. (Our butter was excellent, made from Gurnsey cow milk we churned ourselves.) But the bread is quite good wrapped in foil and reheated on the second or even third day. And, if sliced rather than cut into wedges as shown in the picture, it's also good for toast. (For a good recipe that's a little quicker, check on my
applesauce raisin muffins
.)
Serves:
one medium loaf, 12 to 15 thick slices or wedges
Ingredients
1½ cups unbleached white flour, plus more if needed
1⅓ cups whole wheat flour or white whole wheat flour
¾ teaspoon baking soda
Generous 1 teaspoon salt
¾ cup dark, seedless raisins, rinsed under hot water, drained well, and patted dry
1 6-ounce carton (or ¾ cup) nonfat or low-fat plain (unsweetened) yogurt
¼ cup clover honey or other mild honey
3 tablespoons corn oil, canola oil, or other flavorless low-saturated-fat vegetable oil
1 cup buttermilk, plus extra if needed
Instructions
Place a rack in the middle of the oven; preheat to 350 degrees F. Grease an 8-inch diameter cake pan, pie plate or similar flat, round baking dish.
In a large bowl, thoroughly stir together the white and whole wheat flours, baking soda, and salt. In medium bowl using a fork, beat together the raisins, yogurt, honey, and oil until very well blended. Stir in the buttermilk. Gently stir the buttermilk mixture into the flour mixture just until mostly incorporated. With your hands and working in the bowl, knead the mixture until it just comes together, then shape it into a round, shaggy ball; add a little buttermilk if it is too crumbly and dry to come together, or a little more flour if it seems too soft and wet.
Transfer the ball to the cake pan. With oiled hands, smooth and shape the dough into a 6-inch diameter high-domed loaf. With a well-greased sharp knife, cut a ½-inch deep X that extends across the loaf top.
Bake (middle rack) for 55 to 65 minutes or until well browned on top and a toothpick inserted in a center comes out clean; cover the top with foil after 40 to 50 minutes if it starts to over-brown. Let stand on a wire rack for 10 to 15 minutes, then serve. If desired, reheat the loaf wrapped in foil for about 15 minutes in a preheated 350-degree F oven.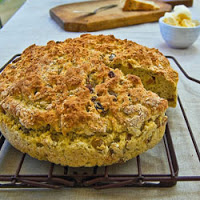 Though this was my go-to recipe for decades, I've added
a new recipe for seeded soda bread
with fennel seeds that may even be better than this one–it's from Ariel's Restaurant in Vermont.