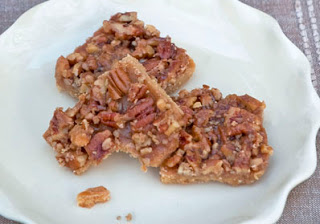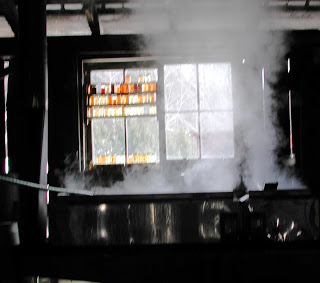 Some years back, I spent an exciting four days during the March sugaring season going all over Vermont to steep myself in the maple culture. It seemed that wherever I went the sweet, woodsy smell of maple syrup enveloped me.
It furled up from the bubbling pot as the Harold Howrigan family in Fairfield, Vermont, took me into their kitchen and showed me how to boil down syrup for maple candy and maple on snow. It swirled in moist clouds from the evaporator (see pics) chugging away at the Morse Farm Sugarworks sugarhouse in Montpelier. And it perfumed the air at the Butternut Mountain Farms bottling plant in Johnson, where a steady stream of glinting amber-filled jugs paraded past us and boxes of maple products stretched to the ceiling.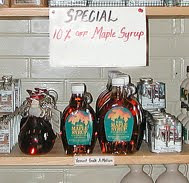 Not surprisingly, David Marvin, owner of Butternut Mountain Farms, was highly enthusiastic about my plan to create some sweet treats that called for maple syrup. "And the more you use, the better they'll be," he said with a laugh.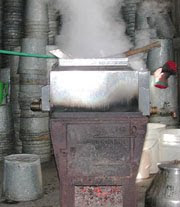 Actually, I've found that really showing off the subtle but glorious appeal of maple depends as much on what kind and how you use it as how much you use. For heightened flavor in baked goods, choose the robust-tasting dark amber maple syrup, and use it both in and on the sweet. If it's available, incorporating some pure maple sugar will boost the flavor of your treat even more.
Which brings me to these bars. They are slightly crisp and sticky, with a not-to-sweet maple shortbread crust studded with a succulent, crunchy maple-nut topping. They taste and smell like the steam that hovered during the Vermont sugaring season—subtle, natural, and haunting, with none of the all-too-familiar cloying artificial notes of imitationmaple extract. (For other maple treats, check out the story and Burr Morse's yummy recipe for Maple Kettle Corn here  or my maple-filled maple shortbread cups or maple custard pie.

Maple-Nut Bars
Maple most often seems to be paired with walnuts, but I love these bars with pecans, too. Try 'em both! These are homey and highly munchable and especially nice with a cup of tea or glass of milk. And please do let me know how you like the recipe–I'm planning to put it in my next cookbook.
Serves:
24 21/8- by 2¼-inch bars
Ingredients
½ cup (1 stick) unsalted butter, at room temperature and cut into chunks
¼ cup granulated maple sugar or ¼ cup granulated sugar
2 tablespoons pure maple syrup, preferably dark amber
¼ teaspoon baking powder
¼ teaspoon salt
1 large egg, at room temperature
1⅔ cups unbleached all-purpose flour

Filling:
6 tablespoons unsalted butter
2½ tablespoons each granulated maple sugar and granulated sugar (or use 5 tablespoons granulated sugar)
½ cup pure maple syrup, preferably dark amber
3 tablespoons light or dark corn syrup
Scant ¼ teaspoon salt
1⅔ cups coarsely chopped pecans or walnut, chopped moderately fine
Instructions
Preliminaries:
Position a rack in the middle of the oven; preheat to 350 degrees F. Line a 9- by 13-inch baking pan with heavy-duty foil, allowing it to overhang the two narrow ends slightly. Grease the foil or coat with non-stick spray.
For the crust:
In a large bowl, with a mixer on medium speed, beat the butter, sugar, maple syrup, baking powder, and salt until well blended. Beat in the egg until the mixture is thoroughly incorporated; don't worry if the mixture looks separated. On low speed, beat in the flour just until the mixture begins to mass. (If the mixer motor labors, stir in the last of the flour with a large spoon.)
Press the dough into the baking pan. Lay a sheet of wax paper over the top and press and smooth out to even the surface; discard the paper.
Bake (middle rack) for 20 to 25 minutes, until the shortbread is lightly browned at the edges. Set aside.
For the maple topping:
In a 2-quart, heavy, non-reactive saucepan, melt the butter over medium-high heat. Thoroughly stir in the sugar, maple syrup, corn syrup, and salt. When the mixture begins to boil at the edges, adjust the heat so it boils briskly. Boil, uncovered, 2½ minutes or until the mixture forms large glassy bubbles and boils down just slightly. Stop and check the consistency; if the syrup is still runny, boil another 30 to 45 seconds to thicken it slightly.
Pour the syrup over the par-baked shortbread, spreading it out until the dough is evenly coated. Sprinkle the nuts evenly over the top, then shake the pan to even the layer. Lay a sheet of foil over the nuts and pat down lightly to embed them slightly. Discard the foil.
Bake (middle rack) for 17 to 22 minutes, or until the filling darkens just slightly and the entire surface is bubbly. Transfer to a wire rack. Let stand until cooled to warm; don't touch during cooling as the syrup will be hot.
When the bars have cooled to warm, cut them crosswise into sixths and lengthwise into quarters using a large, sharp knife; try not to cut through the foil and don't lift them as they will still be crumbly. Let the bars cool and firm up completely, then lift them out; peel them off the foil as necessary.
Notes
Tip: The bars will be more "mapley" if you can add in some granulated maple sugar, but are worth making even if you can't find this enticing gourmet item. Note that the product you're looking for should be labeled "pure maple sugar." It's not the same as regular sugar doctored with faux maple flavoring and coloring.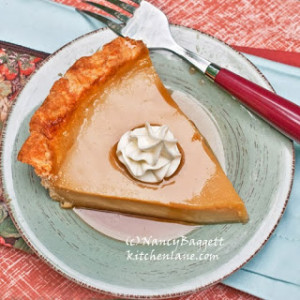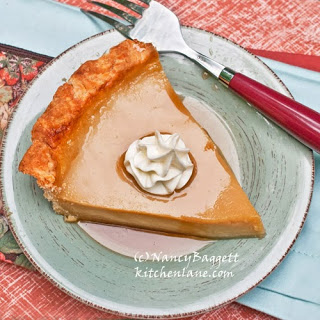 Rather bake a maple custard pie? Click here.