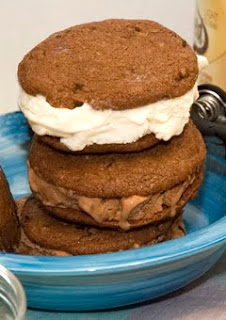 I love baking these plump, homemade chocolate cookies and turning them into ice cream sandwiches. Crispy, light and just chocolatey enough to show off dollops of ice cream, they make a wonderful summer dessert, especially after a supper on the deck. Besides being economical and tasting much better than store-bought, they can be paired with any ice cream desired—I found that purchased fudge chunk, mint chip, coffee-ripple, chocolate-cherry, and vanilla-custard sandwiches have all been good. (For another cooling treat, check out my all-natural homemade ice pops here.)
The sandwiches are such a breeze to make that even children as young as my six- and seven-year old grandchildren, Lizzie and Charlie, can ready their own. My favorite sweet freak, Charlie, likes his ice cream sandwiches decorated with colored sprinkles. He's drawn to the colorful look, but he also sees the decorating as an opportunity to snitch some candy dots when nobody's looking.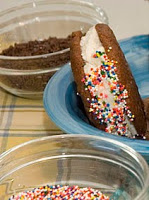 While most grownups love ice cream sandwiches, too, they have been considered mostly kids' treats since they first turned up in America around 110 years ago. In her fascinating book, Chocolate, Strawberry, and Vanilla: A History of American Ice Cream, researcher Anne Cooper Funderburg discovered a 1902 New York Daily Tribune article mentioning that street vendors had been selling ice cream sandwiches to New York City children for several years. The reporter noted that during a "hot spell" one vendor with an elaborately decorated cart did such a big business that "he could not make change, but insisted on receiving the actual price for each ice cream sandwich—1 cent."
Sandwiches, whether savory or sweet, are so commonplace today it's hard to believe they didn't appear in America until the nineteenth century. One very early recipe, for a sandwich of ham or tongue and optional mustard, was published in Eliza Leslie's 1837 American cookbook, Directions for Cookery. Clearly, sandwich makers hadn't gotten creative yet! The first savory sandwich, bread slapped around beef, supposedly originated in Britain in the 1700s when the Fourth Earl of Sandwich asked the cook to ready something he could eat without having to leave the gaming table.
Chocolate Ice Cream Sandwiches
If you like, ice cream sandwiches can be made completely in advance and frozen. I pack and store each one in its own little plastic bag. Another possibility is to make and freeze the cookies ahead, then bring them out with an assortment of ice creams so folks can create their own customized desserts right at the table. I find that this works best outdoors at a picnic or deck table, where nobody minds a little mess. The ice cream choices are nearly endless—everything from plain old vanilla to gourmet banana-fudge will have fans. Kids (and some grownups!) also enjoy rolling their sandwiches in colorful add-ons like colored sprinkles, finely chopped nuts, toasted coconut and chopped chocolate chips and other morsels. Just keep in mind that fine bits are best for both rolling and eating.
Note that cocoa powder called for in the recipe is unsweetened; it is not the same as cocoa drink mix, a much milder, sweeter product that will not work. The dutch process cocoa powder I prefer in the recipe is darker in color, but has a mellower flavor and less acid than American-style cocoa. It is sometimes labeled "dutched" or "European-style cocoa.
Tip: The cookie recipe calls for mini-morsels because the regular-size chocolate morsels become too hard and difficult to eat when frozen. If you don't have mini-morsels, chop up regular-size morsels before adding them to the dough.
Cookies
3 cups all-purpose white flour
1/2 cup minus 1 tablespoon unsweetened Dutch process cocoa, sifted after measuring
2 teaspoons baking powder
1/2 teaspoon salt
1 cup (2 sticks) unsalted butter, slightly softened
1/4 cup corn oil or other flavorless vegetable oil
1 cup granulated sugar, plus about 3 tablespoons for shaping the cookies
2/3 cup packed light brown sugar
1 teaspoon instant coffee or espresso granules or powder dissolved in 3 tablespoons tap water
2 large eggs
2 teaspoons vanilla extract
2 cups (12 ounces) semisweet chocolate mini-morsels, or regular-size morsels, chopped
Ice Cream and Optional Garnishes
2 to 3 quarts ice cream, just slightly softened
Finely chopped nuts, chopped chocolate, toasted coconut, decorator sprinkles and/or crushed candy bits for garnishing sandwich edges (optional)
In a large bowl, thoroughly stir together the flour, cocoa, baking powder, and salt. In a mixer bowl with the mixer on medium speed, beat together the butter, oil, granulated and brown sugars, and espresso-water mixture until well blended and fluffy, about 2 minutes. Add the eggs and vanilla, beating until very well blended.
Beat in half the flour mixture until smoothly incorporated. Stir in the remainder of the flour mixture and the chocolate morsels until evenly incorporated. Cover and refrigerate the dough for 20-30 minutes, or until firm enough to handle. (Or if desired, chill dough overnight, then let it warm up slightly before using.)
Preheat the oven to 350 degrees F. Line several baking sheets with baking parchment (or spray them generously with nonstick spray). Working on a sheet of wax paper, divide the dough into quarters with greased hands. Divide each quarter into 10 equal balls. Space them about 3 1/2 inches apart on the baking sheets to allow for spreading.
Spread the 3 tablespoons sugar in a shallow bowl. Grease the bottom of a large drinking glass, then dip the surface into the sugar. Press down the cookie tops until they are 2 1/4 inches in diameter; dip into the sugar before each cookie. (If the dough has been refrigerated more than 1 hour or is very cold, flatten the cookies a little more, into 2 1/2-inch rounds.)
Bake, one pan at a time, in the upper third of the oven for 7 to 11 minutes or until the cookies are firm at the edges but still slightly soft and underdone when pressed in the middle; turn the pan halfway through baking to ensure even browning. Remove the pan to a cooling rack, and let stand until the cookies firm up just slightly, 2 minutes. Then, using a wide spatula, transfer them to racks.
Let stand until completely cooled. Freeze the cookies, airtight, to ready them for making sandwiches. (They may be frozen, airtight, for up to 1 1/2 months.)
To ready sandwiches: Pair up the chilled cookies, undersides visible. Spread about1/3 cup just slightly softened ice cream on one cookie of each pair. Press the pair together until the ice cream squeezes out to the edges. If desired, smooth edges with a knife. Roll the ice cream edges in chopped nuts, colored sprinkles, chopped morsels, etc., if desired. Serve immediately, or if preferred, slip each sandwich into a plastic bag and freeze for later use.
Makes 20 3-inch diameter sandwiches.