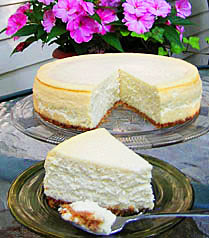 There are cheesecakes, and then there are cheesecakes. In the interest of staying current, I've made the over-the-top sort with espresso chocolate chunks, pumpkin swirls and lavender-berry puree. And, of course, chi-chi cheesecakes can be quite spectacular when I'm in the right mood. But when I'm in my comfort food zone, I invariably opt for the basic New York deli-type version. It's always gratifying, and never, ever, goes out of style.
A bite of a well-made slice is firm, dense, rich, and toothsome, never fluffy, insubstantial, or quivery soft. It's about the cream cheese, and eggs, and perhaps vanilla or lemon zest, and, usually, nothing else. It's never too sweet and seems elegant in an understated way.
Since the New York deli-style cheesecake looks so simple and straightforward, it might seem like—um—a piece of cake to make. And it is, if you rely on a well-tested, carefully written recipe.
But coming up with a good recipe is not so simple, often due to the dreaded "cracking problem." Almost all the food stylists I know have stories about the cheesecake from hell—one they were readying for a photo shoot that developed huge fissures down the center no matter how many times or how carefully they made, baked, and cooled it. After hearing all these tales, I'm suspicious whenever I see New York-style cheesecakes pictured with a berry, cherry, or sour cream topping: it may cover craters below. I've showed you mine "as is" just to assure you it's crackless!
After doing lots of experimenting with ingredients and mixing and baking techniques, I've made some discoveries concerning the cracking. It turns out that unless you bake the cheesecake in a warm water bath, it's almost essential to include some cornstarch (or flour) to stabilize the filling mixture. And with the New York deli-style cheesecake, the water bath isn't an option because this step produces a soft, custardy, quivery texture instead of firm, toothsome one required.
I think it's fitting that our favorite cheesecake hails from New York. Cream cheese was likely invented by New York dairymen in about 1870. Kraft Foods, owner of the Philadelphia Brand company, says that cheese distributor A. L. Reynolds named and introduced it into New York in 1880. Supposedly he chose the "Philadelphia brand" moniker simply because, at the time, consumers associated Philadelphia with top-quality food products.
Before cream cheese came along, cooks prepared their cheesecakes from mild, fresh, unripened cottage-style cheese curds or farmer cheese mashed or sieved to smooth their texture. A seventeenth century manuscript, Martha Washington's Booke of Cookery, starts with the following cheesemaking instructions: "Take 6 quarts of stroakings or new milk & whey it with runnet [sic] as for ordinary cheese, then put it in a streyner & hang it on a pin or else press it with 2 pound weight. Then break it very small with your hands or run it through a sive [sic] …."
Thank goodness we can just purchase our cream cheese and get on with the baking!
New York Deli-Style Cheesecake


Here's my version of the quintessential New York deli-style cheesecake—it's firm, dense, rich, mild, and, to my mind, great eating. It is excellent as is, but you could dress it up with any fruit topping desired. I love strawberry slices.
For a smooth texture and uncracked surface, beat the filling on medium-low speed. Also, be very careful not to over-bake; the center of the cheesecake should still be jiggly when the oven is turned off. If your springform pan happens to be a little larger than the one called for, that's fine; it will just yield a cake with less height.
Tip: It's best to prepare your own graham cracker crumbs. For some reason, the boxes of ready-to-use crumbs don't taste nearly as fresh and appealing.
Crust
4 ounces (about 14 2 1/4-inch squares) graham crackers, coarsely broken (enough to yield 1 generous cup fine graham cracker crumbs)
3 tablespoons unsalted butter, melted
Filling
1 2/3 cups granulated sugar
2 1/2 pounds (5 8-ounce packages) cream cheese cheese, at room temperature
1/4 cup plus 1 tablespon cornstarch
1 1/2 teaspoons finely grated lemon zest (yellow part of the skin)
6 large eggs
1/2 cup sour cream
1 tablespoon vanilla extract
1/8 teaspoon almond extract, optional
Preheat the oven to 350 degrees F. Very generously grease a 9- to 9 1/2-inch by at least
2 1/2-inch high springform pan, or coat with nonstick spray.
For the crust: In a food processor, grind the graham crackers to very fine crumbs. Add the butter; process until the mixture begins to hold together, scraping down the bowl once or twice. If the mixture seems too dry to hold together (press together with the fingertips to check), add up to 4 teaspoons water, a teaspoon at a time, and process until evenly incorporated. Press the crust evenly and firmly into springform pan bottom (not sides). Bake (middle rack) until nicely browned, 10 to 15 minutes. Set aside.
For the filling: Beat the sugar and cream cheese in a large bowl on medium-low speed just until completely smooth, carefully scraping down the bowl and beaters as needed. Beat in the cornstarch and lemon zest, then one at a time, on medium-low speed beat in the eggs, then the sour cream and vanilla and almond extract (if using) just until evenly incorporated and smooth.
Turn out the mixture into the crust, spreading evenly to the edges. Shake the pan and rap on the counter to even the surface. Bake (middle rack) for 15 minutes. Reduce the oven temperature to 275 degrees F. Continue baking for 50 to 60 minutes longer, or until the mixture appears done around the perimeter but is still slightly jiggly and unset in the center when the pan is shaken. Turn off the oven; open the oven door wide and let the cheesecake cool in the oven for 30 minutes. Transfer it to a cooling rack immediately.
Let the cheesecake stand until completely cooled, several hours. Cover and refrigerate for at least 6 hours or until very thoroughly chilled before serving. If the cheesecake has not already fully pulled away from the pan sides, carefully run a knife around the edge to loosen it at any points it is still sticking. Release the clamp and lift the cake up through the hoop. Serve the cheesecake directly from the pan bottom. For best appearance, cut the slices with a large knife and wipe the blade clean with paper towels between the cuts. The cheesecake will keep, covered airtight and refrigerated, for 5 or 6 days.
Makes 12 to 15 servings.
Another classic cake you may like: Peach Crumb Cake.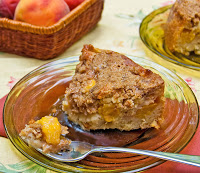 Or perhaps this classic Banana Bundt Cake here: