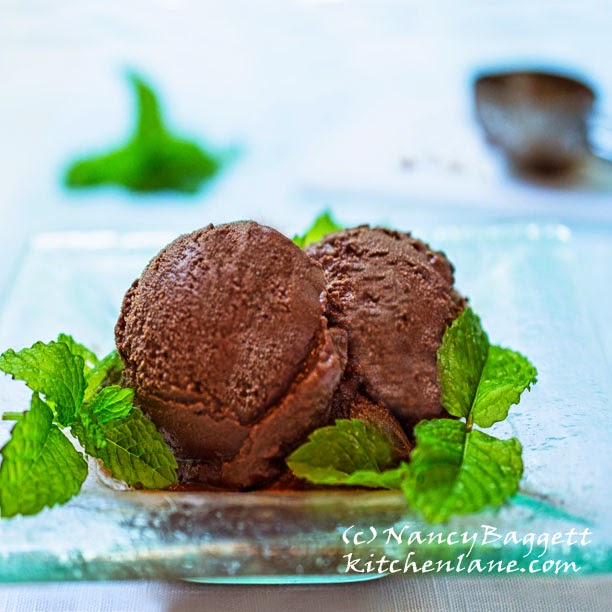 Last week it was simmering here in Maryland; for a couple of days the thermometer topped 100 degrees F. Everywhere heat waves were radiating off the sidewalks, and the air was so muggy wet towels wouldn't dry.
The stifling weather set me on a binge of sorbet and popsicle making, which I'm in fact still on. To maximize the goose bumps, I focused on coming up with some super cooling combinations, especially ones incorporating citrus and mint. (Check out my minted lime sorbet
here
.)
One of my biggest successes was this chocolate-mint sorbet. As a result of the peppermint, it seems colder and more invigorating than most icy treats because the sea breeze sensation when you take a breath lingers even after the actual ice has melted away.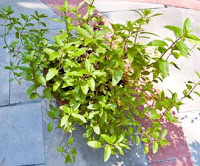 Scientists say that the unique cooling properties of peppermint can last up to 15 minutes or more. The phenomenon is the result of menthol in the herb affecting the same nerve endings that detect temperature changes in the mouth. Menthol causes these sensors, called thermoreceptors, to send messages to the brain saying "whooo, cool," even when there's nothing cold there. That's some peppermint in the pic. I contain it in a pot because it's a rampant grower, and I don't want it to take over my whole yard!
Chocolate-Peppermint Sorbet
When my peppermint starts overflowing the pot and looking leggy like the plant pictured, I know it's time to trim it back and make this amazingly refreshing sorbet. Even two large handfuls of sprigs are not too much—I'm not sure it's possible to use too much!
If you are aren't sure which variety of mint you've got, it's alright to use whatever is available, because this recipe calls for enhancing the fresh herb with some crushed peppermint hard candies. These contain the highly concentrated flavoring, oil of peppermint, which is produced from plants specifically chosen for their fresh, clean, invigorating character. I find the candies impart a much more enticing minty quality than peppermint extract; somehow it lends an artificial taste. (If you happen to have oil of peppermint on hand, add a drop of that for an even bigger punch of peppermint.)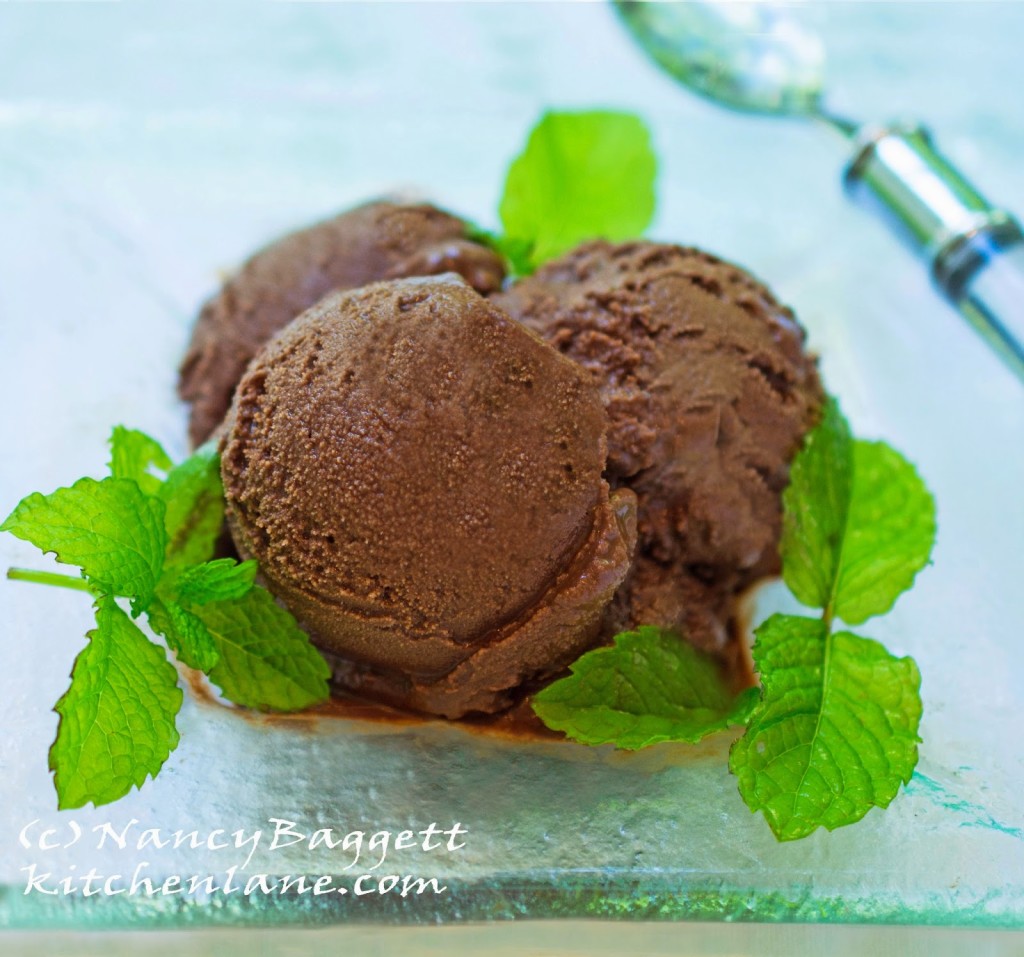 Depending on the brands of chocolate and cocoa used, your sorbet will range from super dark and bittersweet, to semi-sweet, medium-dark and moderately chocolaty. I like to use a quality chocolate bar with a cacao percentage of between 60 and 75, as the generous quantity of cocoa butter helps carry the minty aroma to the nose.
Tip: To crush the peppermint candies, place the unwrapped discs between two pastic mats (or in a triple thickness of plastic baggies); close them tightly and whack with a kitchen mallet or back of a heavy spoon until the candies are reduced to fine shards.
1/2 cup granulated sugar
1/4 cup clover honey
2 large handfuls fresh mint sprigs, preferably peppermint or blue balsam peppermint, washed and patted dry
3 tablespoons finely crushed peppermint pinwheel hard candies
3/4 cup good-quality unsweetened cocoa powder, such as Droste, Ghirardelli, Guittard, or Pernigotti
4 1/2 ounces semisweet or bittersweet (not unsweetened) chocolate, chopped
Thoroughly stir together the sugar, honey, 3 cups water and the mint spigs in a non-reactive medium saucepan. Bring to a boil, stirring, then stir in the candy bits; keep stirring until they dissolve or they may stick to the pan bottom. Adjust the heat so the mixture boils gently for about 5 minutes, or until the mint sprigs wilt and discolor. Remove the pan from the heat. Measure out 2/3 cup hot liquid from the pan and pour it over the cocoa and chocolate in a bowl; do not stir it in. Let stand so the chocolate can soften for 5 minutes, then stir until smoothly incorporated, mashing out any cocoa lumps with the back of the spoon. Stir the chocolate mixture back into the saucepan.
Let the mixture cool. Cover and refrigerate for at least 3 hours and up to 24 hours to allow the mint to infuse the mixture. Strain it through a fine sieve into a 4-cup measure, pressing down on the mint to extract as much flavor as possible. If necessary, add enough ice water to yield 3 1/3 cups of sorbet mixture. Process in an ice cream maker according to the manufacturer's instructions.
Makes 1 scant quart.
Other recipes you may like: Blackberry-Plum Sorbet
or perhaps Lime with Mint.