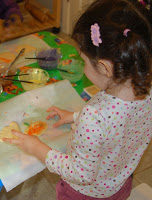 I shared one of those wonderful family bonding experiences last weekend when my sister and her granddaughter and my granddaughter and I all gathered to bake and decorate Halloween cookies in my kitchen.
The little girls, three and seven, don't get to see one another too often and it's usually noisy and hectic when the entire family gathers, but this time they got to spend a quiet afternoon just having fun one-on-one. Like most kids, they also like both cookies and craft projects, so they greatly enjoyed selecting their cutters and turning out the shapes they particularly wanted. (Meanwhile, both sets of parents were off having their own outing at the U. of Maryland homecoming football game—a different but equally important bonding experience!)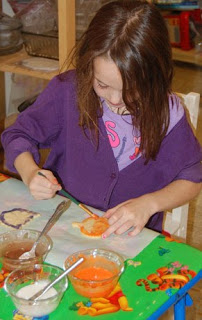 The girls also got to help mix the array of colored powdered sugar icings, and as the pics show, enjoyed painting and adding sugar sprinkles to their masterpieces. Even though Sophie, my sister's granddaughter, hadn't frosted cookies before, she had used paints and brushes in nursery school, so was able to dab on the icing paints easily.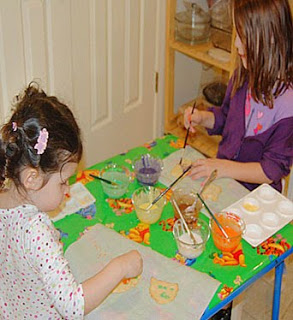 She also watched what her older, more decorating-savvy cousin, Lizzie did, and quickly caught on to the idea of making the pumpkin stems green and the round parts orange, and adding dark icing blobs to give the ghosts eyes.
Though both girls were eager to sample the cookies, they were satisfied when we limited them to two apiece. We packed up some of the extras for them to take home and share with their families. We ended the afternoon with a lovely walk in the woods followed by a rest in a pile of leaves.
My sister and I both had a ball "facilitating" the cookie crafting afternoon. It really was magical to see that Gramma and Nana were providing such a special time for the kids we love. I suspect that we'll treasure it as long as the children. I'm also thinking it's going to become a family holiday tradition—cookies are also appropriate for Thanksgiving and Christmas and Valentine's Day and Easter and…. (To see some pretty painted autumn cookies I decorated, click
here
.) For the best, easiest way to roll out cookie dough, check out the
quick video here
.)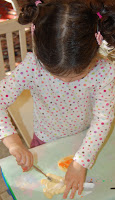 In case you'd like to duplicate this experience with your favorite kids, here are some of the logistical details that will help things go smoothly:
>Make your cookie dough completely ahead, divide it into three or four portions, then roll each one out between sheets of baking parchment or wax paper. Check out my
All-Purpose Sugar Cookie Dough,
if you need a good recipe.
>Let the sheets of dough chill on a baking sheet in the refrigerator until you need them, then take them out one by one as you need them.
>Make a large batch of icing that can be divided up and tinted 5 or 6 different colors. I used 1 box of confectioners sugar combined with 1 teaspoon light corn syrup, 1/2 teaspoon vanilla, and enough water to produce a spreadable consistency. I added the drops of color to each portion, then let the kids finish the mixing.
>Have at least one clean small paint brush for each bowl of icing. Otherwise, the children will be temped to dip the same brush into different colors and the paints will end up all mixed together and muddy-looking. (Lacking paint brushes, small table knives might work, especially for older kids)
>Offer several colored decorating sugars so the kids can add an easy finishing touch.
>Lay out a sheet of baking parchment or wax paper for each child to work on—this will make cleanup easier.
> Whenever the kids start fidgeting or growing tired, simply wrap up the activity while they are still enjoying themselves. After all, they don't have to make all the cookies. You can refrigerate the leftover dough; cover the icings with plastic; and finish up later on.
Most important, either grow extra hands, or have at least two grownups (or maybe one adult and an older child) involved: one can help the kids cut out and transfer the cookies to baking sheets while the other supervises the baking, fetching, re-rolling and other tasks. I have a feeling that for one person this activity might be more frantic than fun!