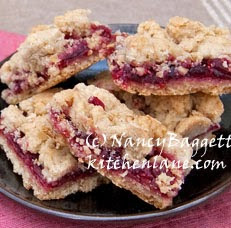 I could try to entice you make these these cranberry crumb bars by reminding you how the native Americans introduced the early Colonists to cranberries, so they're a big part of our culinary heritage. I could also tell you the Pilgrims ate cranberry sauce at the "first Thanksgiving," though in fact this would be a lie, because they had no sugar, and nobody would have given thanks for consuming cranberries "straight." (They should have eaten the berries though, because most of the group had scurvy, and the tart, vitamin C-rich fruits would have helped cure it.)
But there's a more compelling and urgent reason to eat cranberries, which I learned when I visited a Whitesbog, New Jersey, commercial cranberry bog (shown in the pics below) a few years ago. America's cranberry farmers are getting better and better at producing large crops, and we consumers really need to pitch in and eat up the slack.
The last couple years the cranberry industry produced the biggest yields ever–over 7 million 100-pound barrels annually. What with about 50,000 berries per barrel, we've got a lot of consuming to do. And if we don't step up to the task every fall, the consequences are dire: Those beauties will just sit there in the bogs and rot.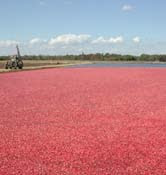 It's true! That was exactly what did happen a few years ago. The market was so glutted, the USDA ordered the nation's cranberries growers to leave about 30 percent of their crops to come to a bad end in the bogs.
So make these bars! Or maybe my Cranberry-White Chocolate Cookies. Or how about my Nicely Spicy Cranberry-Pear Muffins. Or at least crack a can cranberry sauce or serve up some cranberry cocktail juice this fall. Help save some berries from a watery grave!
Easy Cranberry-Cherry Crumb Bars
To keep things simple, this recipe calls for dividing the crumb mixture in half, then using one portion for the bottom crust and the second for the streusel on top.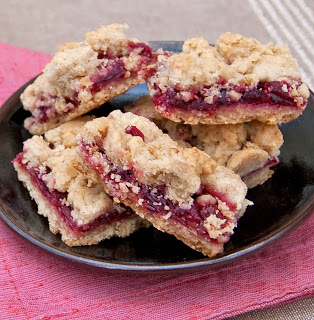 When served warm with a scoop of ice cream or dollop of whipped cream, these wonderfully fruity, buttery bars make a great a holiday dessert. But once they're cooled thoroughly, the bars firm up and become crispy-chewy instead of crumbly, so they can also be cut into very small squares and served as cookies.
Filling
1 cup dried sweetened cranberries, coarsely chopped
1/4 cup chopped, fresh cranberries
3/4 cup sour cherry jam (chopped, if lumpy)
1/2 tablespoon unsalted butter, cut into bits
1/2 teaspoon ground cinnamon
Crumb Mixture
1 1/2 cups all-purpose white flour
1 cup old-fashioned rolled oats
1 cup granulated sugar
1/4 teaspoon salt
2/3 cup (10 2/3 tablespoons) unsalted butter, melted
Preheat oven to 350 degrees F. Spray an 11- by 7-inch (2-quart) flat baking dish with nonstick spray.
For filling: Combine dried and fresh cranberries, jam, butter, and cinnamon in a microwave-safe bowl. Cover loosely with wax paper, and microwave on high power until mixture begins to bubble. Set aside. (Alternatively, combine cranberries, jam, butter, and cinnamon in a medium-sized saucepan. Bring to a simmer over medium-high heat. Cook, stirring, for 1 minute.)
For crumb mixture: In a large bowl, thoroughly stir together flour, oats, sugar, and salt. Add butter, stirring until mixture is well blended and crumbly. Firmly press a scant half of mixture into baking dish, forming an even layer. (Reserve remainder for topping.) Bake in upper third of oven for 12 minutes; layer will not be browned. Using a table knife, evenly spread cranberry-cherry mixture over crumb layer. Stir a teaspoon or two water into remainder of crumb mixture so it just begins to clump. Sprinkle crumb mixture evenly over the filling, patting it down lightly,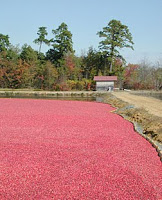 Bake in upper third of oven for 25-30 minutes or until the topping is nicely browned and crisp and fruit is bubbly. Transfer pan to a wire rack. Let stand until cooled to warm. If desired, trim off and discard over-browned edges all the way around using a large, sharp knife. Bars may be served warm as individual desserts or at room temperature as cookies.
Makes 8 to 10 dessert-sized servings or 24 to 30 cookie-size servings.