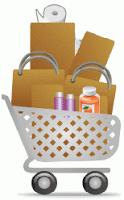 In the same way my computer automatically slips into sleep mode to save power during off hours, my brain automatically switches into stupor mode whenever I pick up a pencil to write a grocery list. All reasoning and memory functions shut down, perhaps in a misguided effort to spare me from suffering the ordeal ahead.
If I put the list down beside my purse, I'll leave it home. If I lay it on top of my purse, I will absently pick it up, lay it aside and leave it home. Unless I cram it in my purse before the phone, doorbell, or oven timer interrupts me, I won't find the list again for three days. After which time, due to scribbly handwriting, I won't be able to read it anyway.
Getting the plastic shopping sacks from my house back to the store recycle bin is a huge challenge, too. Even though the bags go right in the front passenger seat of the car where I can't miss 'em, I'll invariably hop out and zip into the market sans sacks. Sometimes I drive around with a mile-high pile of bags for weeks.
My dazed, doomed feeling always heightens once I hit the store's automatic doors. I think it's because my supermarket follows the musical chairs method of merchandise placement. About every two months, just as I'm beginning to acclimate to the last go round, they methodically move all 46,000 products (I read that the average store stocks this number) somewhere else. And they're really creative about choosing new places I'll never think to look. Lately, the management has pretended to be helpful by handing out store maps to facilitate customer re-orientation, but, I've realized that whatever I specifically need is never on the sheet.
On a recent trip I discovered that the canned green chilies had migrated from their customary place next to cans of tomatoes with green chilies to a new home in International Foods. This did make some sense, except that they were over by the diced pimentos and canned artichokes, not with the salsas or refried beans. Worst of all, the brand of chilies I liked best (just like every other food product I've ever develop a great fondness for) had been discontinued.
I was also flummoxed by the disappearance of the most economical brand of light bulbs from the usual house wares shelf to a distant, dimly illuminated corner of the store. Perhaps some symbolic "green" message was intended by sticking them there—like, "Do you really need these? Or perhaps, "Dark is good!?"
I'm already girding myself for another round of the "find-the-stuffing" game the store played this time last year. For several months in the fall, the bread cubes and bags of stuffing claimed space, logically enough, near their "parents," whole loaves of bread. Then, as Thanksgiving neared, they inexplicably turned up near the canned soup—perhaps somebody had suddenly pronounced them "croutons?"
Finally, when I frantically rushed in to the soup aisle the day before the holiday, my heart sank to see the stuffing was … GONE again. A clerk pointed me to a display near the frozen turkeys—very convenient for last-minute shoppers grabbing a bird that couldn't possibly thaw or be stuffed in time for Thanksgiving.
I've read that grocery chains actually spend big bucks to research consumer habits, and that some even utilize shopping cart tracking devices to follow customers' paths around stores. This has revealed that people often proceed in a haphazard, random fashion, advancing only partway down some aisles, skipping others, and backtracking and bouncing all around the store. Well, duh! If you constantly churn your merchandise, folks are going to wander around confusedly searching for stuff.
Supermarket research has also uncovered a less obvious, even startling fact: Customers purchase more per shopping trip if the background music is up tempo and in a major key. (Perhaps minor keys and slow tunes make us bummed and lethargic?). Now I know why they keep playing "Over the River and Through the Woods," and "Just Hear Those Sleigh Bells Jingle-ing" this time of year, maybe I should invest in some earplugs. Let me put them on my list….
Readers: If you, too, have the feeling your supermarket conspires against you, please feel free to share your tales. I'm especially eager for your comments on the peculiar and confusing merchandice placements you've observed.