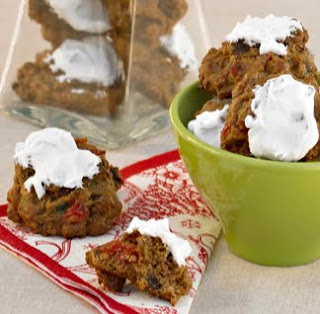 Every Christmas I struggle to find the right balance between brand new and "tried-and-true" cookies to bake. To keep current and avoid missing something, I have to try at least a few recipes with unusual flavor combinations or trendy ingredients each season. Which usually nets me a couple of "keepers" (like my
Chocolate-Peppermint Brownies
or
Chamomile Shortbreads
) to add to my permanent collection.
But I'm also torn by loyalty to the treats that have been tasty and reliable companions over many decades. Like long-time friends or lovers, they don't deserve to be cast aside just because something sexier comes along!
Of course, my baking list always includes certain family "must-haves." These favorites are part of our personal culinary heritage, and our clan would view omitting them as cruel and unusual punishment. In fact, I'd be the Grinch stealing away our traditional family Christmas!The cookie at the top of the "non-negotiable" list is my mother-in-law's old-fashioned lebkuchen—fragrant, iced spiced fruitcake drops handed down through at least three generations of her family. She baked these as far back as my husband can remember, and he and my son looked forward to a batch as long as she was able to make them. In her later years, my mother-in-law and I readied her lebkuchen together. Since she passed away this May, I'll now be carrying on the custom myself, perhaps baking them with my son and her great grandchildren. At six and eight, both kids are old enough to remember her, and I think that baking her cookies will be a fine way to keep her alive in their hearts. It will certainly help me keep her close—I made my first batch of the season to take these pictures, and I could almost feel her there by my side! (I have also posted a very personal story about recently losing my mother-in-law to Alzheimer's here.) Mom's Lebkuchen My husband's mother, Miriam Solomon Baggett, introduced me to her "lebs" many years ago. They were her special gift to about a dozen or so lucky relatives and friends every Christmas. They are wonderfully aromatic, full-flavored and slightly chewy, and, with the dabs of royal icing on top, look like little snow-capped mountains.Though the recipe originated in Germany, Mom's ancestors apparently adapted it to take advantage of American ingredients and to suit their tastes, as it is actually more reminiscent of really fine American fruitcake cookies than of the Lebkuchen Germans make. For example, it substitutes molasses and brown sugar for the original honey and granulated sugar and calls for pecans, which are New World nuts still little known in central Europe.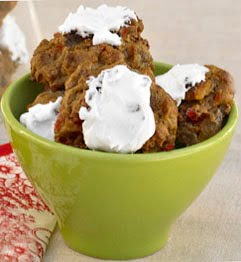 Fruit-Nut Mixture1 2/3 cups (about 8 ounces) pitted, chopped dates3/4 cup (about 4 ounces) mixed diced candied fruit1 cup (about 6 ounces) diced candied pineapple 1 cup (about 6 ounces) chopped candied red (and/or green) cherries1 cup (4 ounces) each, chopped pecans, chopped walnuts, and chopped almonds2/3 cup good quality brandy or bourbon (or use orange juice, if preferred)Dough3 cups bleached all-purpose white flour, plus extra if needed1 1/2 teaspoons each ground cinnamon, ground ginger, ground allspice, and ground cloves½ teaspoon each baking soda and baking powder1 cup light molasses1/4 cup corn oil or other flavorless vegetable oil 2/3 cup packed light brown sugar2 large eggs plus 1 large egg yolk (save the white for royal icing), at room temperatureIcing1 large egg white (reserved from making dough)
1 tablespoon fresh lemon juice1/2 teaspoon cream of tartar1 3/4 cups powdered sugar, sifted after measuring if lumpy1/8 teaspoon lemon extract or almond extract2 tablespoons water, approximatelyFor the fruit mixture: Thoroughly stir together the dates, mixed candied fruit, pineapple, candied cherries, pecans, walnuts, almonds, brandy (or bourbon) in a large non-reactive bowl. Cover and let stand at least 8 hours and up to several days, stirring several times; if the mixture absorbs all the liquid, stir in several tablespoons of water (or additional booze, if preferred).For the dough: Preheat the oven to 350 degrees F. Grease several large baking sheets, or coat with nonstick spray. In a medium-sized bowl, thoroughly stir together the flour, cinnamon, ginger, allspice, cloves, baking soda, and baking powder; set aside. In a large mixer bowl, beat the molasses, oil, and brown sugar together until well blended. Add the eggs and yolk, beating until well blended; it is all right if the mixture looks curdled. Stir the dry ingredients and fruit mixture (including any unabsorbed liquid) into the molasses mixture until evenly incorporated. If the dough is too soft to drop by teaspoonfuls, stir in a tablespoon or two more flour; if too stiff and dry, stir in a little water. Drop the dough by generous measuring tablespoonfuls, spacing about 1 1/2 inches apart on baking sheets.Bake, one pan at a time, in the upper third of the oven for 10 to 14 minutes or until the cookies are just barely firm when pressed in the center and barely darker at the edges. Remove the pan from the oven; let the cook­ies stand a minute or two. Using a spatula, transfer them to racks. Let cool completely. For the royal icing: In a mixer bowl with the mixer on medium speed, beat the egg white, lemon juice, and cream of tartar until the white becomes frothy and opaque. Gradually beat in 1 cup powdered sugar. Beat in the lemon extract, and 1 tablespoon water. Gradually beat in the remaining 3/4 cup powdered sugar. Beat on high speed until the icing is stiff and glossy. If the icing is too stiff to spread, thin with additional water until spreadable.Swirl a small amount royal icing over the center top of the cookies using a table knife. Let stand until the icing completely sets, several hours. Pack with wax paper between the layers. For best flavor, allow the cookies to mellow 24 hours before serving.The cookies can be kept, airtight, for up to 3 weeks, although the white icing begins to discolor after a week or so. Freeze the un-iced cookies for up to 2 months for longer storage; then ice after they are thawed.Makes about 80 1 1/2-inch cookies.
Tip: If you like festive fruit cookies, but want something more contemporary check out my Cranberry-White Chocolate drops.