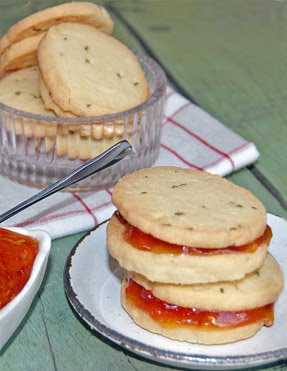 Being a cookie freak, I follow a little rule about adding at least a couple new cookie recipes to my repertoire every year. This year I've discovered one that is not only a keeper, but that has zoomed to the top of my favorites list. It's fragrant, eye-catching, and on the novel side to say the least. In fact, it's a sandwich cookie that features fresh chopped rosemary leaves, cornmeal, and a tomato jam filling!
Now if you're thinking, "Oh, too weird," please read on. This Rosemary Cookies with Tomato Jam recipe has a delectable, if faintly exotic, rosemary aroma and a pleasing butter shortbread texture that wows even timid tasters. Even the tomato jam—which my trusty-taster hubby resisted until I assured him it was really good—turns out to be a perfect, slightly subtle sweet-tart complement to the richness and crispness of the cookies. As is true in savory dishes, tomato pairs brilliantly with rosemary.
Tomatoes are actually botanically fruits,  but they aren't usually served as such, so the jam is quite a revelation. The tomato taste is mild and very fruity. Plus, the tomato jam adds a glorious translucent color, as the pics show.  (If I still haven't convinced you, but you want to try a somewhat unusual cookie, my chamomile petticoat tails shortbread or pumpkin drop cookies with cream cheese frosting might suit you better.)
Most of the recipes posted on  Kitchenlane are ones I created. But, this one is adapted from my very talented colleague, David Lebovitz. He's justly famous both as a pastry chef and super-blogger; check out his always entertaining Paris-based domain here.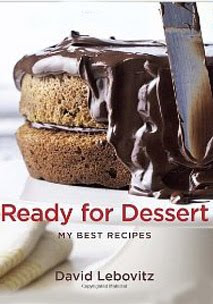 David's version appears in his big, handsome, full-color Ready for Dessert: My Best Recipes Cookbook. It's made many holiday gift book lists this year, and has garnered great reviews from both pros and happy home cooks. It contains all kinds of desserts, from ice creams, sorbets, and such to cakes, pies, tarts and cobblers—some are chi-chi, others are delightfully homespun. If you were given an Amazon or other bookstore gift certificate this holiday, this title would be a truly fine way to treat yourself.
David Lebovitz's Rosemary Cookies with Tomato Jam
David commented in the intro to this recipe in Ready for Dessert that he believes in trying dishes that are out of the ordinary. I definitely agree. If I hadn't given this one a chance, I would have really missed out. He didn't say how he happened to come up with unusual combo, but did mention that he has made the cookies many times.
By the way, I served some of the cookies "plain" before I'd readied the jam and if you don't have time to prepare it, they will still be outstanding and not plain at all.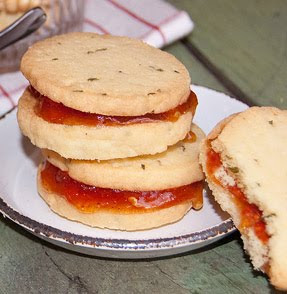 Note that you need fresh rosemary for this recipe; dried rosemary is a bit too dry and coarse and will distract from the tender-crisp cookie texture.
Tip: If you have leftover jam, spread it onto buttery crackers and top with thin slices of sharp cheddar for a terrific snack or interesting hors d'oeuvres.
2 cups unbleached all-purpose white flour
1/4 cup stone-ground yellow cornmeal
1/2 teaspoon salt
1 cup (2 sticks) unsalted butter, at room temperature
10 tablespoons granulated sugar
2 large egg yolks, at room temperature
1 1/2 tablespoons finely chopped fresh rosemary leaves (no stems)
In a medium bowl, thoroughly whisk together the flour, cornmeal, and salt. With a stand mixer fitted with the paddle attachment (or in a bowl and using a portable mixer), beat together the butter and sugar on medium speed just until smooth. Thoroughly beat in the egg yolks, then the rosemary. Add the flour mixture and stir with a large spoon until the dough is smooth and holds together.
On a lightly oiled sheet of baking parchment, divide the dough in half. Shape each half into a log about 7 inches long and 1 3/4 inches in diameter. Wrap the logs in plastic wrap. For very round cookies, slide the logs into discarded paper towel tubes that have been slit lengthwise. Tape the tubes shut or secure with rubber bands. Refrigerate until chilled and firm, at least 1 hour and up to several days, if preferred. (Or freeze, airtight, for up to 1 1/2 months; let thaw in the refrigerator before using.)
For baking: Position racks in the upper and lower thirds of the oven; preheat the oven to 350°F Line 2 large baking sheets with parchment paper.
Slice the logs crosswise into disks 1/4-inch thick, rotating the logs a quarter turn after each slice (to keep them round). Place the disks about 1-inch apart on the prepared baking sheets. Bake, rotating the baking sheets and changing racks midway through baking, until the edges of the cookies are lightly browned, about 12 to 15 minutes. Let cool completely; the cookies are too tender to move when warm.
For the sandwiches: Spread about 1 1/2 teaspoons jam (or as desired) on the underside of half the cookies. Top the jam with a second cookie, bottom side down, to make sandwiches.
Storage: The unfilled cookies can be stored, airtight, for up to a week. Once filled, the cookies can be stored for up to 4 days.
Tomato Jam
2 1/4 pounds ripe tomatoes (about 5 large)
2 cups granulated sugar
Generous pinch of salt
Generous pinch of ground cayenne pepper
2 or 3 grinds of black pepper
2 or 3 teaspoons freshly squeezed lemon juice
Bring a large saucepan of water to a boil. Using a paring knife, cut out the stem end of each tomato, then slice a shallow X in the bottom. Plunge the tomatoes into the boiling water until their skins loosen, about 30 seconds. Remove them with a slotted spoon and let cool.
When cool enough to handle, slip off the tomato skins. Discard the water, but save the saucepan for cooking the jam. Halve the tomatoes crosswise and gently squeeze out the seeds and juice. Chop the tomatoes into 1/3-inch pieces.
Return the tomatoes to the saucepan; stir in the sugar, salt, and peppers. Cook over medium heat, stirring frequently to ensure that the mixture is cooking evenly but not burning, just until most of the liquid has evaporated. If foam occasionally rises to the top, skim it off with a large spoon. Remove from the heat and stir in the lemon juice to taste.
Ladle the jam into sterilized jars. Cover tightly, let cool, and refrigerate.The jam will keep for at least 6 months refrigerated.
Another summer-inspired recipe you may like–Painted Daisy Sugar Cookies. The icings are naturally colorful from fruit juice concentrates, not synthetic dyes.