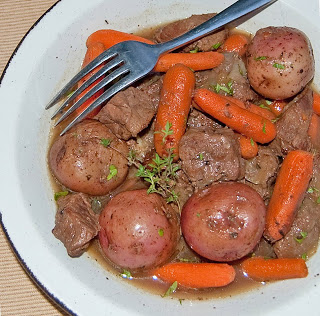 Right now it's snowing, and blowing, and bitter cold outside, but I'm inside making
no-knead bread
and baking a hearty beef and vegetable one-pot for supper. Except when I have to let my poor poodle out, I can almost forget the thick white blanket building up and bowing the tree branches and the treacherous ice creating chaos on the roads. Here in my house it's warm, calm, and cozy.
I can't think of a better meal than warm bread and steaming stew for riding out a snowstorm–or for any chilly night for that matter! I posted about the astonishing aroma and flavor of homemade no-knead bread
just last week
. Now it's time to focus on one of its best menu companions, beef and vegetable stew.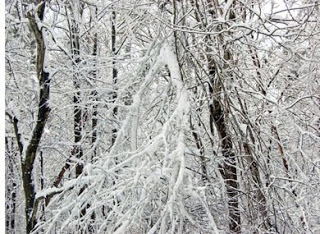 The recipe here is slightly adapted from one from Jean Anderson's book, Falling Off the Bone, published by Wiley last fall. I was very excited when my editor at Wiley sent me a review copy, partly because it's handsome and well-designed, and partly because I've admired Jean's recipes and writing for years. In fact, I've often used samples of her work to inspire students when I teach food and cookbook writing classes. Yes, she's that good!
One reason I think so is that
her recipes always work!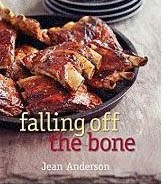 As a rule, I'd never risk making a recipe from a brand new cookbook for company, but I just
know
hers will come out tasty and attractive. She also takes care to keep all these slow and low-cooked entrees as simple and fuss-free as possible—no extra steps or unnecessary ingredients to waste readers' time or money.
Jean is also a fine writer. I'm a hard grader when it comes to recipe introductions (my own post on how to write them is
here
). I want the author to give me a sense of what the dish is like, how it can best fit into a menu, and to alert me of any tips for success. I also look for interesting bits of culinary history or lore, or information on what's special about the recipe. Jean delivers, not only in her recipe intros but in her general details on meat cuts and cooking techniques, with an easy grace.
Finally, like most talented and successful cookbook authors, Jean has a refined palate. She just knows what tastes good and what readers are going to be pleased to serve. Her collection includes everything from a zippy Moravian Sauerbraten and Tuscan Veal Pot Roast, to Curried Lamb Shanks, to Corned Beef and Cabbage. I'm betting you'll enjoy every dish you try.
Easy One-Pot Beef and Vegetable Oven Dinner
Believe it—this recipe is remarkably fuss-free! You start simply by baking some of the ingredients uncovered. Then, additional items and braising liquid are added and the dinner is gently cooked, covered, until the beef is tender-succulent and the veggies are done.The stew is also excellent made ahead and reheated. (For a classic French beef and red wine dish instead, see my take off on Julia Child's
Boeuf Bourguignon.)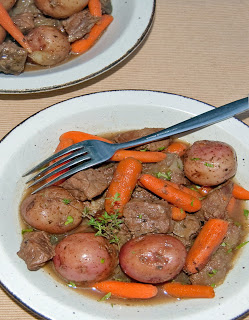 2 pounds boneless beef chuck, trimmed of excess fat and cut into 1 1/2-inch cubes
2 tablespoons olive oil, divided
2 large (softball-size) onions, halved lengthwise, then halves sliced lengthwise 14-inch thick
2 large, peeled garlic cloves, smashed and chopped
2 large whole bay leaves
1 tablespoon fresh thyme leaves (or 1/2 teaspoon dried thyme leaves) plus more for garnish, if desired
1/2 teaspoon each salt and black pepper
1/2 cup condensed beef consommé or strong beef broth
1/2 cup dry white wine (or if preferred, 1/4 cup tomato sauce and 1/4 cup additional consommé)
12 to 15 golf-ball size red bliss or other boiling potatoes, well scrubbed
2 1/2 to 3 cups baby carrots
Preheat the oven to 350 degrees F. Stir together the beef and 1 tablespoon olive oil in a 4 to 5 quart Dutch oven until the beef is coated. Remove it from the pot and reserve. Stir together the remaining 1 tablespoon oil with the onions, garlic, bay leaves, thyme, salt, and pepper in the pot. Lay the beef over the top. Bake, middle rack, uncovered, for 30 to 40 minutes, until the beef is browned.
Thoroughly stir in the comsomme and wine. Cover and braise for 1 hour. Arrange the potatoes and carrots over the top. Re-cover, and cook until the beef and vegetables are tender when tested with a fork, about 1 1/2 hours longer. Discard the bay leaves. Taste and add more salt and pepper as desired. Serve in large soup plates, with the broth spooned over top, and garnished with a little fresh thyme, if desired.
Makes 4 to 6 servings.