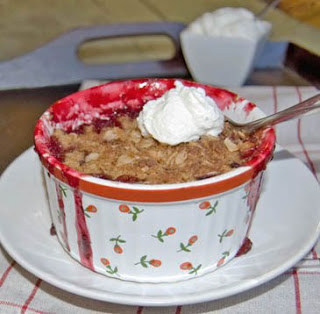 Most recipe developers will tell you that coming up with new recipes has a built-in oops factor. Experimenting always involves exploring uncharted territory, so snafus are inevitable. First guesses at soup can look and taste like wallpaper paste, cookies like pathetic pancakes, puddings like lumpy goo.
I used to hope for the time I'd know enough about food chemistry to avoid unpleasant surprises. But it still hasn't happened–I learn things the hard way almost every day!
Often, trouble results because the ingredient proportions are off. This occurred recently with my holiday peppermint marshmallows. The first version had too much gelatin and too little water, resulting in "treats" as chewy-tough as gummy bears. If they'd been round, they'd have made good rubber balls.
Sometimes, plain old carelessness is the problem. Once I was rushing through what I thought would be the final test of a stir fry that didn't thicken right. In fact, it was runny.
So, I grabbed the yellow box of cornstarch a second time, made a quick slurry of more cornstarch and water, and tried again. Still runny! One taste revealed why: I'd grabbed the yellow confectioners sugar box, not the cornstarch! Oops!
I created the gluten-free crisp here so my gluten-sensitive daughter-in-law could enjoy it along with the rest of the family. (For some other tempting gluten-free sweets, check out the brownies and thumbprint cookies.) The first version was just not quite as flavorful or as nubby-crispy on top as I wanted. So I changed the amount of butter and subbed some imported bottled cherries from Trader Joe's for some bland canned tart pie cherries.
I would have been happy with the result except: The tasty gourmet Morello cherries had not been pitted, so they lent a certain unpleasant crunchiness I hadn't planned for at all! Oops again!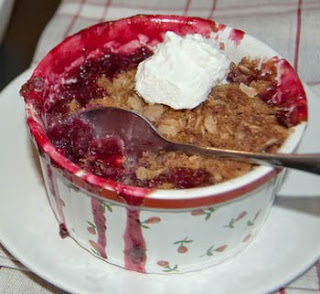 Bumbleberry Crisp
Assuming you use good pitted cherries, you'll be really happy with this crisp. And nobody will suspect it's gluten-free. (For some other good home-style fruit desserts see my mixed berry-streusel cobbler or favorite apple crisp.)
Remember that for a gluten-free crisp, you must use certified gluten-free oats. These and the rice flours called for are usually stocked in stores with the other gluten-free baking ingredients.
I make this recipe all year round. Frozen berries are always available, and, occasionally, frozen rhubarb is, too. But since it's availability is iffy, when it is in season, I buy extra, cube it and freeze it in plastic bags for later use. By the way, bumbleberry is just the fanciful name for the very enticing and popular fruit, mixed berry and rhubarb combination called for here. (I didn't make it up; I've heard Canadians coined it.)
Filling 2 cups granulated sugar, or a little more if desired1/3 cup cornstarch5 cups mixed berries (fresh or frozen thawed blackberries, raspberries, strawberries, blueberries)2 1/2 cups peeled, cored and chopped apples2 1/2 cups diced (1/2-inch pieces) rhubarb2 cups pitted fresh, canned, bottled, or frozen sour cherries in light syrup or water, well drainedTopping 2 3/4 cups gluten-free old-fashioned rolled oats, divided1/2 cup white rice flour1/2 cup brown rice flour1/2 cup almond flour or almond meal
1/3 cup cornstarch1 1/2 cups packed light brown sugar Scant 1 teaspoon salt1 teaspoon ground cinnamon1 cup (2 sticks) unsalted butter, meltedPreheat the oven to 375 degrees F. Grease a large, flat (9- by 13-inch or similar) baking dish, or coat with butter or oil (or use individual dishes, if desired). Place the large dish or individual ones on a large rimmed baking sheet.In a large non-reactive bowl, thoroughly stir together the granulated sugar and cornstarch. Gently stir in all the fruits until evenly incorporated. Evenly spread the mixture in the baking dish. Bake (middle rack) for 15 minutes.For the topping: Meanwhile, in a food processor, thoroughly process together 3/4 cup oats, the rice flours, almond flour and cornstarch until very smooth. Add the brown sugar, salt and cinnamon; process until evenly blended. Drizzle over the butter, then pulse until evenly incorporated and the mixture forms small clumps. Stir the crumb mixture together with the remaining 2 cup rolled oats. Sprinkle the topping evenly over the fruit mixture.(The large dish will be quite full.)
Bake in the middle third of the oven for 20 to 35 minutes longer, until the top is well browned and the filling is bubbly; individual servings will be done sooner than the large dish so start checking after 15 minutes. Transfer to a wire rack and let cool to barely warm or room temperature before serving. Top with scoops of ice cream or dollops of whipped cream, if desired.Makes about 10 serving.