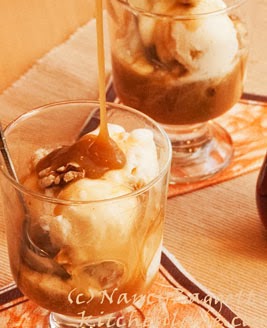 There's a reason I'm making maple cream sundaes right now. Unless you live in maple country you may not know it, but this is harvest time for North America's maple producers. They've been out in the sugar bush the last month or so, working frantically to bring us the next year's supply of maple syrup.
Their sugaring season is always short—those precious few late winter weeks when the days are warm enough that the sap rises from the roots of seemingly lifeless trees, but nights are still cold enough that it falls again and the branches don't start to leaf. Once they do, the sap takes on an odd flavor, and the harvesting ceases for another whole year. At this point, many of the trees have been tapped and their watery essence reduced to syrup. Bottles and jugs of fluid amber and gold are now arriving in stores and are waiting for us to pluck them from the shelves.
So, let's step up and do our part! I really have been trying to do mine—by coming up with several new maple recipes, including my maple shortbread mini-cups and the maple sundae sauce featured here. My chief taster, my hubby, said that this recipe needed a number of tests before it was perfect: Yes, it's his usual ploy when he likes to keep eating what I happen to be making!
Not only is the recipe simple, but it satisfies a major requirement of one of Vermont's maple moguls, David Marvin, of Butternut Mountain Farms. His maple retail shop, or "sugar shack" as some of the locals call it, is pictured. For more pics of David's charming "shack," plus one of an old-fashioned sap collecting bucket hanging on a tree, go here.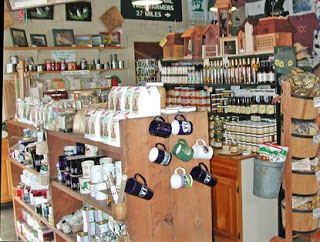 "I don't see much point in those recipes that just call for a tablespoon or two of maple syrup," David confided when I visited him during the harvesting season a number of years ago. "If you're going to call it a maple recipe, don't be timid about using the maple." He was laughing, but I think he was serious!
One thing to remember when you bake or cook with maple syrup: It's often best to use grade A Dark Amber or grade B syrup. The grade A dark amber has a robust maple bouquet and hearty flavor that's excellent for sauces and confections. Grade B is the strongest and darkest table grade syrup and is excellent in baked goods, where a subtle maple taste would be too muted or completely lost. (Note that the USDA grading indicates only syrup color, not quality. Also, Canadian syrups are rated using an entirely different system.)
Maple Sundae Sauce
Boiling down the pure maple syrup with cream intensifies and smooths its flavor and adds body. The corn syrup helps keep the sauce from crystallizing during storage, so don't leave it out. If desired, garnish the servings with some toasted pecans or walnuts.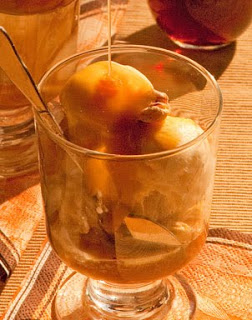 I doubt that I have to tell you this makes a truly tasty dessert—the pic speaks for itself! (For a different, very "mapley" treat, my nut bars, plus Vermont sugaring pics, go
here
.)
1 cup pure maple syrup, preferably grade A dark amber
1/3 cup heavy (whipping) cream
1/4 cup light corn syrup
In a heavy, 2-quart or larger non-reactive saucepan over medium-high heat, stir together the maple syrup, cream and corn syrup. Adjust the heat so the mixture boils. When it comes to a full, foamy boil, cook for 2 1/2 to 3 minutes, stirring occasionally. For a more fluid sauce cook for the shorter time; for a thicker sauce and turns slighty chewy over ice cream cook for the full 3 minutes. Remove from the heat. Pour through a fine sieve into a non-reactive storage container.
Cool to warm before serving. If the sauce seems thicker, thin it with a few teaspoons warm water. Serve immediately over ice cream or refrigerate, tightly covered. Serve warm; reheat and stir well before using. Keeps, refrigerated, for 2 weeks.
Makes 1 1/3 cups sauce.