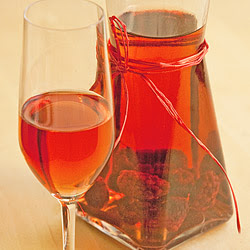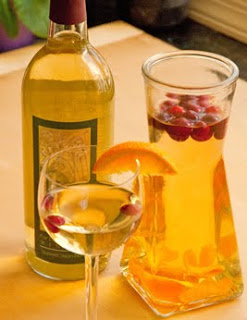 I have been playing around with wine recipes lately, though I admit my wine expertise is pretty much limited to what I learned on some vineyard tours in Napa Valley and the New York Finger Lakes. But as often happens, what I post about here often reflects what's going on behind the scenes in my kitchen or life.
Right now one little project I'm involved with is helping out a young couple I know with their start-up boutique winery here in Maryland. Using some of their Far Eastern Shore Winery products, I'm creating several recipes that they'll be able to hand out to customers at regional wine festivals.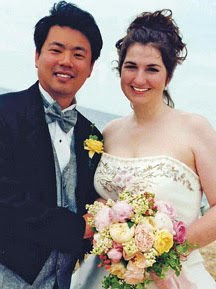 The couple, Tien-Seng and Tara Chiu, are wonderful people: I've known Tien-Seng since he and my son were high school buddies and then roommates in college. I've known Tara since the two were married and she started attending the gatherings at my son's house. Just chatting with them always brightens my day!
Actually, their marriage was partly responsible for their fledgling business! Tara and Tien-Seng decided to make wine for their wedding reception, and guests started asking local wine retailers to carry it. At this point, they have a licensed production facility at their Easton, MD, home, and 52 retailers in the state carry their wines. Their grapes now come from local suppliers, but they plan to harvest their own in the near future. Eventually they hope to quit their current jobs and concentrate on the winery full time.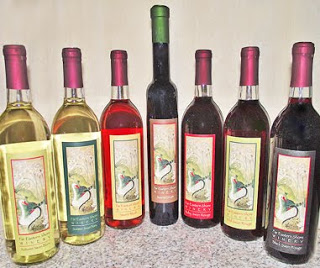 Tien-Seng describes their products as "nontraditional, gently sweet wines where we blend a grape wine with specific fruit flavors. This yields an 'anytime wine' that pairs well with a variety of foods, but can also be enjoyed alone." They currently sell seven different wines, from Black Swan Rouge, a cabernet brightened with real blackberries to Summer Swan Blanc, a chardonnay highlighted with apricots, peaches and hints of citrus.
I've served another of their offerings, the Autumn Swan Blanc, a pinot gris blended with white cranberry juice, in place of sangria. And the following retafia recipe, which features this wine, makes a tempting fall aperitif, light liqueur, or simple cocktail.
I'd come across ratafia recipes before in 18th and 19th century cookery books, but never tried to prepare these charming drinks until recently. Says Eleanor Parkinson in her 1861 work, The Complete Confectioner, Pastry Cook and Baker, "These are liqueurs made by the infusion of the ingredients in spirits, … but instead of being distilled they are simply filtered, and sugar is added to them."
The spirits called for in ratafias are most often brandy or rum, but occasionally wine. Flavoring ingredients range from spice and herb leaves and seeds, fresh and dried fruits and berries, and even nuts and cocoa beans.
Orange, Spice and White Wine Ratafias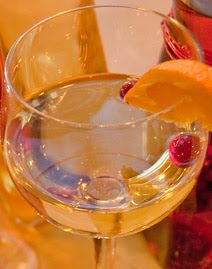 I was actually amazed at the subtle, yet noticeably appealing flavor and aroma notes the orange strips and spices added. They made this already pleasantly fruity wine so enticing that once I'd taken the photos, I kept sampling after dinner every night until I'd polished off the whole batch!
As the pictures show, the whole cranberries didn't break down at all even after 6 weeks (and kept floating, too!), so I'm not sure that they contributed much flavor. But I think they make a pretty garnish, so feel free to incorporate them if you like.
Serve the ratafias at cool room temperature in cordial or smallish wine glasses as an aperitif, or after dinner in place of a dessert liqueur. Or pour over a few ice cubes in short glasses for light, refreshing low-alcohol cocktails.(BTW, the pic at the very top shows a red wine-blackberry ratafia; I'll be posting that recipe some time in the future.)
Tip: Adjust the amount of sugar to suit your taste. Begin with the minimum called for and increase it if desired.
750 ml bottle Swan Autumn Blanc (or substitute a fruity Pinot Gris or semi-dry Riesling white wine)
2 1/2 to 4 tablespoons granulated sugar, to taste
Strips of orange peel (orange part of the skin only) from 1 small well-washed orange
2 whole allspice berries and 2 cardamom pods (substitute 1 whole clove if cardamom is unavailable)
2 to 3 tablespoons fresh whole cranberries, washed and patted dry, optional
Fresh orange slices for garnish, optional
In a glass pitcher or other non-reactive container with a spout, stir together the wine, the minimum amount of sugar called for, the strips of orange peel, and spices until the sugar dissolves. Taste and add more sugar, if desired. Put into a bottle or jar; stir in the berries, if using, and close tightly. Store in a cool cupboard (or out of the light) for at least 3 weeks and up to 6 weeks.
If desired, strain the liquid through a sieve, discarding the fruits and spices. Or, if preferred, pour straight from the storage jar, spooning out and floating a few cranberries for garnish, if desired. Optional orange slices are a nice garnishing touch, too.
Makes about a quart, 6 to 10 servings, depending on size.