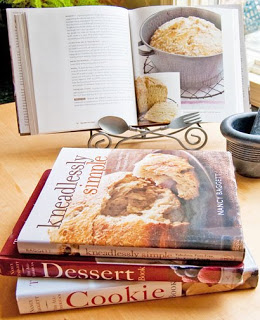 It's obvious from the number of times I've been asked, "Do you test your recipes?" that many cookbook readers are skeptical about this. Yet, as I mentioned in my "recipes good enough for publication," blog post, almost without exception, all of the experienced and successful recipe writers and creators I know do test, usually a lot.
True, readers can still get burned by sketchy, fragmented "receipts" in old cookbooks, as well as the modern-day fund-raiser/ community collections and Internet offerings just gathered up and published without any testing or editing. In such works, it's pretty common for home cook contributors to omit key details—like forgetting to list the baking powder in muffins or to say that the gelatin has to be softened before it's dumped into a boiling mixture.
And I admit, errors, even fatal ones, occasionally slip into even well-tested cookbook and article recipes. Not long ago, I came upon a fudge recipe in a newspaper that gave lengthy, thoughtful advice on choosing the right chocolate, but failed to mention how much of it was required!
I'm sorry to say that in my pizza dough recipe in the initial print run of my Kneadlessly Simple cookbook the "yield" was listed as "1 pizza," even though the directions clearly said to divide the dough in half and "use each half to prepare a pizza." DUH! (Don't even ask—it's far too complicated to explain how this happened, but it got fixed right away.)
But truly, it's not always our fault! Sometimes problems can arise due to—dare I even mention it?—USER error. My friend and fellow cookbook author, David Joachim, has a pithy explanation for this: "A recipe writer provides a map, but the cook still has to drive the car. If the cook doesn't have much experience, the ride may be bumpy. Even though recipe writers may be excellent backseat drivers, no recipe is truly foolproof." In other words, there's always an unavoidable oops factor!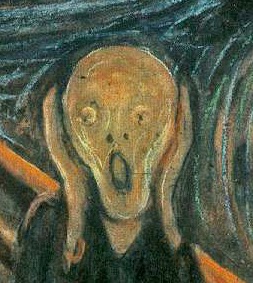 Here are just some of the more bizarre, unbelievable, slightly maddening, even heartbreaking, I'm-gonna-scream sad food writer tales in my files. Unfortunately, I'm not making any of them up!
> A young teenager made my "easy" chocolate cake that appeared in a Sunday magazine supplement for his mom on Mothers' Day. Unfortunately, he added 2 tablespoons instead of 2 teaspoons of baking powder. His father complained that it "overflowed and messed up the whole oven, stunk up the kitchen, and wasn't fit to eat." I don't doubt any of that one bit!
> An agitated newbie cook told a home economist friend of mine who was working the USDA holiday turkey hot-line that despite what the recipe said her 22 pound turkey would NOT fit in the 25-pound turkey baking bag. My friend eventually figured out that the caller was trying to fit not only the turkey but the roasting pan in the bag.
> In the I'm-happy-to-help-BUT," department: A reader personally called me to report that though my cheesecake came out "pretty good," it took 20 minutes longer to bake than the recipe said. In reviewing her steps, we found that she'd started with cold water in the water bath, not the hot water specified. "That would slow down the baking a bit," I pointed out.
> Mark Scarbrough, one of my cookbook author colleagues, once had a reader raise a fuss about a pie crust recipe not working. When he followed up and discovered that she had mistakenly substituted cornstarch for the flour, she countered, "They're both white!"
> A food editor (who really should have known better) mixed up one of my oatmeal cookie recipes using a processor instead of the mixer called for. She continued to disparage the overly-stiff dough and dry, tough cookies even after I explained that when rolled oats are ground into flour by a processor blade, they'll make the dough much drier and stiffer than when they're incorporated as flakes. There seemed no point in even bothering to mention that toughness increases when a processor overdevelops the gluten in wheat flour….
> Food writer and blogger Jeanne Sauvage recollects that someone used a pancake mix (containing baking soda, salt, etc.) as a "substitute" for flour in her recipe. They then complained "that the texture was funny and it tasted too salty!" Really?
> In the I-never-saw-that-one-coming department: An elderly lady, whom I knew was a good baker, declared my tip on using foil to keep water from seeping into a leaky springform pan a "disaster." It turns out she had interpreted my direction to "wrap the pan bottom in a sheet of aluminum foil large enough to extend all the way up the pan sides," to mean that the foil should be wrapped around the inside of the pan. Which, as she said, didn't prevent leaks and made the cheesecake come out "just terrible." (Ever since, I've instructed readers to "set the pan on a sheet of foil, then pull it up around the outside of the pan.)
> In the I-definitely-saw-that-one-coming department: I know whenever someone tells me they substituted diet tub-style margarine for the butter in one of my cookies—and this has happened a number of times—that they are also going to tell me the recipe failed. Diet tub margarine and butter have about as much in common, baking-wise, as mud and melted chocolate: They look vaguely similar but, trust me, the two are going to yield different results, one of which folks are not going to like!
Anybody got other sad stories to share? Bring 'em on!