I've been trying to limit the use of commercial food dyes in my dessert decorations lately, and decided to see if I could create some eye-catching spring sweet treats that would be completely food color-free. These pretty decorated cupcakes, which I'll be serving to my grandchildren, are the result. So, I'm declaring the project a resounding success!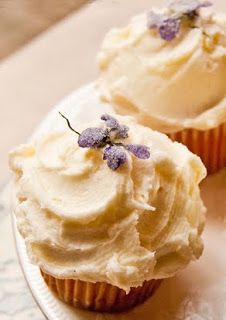 Easy Au Naturelle Orange, Cranberry-Orange or Raspberry Buttercream Frosting
2 2/3 cups powdered sugar, plus more if needed
6 tablespoons unsalted butter, slightly softened and cut into chunks
Generous 2 tablespoons raspberry-grape, cranberry, or orange frozen (thawed) juice concentrate
1/8 teaspoon very finely grated orange zest, optional
Spread the frosting on with a knife, then swirl it attractively with the tip. Alternatively, if applying to mini-cupcakes or cookies, you can spoon the frosting into a pastry bag fitted with a 1/2-inch diameter open star tip. Pipe rosettes over the tops by holding the tip vertically and squeezing the bag and rotating the tip at the same time. Immediately press fresh or candied violets onto the centers of cupcakes or cookies, or arrange in whatever attractive pattern is desired for cakes. Serve immediately or place in an airtight container. Store at room temperature for up to 3 days or freeze for up to a week. Let come to room temperature before serving.