I've been trying to limit the use of commercial food dyes in my dessert decorations lately, and decided to see if I could create some eye-catching spring sweet treats that would be completely food color-free. These pretty decorated cupcakes, which I'll be serving to my grandchildren, are the result. So, I'm declaring the project a resounding success!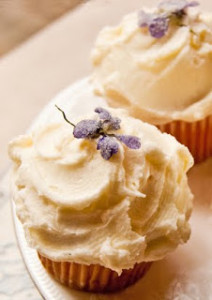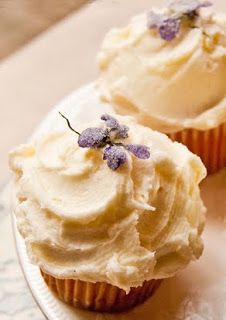 The buttercream frostings featured are completely free of food dyes and contain only sugar, butter, and natural fruit flavors and colors. The fruits are added in the form of very convenient fruit juice concentrates: Use thawed frozen orange juice concentrate for the cream-colored frosting and either raspberry-grape or cranberry juice concentrate for a pink hue. The orange juice concentrate together with orange zest will produce a pleasing orange flavor; the raspberry blend lends a light berry flavor; and the cranberry-orange zest a pleasant, zippy fruity-citrusy taste.
Forbrighter decorating colors, see my cookie icings here.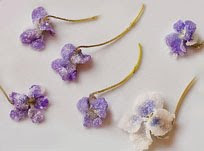 The crowning touch to garnish my cupcakes is either fresh or candied violets, Johnny jump-ups, or very small pansies. All these are edible, naturally colorful, and abundant in spring. (Do not use African violet blooms, or other flowers that just happen to strike your fancy as many are either unpleasant tasting or poisonous.) For instructions on candying the violets, plus more decorated cupcake pics, go here.

Easy Au Naturelle Orange, Cranberry-Orange or Raspberry Buttercream Frosting
The following versatile, easy buttercream can serve as decorative piped or swirled cake, cupcake or cookie frosting. It's a great boon to anyone preferring to avoid or limit food dyes when decorating. If you wish to serve two different flavors and colors (as shown in the picture) make two batches of frosting, each in a different flavor.
Serves:
about 2 cups frosting
Ingredients
2⅔ cups powdered sugar, plus more if needed
6 tablespoons unsalted butter, slightly softened and cut into chunks
Generous 2 tablespoons raspberry-grape, cranberry, or orange frozen (thawed) juice concentrate
⅛ teaspoon very finely grated orange zest, optional
Instructions
Combine the powdered sugar, butter, fruit juice concentrate, and zest (if using) in a large mixer bowl. Beat on low, then medium speed until well blended. Scrape down the bowl. If necessary, gradually beat in cool tap water, a teaspoon at a time until the mixture is creamy-smooth and has the desired spreading or piping consistency; or add in more powdered sugar if it is too wet. Raise the speed and beat until very light and fluffy, about 1 minute longer. Scrape down the sides again.
Spread the frosting on with a knife, then swirl it attractively with the tip. Alternatively, if applying to mini-cupcakes or cookies, you can spoon the frosting into a pastry bag fitted with a ½-inch diameter open star tip. Pipe rosettes over the tops by holding the tip vertically and squeezing the bag and rotating the tip at the same time. Immediately press fresh or candied violets onto the centers of cupcakes or cookies, or arrange in whatever attractive pattern is desired for cakes.
Serve immediately or place in an airtight container. Store at room temperature for up to 3 days or freeze for up to a week. Let come to room temperature before serving.Leftover frosting can be stored airtight for up to a week in the refrigerator or a month in the freezer. Allow it to return to room temperature before using. For best texture, beat it lightly again before using.
Notes
Tip: If you are choosing a raspberry fruit juice concentrate and want to be sure to avoid commercial colorants, check the label. Some brands contain red food dyes, others, such as the Welsh's raspberry-grape blend I used here, don't.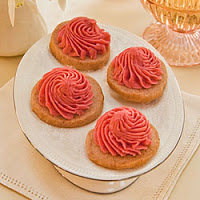 For an intensely flavored and colored
raspberry buttercream frosting go here.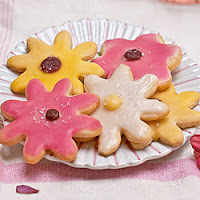 For my all-natural fruit and berry tinted cookie icings shown on the daisy cookies, go here.