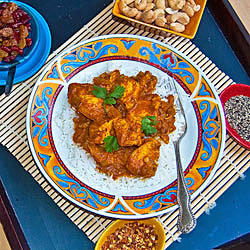 It's been another one of those crazy-busy weeks where I look up from the computer or kitchen counter each evening and realize I haven't any idea what to fix for supper! Now there's good and bad kinds of crazy-busy, and this has been good crazy, so I'm not complaining. After literally years of my toiling away creating and testing recipes, I'm excited to tell you that we are poised to start production on my next cookbook.
I just struggled though punching up my book's introduction (I could tell it was too long-winded), and my editor liked it—yes! As you can imagine, this is an incredibly exciting time. (And, believe me, it never gets less exciting even if it's not the very first book!)
The production process varies with publishers and books, but my next baby will have photographs. So, right now we are looking at portfolios, and my editor is actually negotiating with someone we're considering for the job. Hopefully, I'll be able to share more details on this soon and eventually even post some snapshots of the photo shoot in progress. (My newsletter subscribers already know what my book is about; I'll publicly be posting about that on my site soon. If you're interested getting exclusive news and recipes, sign up here; it's free.)
You may be surprised to hear that often the author doesn't participate in the photo shoots, except perhaps for helping to choose what dishes will be featured. Some photographers worry that the author might interfere or distract them. (Occasionally, this does happen!)
But sometimes, the author is right there in the studio kitchen busily cranking out the recipes the food stylist and photographer will shoot. Even though it means working feverishly over several long days, I prefer this approach because the recipes, especially baked goods, come out looking more like I envisioned them. Still, I carefully coordinate with the stylist and photographer, so if they want, say, extra-chunky brownies, or a creamy, flowing look to the frosting, I'll leave the nuts in big pieces and add a little more liquid until the icing is on the soft side. After all, they're the experts on how to make food photograph well.
I often wonder if the sense of wild anticipation that keeps building until a book comes out is similar to the feeling actors have before their big movie is released. Do they, like me, always have exceedingly high hopes? Do they imagine their work creating a stir, garnering rave reviews and even—when their daydreaming gets really silly out of hand—snagging a nomination for a coveted award?
But wait! I'm getting way ahead of myself. We won't even see the first hot-off-the-presses copies for another 14 months! In the meantime, I've got innumerable tasks ahead of me, like proofreading, rewriting, correcting, not to mention blogging and getting supper on the table lots of nights!
Here's what I'm fixing this evening. Good, easy, and popular in our house. If you're crazy-busy, you might want to try it. And, if you're crazy busy, I truly hope it's the good kind of craziness.
Chicken Curry in a Hurry
I turn to this recipe often when I need to get a healthful hot meal on the table fast. It takes less than 30 minutes.
I serve the dish over rice along with several munchable, colorful garnishes that can be sprinkled over top. Depending on what I have on hand, I set out bowls of raisins, dried sweetened cranberries, peanuts, cashews, almonds, chopped green onions, or pineapple chunks. A tossed salad or a fruit usually completes the meal.
Tip: Basmati rice, a long-grained Indian rice with an appealing mellow flavor and aroma, is excellent with this curry. However, regular long-grained white rice or even "5-minute" rice will work, too.
1 cup regular or low-sodium chicken broth, divided
2 tablespoons mild to medium hot curry powder, divided
1 teaspoon dried thyme leaves
1/4 teaspoon salt
1-1/4 to 1 1/2 pounds boneless, skinless chicken breast halves, cut into 1-inch cubes
2 tablespoons corn oil or olive oil, divided
1 cup each chopped onion and celery
1 tablespoon all-purpose white flour
1 8-ounce can tomato sauce
3 to 4 cups cooked basmati or other long-grain white rice
Assorted dried and fresh fruit and nuts for garnishes, as desired
In a medium-sized bowl make a seasoning paste by stirring together 2 tablespoons broth, 1 tablespoon curry powder, the thyme, and salt. Stir in chicken until coated; let stand for 5 to10 minutes. Meanwhile ready other ingredients.
In a 12-inch nonstick skillet or saute pan, heat 1 tablespoon oil over medium-high heat until hot but not smoking. Add onion and celery and cook, stirring occasionally, until onion is softened, about 5 minutes. Stir flour into chicken mixture until evenly incorporated. Add remaining 1 tablespoon oil, the chicken pieces and any remaining seasoning mixture to skillet. Adjust heat so chicken sears and cooks rapidly but does not burn. Cook, turning frequently, until browned on all sides, about 5 to 8 minutes.
Stir the remaining chicken broth, tomato sauce and 1 tablespoon more curry powder into skillet. Lower heat; simmer gently. Cook, stirring occasionally, 8 to 10 minutes longer, until flavors blend and mixture cooks down a bit. Taste and add more salt if desired. Spoon curry over hot rice and serve. Pass assorted curry garnishes at the table. Makes 4 servings.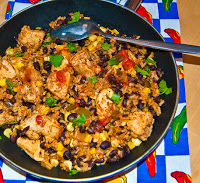 Interested in a quick chicken dish that doesn't call for curry? Try this salsa and black bean chicken skillet.