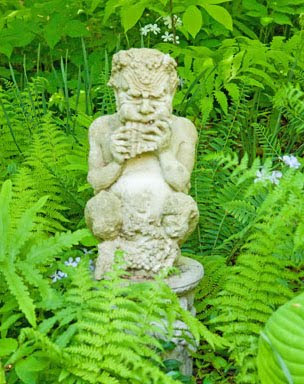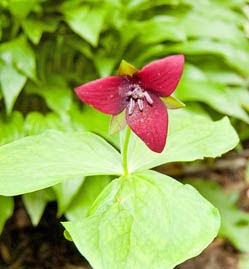 The best cure I know for sitting in front of the computer too many hours is to go out and walk around a garden. Inhale the fresh air, smell the greenness, stretch, and I'm guessing almost immediately you'll feel a sense of calm. I know I always do.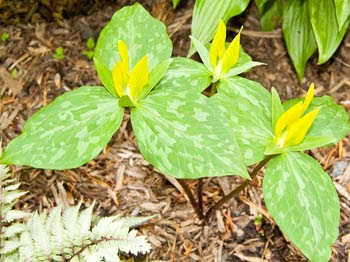 Except for the bitterest winter months, something interesting is always happening in my garden. Right now some perennials are just coming up, some are about to bloom, and many of the spring ephemerals, like the Virginia blue bells and wood hyacinths, are fading away.

Because I have a lot of shade, many of the comings and goings are quietly compelling rather than razzle-dazzle. Shade plants tend to charm with their foliage and smaller, less conspicuous flowers, though my two prized trilliums, one yellow, one red, routinely turn heads. (I aspire to have a whole patch of them some day!)
Just in the last month four kinds of violets—first the deep purple and light purple-cream ones, then yellow, and finally white—sprang up and brightened shady spots with their blooms, then dropped their petals and receded back into the green. (For more pics of purple violets, plus how to candy violets and decorate with them, go
here
.)
Now the airy clusters of pale purple woodland phlox are dancing in the light among the lacy ferns and hostas. Out in the sunny part, clumps of blue irises are opening, and the big, blousy red peonies are about to burst forth.
These events are predictable, but the garden is always full of surprises. My cherished three-year old lavender appeared to be dead after the hard winter, but I cut it back, and now it's showing life and leafing again. (It's still too spindly for a picture though.) This may seem a small thing, but it makes me very happy!
For the first time ever, my parsley plants have resown themselves, scattering so many tiny seedlings around the bed that if I'm patient, by the end of summer I'll be able to make a parsley-loaded tabouli nearly every day! This was a lovely unexpected gift. The dill also reseeded, though I'm not quite as enthralled because this happens fairly often.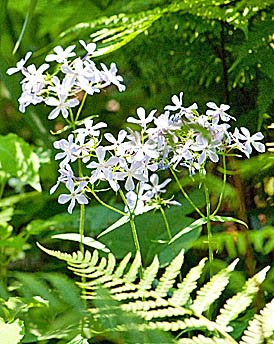 Shortly, I'll be harvesting my rhubarb (pics and recipes
here
), snipping nasturtium and chive blossoms to make
herb vinegar
, and admiring hydrangea blooms of the most breathtaking shade of blue.
Come along with me as all the events unfold this year; I'll be sharing garden reports, recipes, and photos in "How Does My Garden Grow," posts with you every month or so.
Check out the lovely violets which I use for pastry decorating. Or see more of the whole garden as shown below here.