I must have been born with the hunter-gatherer gene. Every year as spring wanes and summer heats up, I fidget and fuss and just can't stand to wait for berry season to begin. The berries shown above are the first black raspberries this season–a small quantity, but there are more on the canes.
This cobbler is easier to make than most because the topping requires no rolling out or shaping. Instead, it is prepared like a streusel, or crumb crust, and is simply crumbled over the fruit. The topping comes out slightly crisp and sweet, providing a pleasing contrast to the tartness of the filling. (For a cobbler recipe with a traditional biscuit crust, check out my blackberry cobbler or strawberry-rhubarb cobbler.)
Tip: Adjust the amount of sugar and lemon juice depending on the tartness of the berries and fruit.
2/3 to 3/4 cup granulated sugar
2 tablespoons cornstarch
4 cups red raspberries
2 cups black raspberries, blackberries, or blueberries
2 cups peeled, pitted (unpeeled) and chopped red or black plums
2 to 4 teaspoons lemon juice
Dough
1 2/3 cups all-purpose white flour
1/3 cup packed light brown sugar
1/3 cup granulated sugar
3/4 teaspoon baking powder
1/4 teaspoon salt
6 tablespoons unsalted butter, melted
1 large egg, lightly beaten
Ice cream or whipped cream or plain heavy cream for serving, optional
Preheat oven to 375 degrees F. Lightly coat a 9-inch by 13-inch flat baking dish (or a similar size dish) with nonstick spray. For filling: Thoroughly stir together granulated sugar and cornstarch in a large bowl. Gently stir in berries, fruit and lemon juice until well blended. Spread mixture evenly in baking dish.
For dough: Thoroughly stir together flour, brown and granulated sugar, baking powder, and salt in a medium bowl. Add melted butter to bowl, stirring until incorporated. Add egg, stirring with a fork until mixture is blended and clumped. Sprinkle clumps of dough mixture evenly over fruit.
Bake in middle third of oven for 30 to 40 minutes, or until well browned and bubbly. Transfer to wire rack and let cool to barely warm or cooled before serving. Serve with ice cream or whipped cream, if desired.
Makes about 10 servings.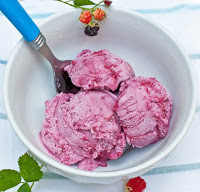 Try my to-die-for red and black raspberry ice cream here.
Another berry cobbler you may like–blackberry here.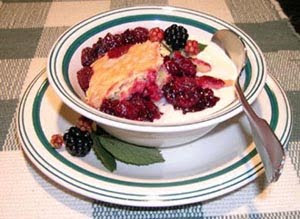 Or perhaps a bumbleberry crisp here.