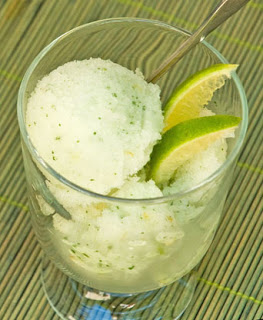 Lime! Mint! Icy-cold! I can't think of more seductive words than those today because the temperature is going to hit 100 degrees F (and with the humidity will feel like 105 F) here in Maryland! I desperately NEED something to cool me off.
Actually though, other things helped inspire this super-refreshing sorbet. I was at the IACP culinary conference in Austin last week and tried a number of margaritas, including the vaguely peculiar cucumber version shown here. I liked the refreshing hue of it, but, after taking a sip, realized I wouldn't be clamouring for more. I immediately suspected that mint would have contributed just as much attractive greenness, and, taste-wise, would have paired better with the lime. (Think mojito!)
It turns out my hunch was right. As you can see, the flecks of fresh mint do lend lovely color. And since I deliberately used peppermint leaves, they produce a unique sea breeze sensation in the mouth that makes the sorbet seems even colder and more invigorating than it would with lime alone. (I've also used peppermint to great advantage in a chocolate sorbet here).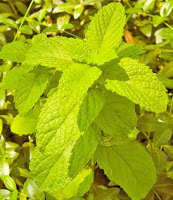 The key to the cooling properties of peppermint is its menthol. Scientists say this remarkable element jangles the nerves that detect cold temperatures in our mouths. Menthol causes these thermo sensors to send messages to the brain saying "whooo, cool," that can last up to 15 minutes. Be aware that there are many varieties of peppermint–the one shown from my yard is a hybrid called blue balsam, and it is particularly fragrant, tender and enticing in desserts. Interestingly, spearmint lacks menthol, so, while its taste and aroma are refreshing (and you can use it if that's what you have available), it doesn't impart the same lingering sensation of frosty breezes when you suck in a breath.
Lime Sorbet with Fresh Peppermint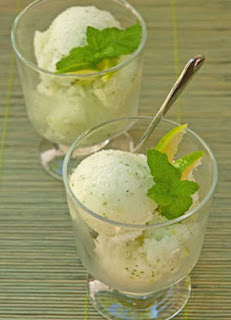 If you include the optional tequila in this sorbet, it will taste like a margarita and freeze a little less hard than the regular lime version. A scoop or two in a stemmed sorbet dish garnished with mint or lime wedges is pretty irresistible on a sticky‑hot day. The taste is clean and clear and great for reviving flagging spirits and appetites.
Note that this sorbet is readied with a food processor—no ice cream maker is required.
3/4 cup fresh lime juice, plus little more to taste
2 1/2 tablespoons tequila, optional
1 tablespoon very finely grated lime zest (green part of skin)
1 1/2 cups water
2/3 cup granulated sugar
1/4 cup light corn syrup
1 tablespoon finely chopped peppermint leaves (no stems), plus more peppermint leaves or sprigs for garnish
Combine 3/4 cup lime juice, tequila (if using) and lime zest in a plastic storage container. Stir together the sugar, corn syrup, and water in a large non-reactive saucepan. Bring just to a boil over medium heat. Cover and gently boil 11/2 minutes. Remove the lid and boil 2 minutes longer. Stir the sugar syrup into the lime juice mixture. Cover and refrigerate until cooled. Taste and add a little more lime juice, if desired. Then, place in the freezer for 4-6 hours or until frozen but not completely hard. (Let mixture thaw slightly before using if it inadvertently freezes hard.)
Break up the mixture into chunks using a fork. Place a few chunks in a large, sturdy food processor. Add the chopped mint. Process until the mint is in very fine flecks. Add the remaining sorbet chunks to the processor. (Return the storage container to the freezer to stay cold during processing.) In on/off pulses, chop the sorbet until fine, stopping and scraping down the bowl with a rubber spatula several times. Then, process continuously until completely smooth, about 2 minutes longer.
Return the sorbet to the chilled container and place in the freezer to firm up at least 1 hour before serving. Store in the freezer, airtight, for up to 10 days; if very firm, let soften a few minutes before serving.
Makes a scant 1 quart.
For another beautiful, enticing blackberry sorbet you might like click here.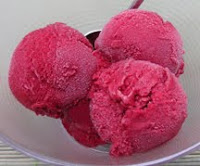 Or try my chocolate-mint sorbet here.