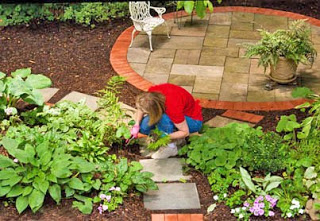 If you follow my blog, you already know I'm an avid hobby gardener. You also know from some of the previous posts and pics that I have a lot of trees and woods behind my house and consequently several cool shady spots full of ferns and hostas and in early spring lovely violets.


But I have some exciting news about my garden that you don't know. In about a week, a national magazine crew will come and photograph a little alfresco summer party I'm having with my grandchildren in my back yard. We'll be making certain season-inspired sweet treats in the kitchen, then go out and enjoy them amid the greenery. (My hubby took the shot at the top from our deck as I was busily planting some impatiens. He snapped the photo to the left and below from our bedroom balcony, and I took the bottom one of the garden on the side of the house.)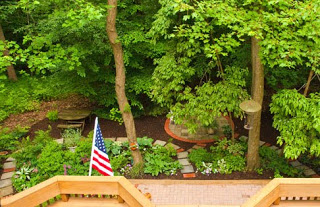 I can't tell you the name of magazine at the moment or say exactly what sweets we're making, but I can share the pics of my garden as it looks right now. (Magazines like to be sure their story ideas stay secret until they're published. And this article won't appear until next summer!) I'll definitely fill you in on how the photo shoot goes and share whatever details I can.
In the meantime, I'm anxiously weeding, pruning, mulching, and sprucing up the garden as much as I can. True, the focus will be on the food and our little summer party, but I want to be sure the setting is ready for prime time, too. What do you think?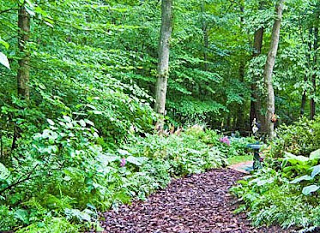 While it's fun and exciting getting ready, it's been a bit nerve-wracking as well. What if we get a hail storm? What if the marauding deer decide to meander down the path along the side of the house, merrily munching hostas as they go. Will the astilbe still be blooming when the magazine crew arrives?
Actually, I'm already looking forward to just relaxing and enjoying my oasis without worrying about whether it looks perfect or not. After all, peace and serenity are what a soothing shade garden is all about.
For my post, on the photo shoot, click here.