I learn something new at every culinary conference. So, I thought I'd share some random strange and/or interesting tidbits from the International Association of Culinary Professionals conference in Austin, Texas, last week.
Yes, that's me peering out behind the beefy boy in the picture. Finally I now fully understand why they call those big fellows "longhorns." I was standing on tiptoe and could barely reach the tip of one horn. The span to the tip of the other one was nearly six feet!
Another thing I learned was that armadillos were native to the Austin area. (At first I thought they looked cute–sort of like Piglet in the Pooh stories. I wanted to hold one, but then noticed that the little guy in the pic had large, sharp claws and that the handler was wearing very heavy gloves.) He explained that armadillos are nocturnal, which was why the ones in the pen kept trying to find a corner and just go to sleep.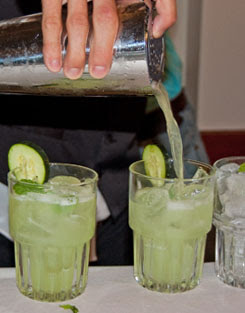 Of course, I was mostly there to learn culinary stuff, so I should mention that margaritas came in some flavors I didn't expect. The ones pictured featured, um, cucumber. No doubt the idea was that it would be extra cool and refreshing, but IMHO, it just seemed a waste of good tequila! How does it sound to you–fun or just a little weird?
Every year IACP has a culinary fair for corporate members to show off new products, and I spotted these adorable little pineapples at the Melissa's produce booth. Look closely and you can see that they're just slightly smaller than the grapefruits behind them. In case you're wondering, no, I didn't get to taste, though they're supposed to be sweet-tart and golden-colored inside.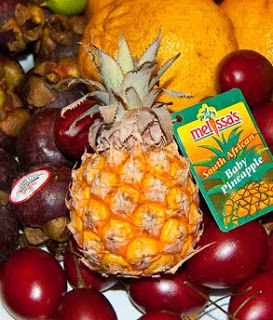 Word is, the core of these babies is edible and that one fruit makes a generous single serving.
It wasn't surprising to find assorted Mexican restaurants serving chips and salsa in Austin, but they're presented with more fanfare than I'm used to. At the Casa Chapala (shown below) our server arrived with a bowl of ground chili peppers; asked how hot we liked our salsa; then stirred them in to our taste right at the table. (I told her, "medium," then cautioned that this was "tourist medium," although I suspect she'd already guessed!)
The salsa and chips were tasty, but the margarita I tried wasn't especially memorable. We did notice a heady, rich aroma of pork stew coming from the kitchen and probably would have stayed to try it, but we already had other plans. BTW, Chapala is a city and municipality in the central Mexican state of Jalisco.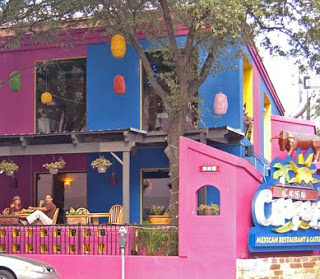 I went to another conference in Atlanta recently. You may want to check out my visit to the historical Sweet Auburn Curb Market.