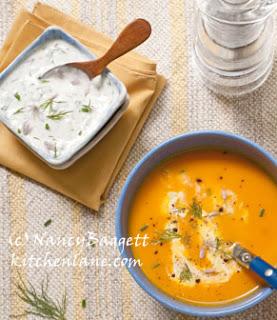 I grew up in an herbless household. Except for crème de menthe in our liquor cabinet and lavender sachets in my mother's dresser drawers, I never encountered any herbs. I didn't realize that parsley was an edible garnish until I was a young teenager! And I was grown before I realized that herbs could be an easy, effective way to banish the blands when cooking.
My first inkling of their culinary power came when I tried a
baked potato with sour cream and chives in a restaurant. The bursts of clean, vibrant, refined onion flavor from the little flecks wowed me—and still do! Thesecond revelation occurred when my family dropped in on a cousin making dill pickles. I suddenly understood that those feathery dillweed sprigs (note the bottom left of the pic above at right) were actually responsible for the fresh, cleansing aroma I'd somehow thought came from the cucumbers themselves!
The knowledge intrigued me and eventually helped spark an exploration of culinary herbs that continues to this day. Since then, I've spent a lot of enjoyable hours learning to cook and bake with both well-known herbs like thyme, basil, and oregano and recently with less familiar ones like lavender (lavender frosting recipe is 
here
) and chamomile (chamomile shortbread
here
). (For a grapefruit-tarragon sorbet recipe from my recent
Eating Well
story on using herbs to boost the appeal of healthful dishes,
click here
.)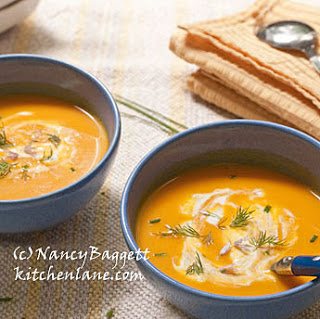 Particularly in hot weather, I find myself snipping cooling dill and zippy chives and tossing them into slaws, pasta and potato salads, and, of course, sliced cucumbers. But I discovered that dillweed pairs beautifully with another vegetable it's not usually associated with–carrots! In fact, dillweed and carrots are such an amazing match, that even though I'm normally not very enthused about carrot soups, this is one of my all-time favorite summer recipes.
Cooling Carrot Soup with Dill and Chives
This soup is surprisingly appealing even to those who are not normally great fans of carrots. (I and both of my regular testers find it addictive!) The secret is in infusing both the broth and the yogurt garnish with lots of flavor using an abundance of dillweed and chives. The technique is not only effective but easy. The soup is also very healthful.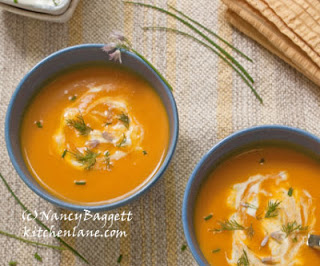 Do not even think about using dried herbs here, and be as generous with the fresh ones as your supply allows. The soup calls for "handfuls" of herbs; if you're relying on ones from the grocery store instead of the garden or farmers' market, you'll need at least a 2- to 3-ounce packet. Those added to the broth should not be chopped first, so they can be readily fished out with a fork later.
4 cups (or 1 32-ounce box) reduced-sodium chicken broth
4 cups (about 1 pound) ready-to-use baby carrots
1 medium thin-skinned white or Red Bliss potato, scrubbed and quartered
1 large handful whole fresh dillweed sprigs (including stems), plus 2 tablespoons chopped dillweed leaves (fine leaves only) for yogurt garnish
1 small handful whole fresh chives, plus 1 tablespoon finely chopped for yogurt garnish
1 1/2 tablespoons unsalted butter
Salt and freshly ground black pepper, to taste
2/3 cup regular or low-fat plain (unflavored) yogurt
Combine the chicken broth, carrots, and potato in a large saucepan over medium high heat. Lay the whole herbs over the vegetables and bring the mixture to a boil. Adjust the heat so the broth boils gently and cook, uncovered, for 13 to 15 minutes or until the carrots and potato are tender when pierced with a fork. Don't undercook or the soup will not be as smooth as it should.
Set aside until cooled slightly. Using a fork, lift off and discard all the herbs. Using a slotted spoon, remove the carrots to a food processor or blender. When the potato is cool enough to handle, peel off and discard the skin. Add the potato, butter, then enough broth from the saucepan to the vegetables to facilitate processing or blending. Process or blend until completely smooth, stopping and scraping down the sides as needed; a processor will take longer and the soup will not be quite as smooth. Stir the carrot mixture back into the saucepan. Cool slightly, then taste and add salt and pepper as desired.
Cover and refrigerate until chilled, at least 2 hours and up to 48 hours before serving. If desired, thin the soup with a little water before serving. To serve, add several teaspoons of the herbed yogurt to the center top of each bowl of soup. Partially swirl in the mixture. If desired, garnish servings with small sprigs of dillweed, and serve.Herbed yogurt garnish: Stir together the yogurt, 2 tablespoons finely chopped dillweed, and 1 tablespoon finely chopped chives in a small bowl. Taste and add salt as desired. Cover and refrigerate at least 2 hours (so the herbs can infuse the yogurt) and up to 48 hours, if desired. Makes 1 quart soup, 6 to 8 servings.
Another herbed soup (left below) you might enjoy: Cream of Green Herb-Potato Soup. Or go in another directions (below right) with Pumpkin-Tomato Bisque. To try a main dish recipe featuring dillweed, check out my meal-in-a-bowl fresh salmon chowder. But serve these warm.