Our latest excursion during our Mediterranean cruise took us to a land of lemons. It started at the port of Naples, when we boarded a bus and rode out to Sorrento and then Salerno, towns on the scenic Amalfi coast. I took the first photo en route to Sorrento; the coastal shot below from a small boat that took us along the shoreline past Salerno and provided spectacular views from the sea.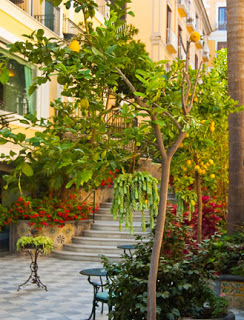 Hotel courtyard-Sorrento
Though it's not really obvious from those photos, our guide on our day trip, Celestina, told us that much of the available land is put to use growing lemons. Even the steep cliffs are terraced and planted with lemon trees. Some growers also raise oranges, but most have now converted to lemons, which are in greater demand and command higher prices. Interestingly, the lemon plants are often just grafted onto existing orange rootstock, so the farmers don't have to start over from scratch.
The shops in Sorrento and Salerno are also crammed with lemon- and orange- scented soaps (see below right) and limoncello (above right), a potent digestif Italians usually drink ice cold and straight up. Some vendors also carried arancello, essentially the same brew made with orange peels instead of lemons.
Lemons are often celebrated on the ceramics, another major product of the region. Eye-catching dishware beckoned from many shops (yes, I had to buy a few pieces to take home and display in my kitchen), where the merchants always pointed out that the items were made and hand painted there, not in China.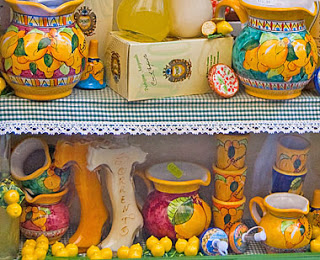 Ceramics with lemon decorations
Celestina told us that many families take advantage of the abundance of lemons by making their own limoncello at home. She even gave us a recipe to bring back and try. It takes only a week—the yellow parts of the peels steep in pure grain alcohol (or, if you prefer, vodka). I'll post the directions as soon as I test it out.
Though Italians don't serve limoncello as an aperitif—it's considered too strong to consume on an empty stomach—we cut it with orange juice (2/3 limoncello, 1/3 oj) and poured it over ice to create wonderfully refreshing before dinner cocktails.
Lemon- & orange-scented soaps
The bottle of limoncello we bought was just one of the many locally made small-batch brands to choose from. It was the best I've ever had and cost 6 Euro! (Even useless little do-dads and souvenirs cost that much and delivered far less enjoyment!)
The shot below shows a limoncello cocktail right before we drank it! The view is of the Mediterranean as we sat on our cruise ship balcony. Yes, it was as peaceful as it looks.
My recipe for homemade limoncello is here.
If you're interested in some pics of the first leg of our trip, Barcelona, click here. The photo shows the rightly famous Sagrada Familia cathedral–don't miss it if you visit Barcelona.