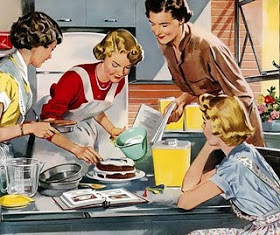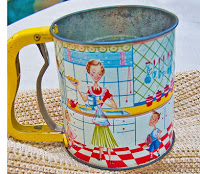 I've been looking (and smiling) at lots of American baking ephemera this week—old advertisements, product brochures, package wrappers, mini-cookbooks, even antique cookware—in preparation for a talk I'll be giving at the Home Baking Association on Monday in Vermont. The totally over-the-top vintage flour sifter is one of my own most spectacular 1950s culinary props, by the way!
Researching has been a blast, partly because these presumed inconsequential items instantly reveal a lot about what and how people baked in the past in this country. I was pleased to see that the ladies in the top pic were using a cookbook! The homemaker on the sifter is holding up a pie.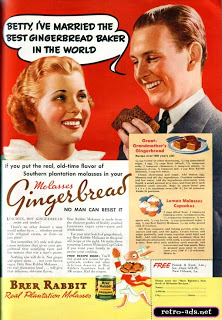 As an avid culinary history buff and long-time writer on baking topics, I've loved learning the minutiae about earlier baking methods, ingredients, equipment, and recipes. But I've come away even more struck by what some of the various ephemera reveal about American 20th century social life. It's actually hard not to snicker at the Brer Rabbit ad at left! (Interestingly, a number of their old ads hit this same "man-pleasing" theme.) For another post along these same lines, check out the vintage valentine cards featuring little girls baking up sweets for their sweetie pies.
After looking at literally dozens of images similar to those posted here, I couldn't help thinking about Betty Freidan's 1963 bombshell book, The Feminine Mystique. In it, she contended (among other things) that in the 1940s and 1950s, the editorial decisions on what went into women's publications were mostly made by men, who perpetuated the notion that the sole proper and rewarding roles for women were as housewives and mothes.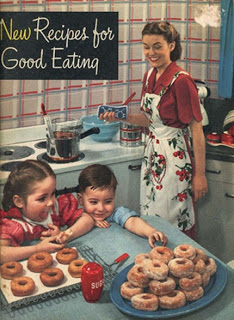 Underscoring her point, many of the baking-themed visuals from that era are ridiculous and saccharine, presenting a homemaker who simultaneously: maintains both a spotless house and her looks, keeps the children well groomed and deliriously happy; pampers her man; and is relentlessly cheerful all at times. (Notice the pretty mother's great delight and near-maniacal look of joy on the face of the little girl at left.)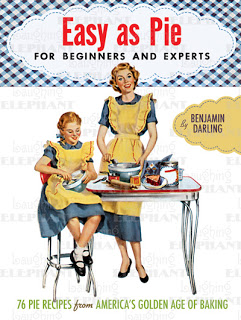 Many of the oh-so-perfect Norman Rockwell moms wear high heels, frilly aprons, stylish frocks, and, invariably, big, bright smiles. There are no curls out of place, spills on their countertops; or dishes piled in their sinks. There are no scattered toys, grimy, grumpy children, or less than ecstatic husbands in their carefully-maintained worlds. Plus, they are diligently teaching their daughters how to follow in their footsteps. No wonder Friedan's book immediately struck a loud chord and eventually spawned a whole, angry feminist movement.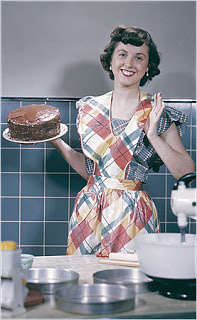 While I'm gratified that it helped free women from
having
to stay home, bake cookies, and be thrilled with their lot, I'm afraid it did give home baking a bad rap that still lingers today. Now, perhaps we should spend some time telling the next generation of both young women and men that it's okay to bake? That it doesn't make you fuddy-duddy, or demeaned, or gender bendy, and it's a huge amount of fun.
Frankly, it's a wonderful, relaxing activity to enjoy with friends and family members, and it offers the bonus of fresh-from-the-oven treats. I loved the times my mother, grandmother, and aunts and I baked together, and I know my grandchildren are thrilled with the hours they spend baking with me. (Here's a post about
a fun cookie baking session in my kitchen
with my granddaughter and great niece and here's another featuring
my grandkids making chocolate dipped marshmallows with me.
) So, yes, it is as fun and rewarding as the 1940s ephemera suggests. But do skip the Sunday-best garb and don't expect the counters to stay spotless or the utensils to wash themselves.
Does home baking carry any of the negative connotations mentioned above for you? Or do you feel we've moved on and no underlying issues are at work? If you don't bake is it because nobody ever taught you? I'd love to hear your thoughts.