I'm still breathless from my week of working with Todd Porter and Diane Cu, aka whiteonricecouple, on the photos for my next cookbook for Wiley. Breathless both at how fast they work and how gorgeous their images are—wow! I wish I could share some of the photos they took, but a snapshot from over Diane's shoulder as she was getting ready to take a pic is all I can show you. (Publishers like to keep the photography under wraps till the book comes out.)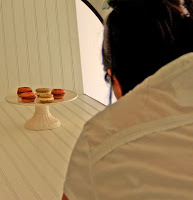 If you haven't heard of this dynamic young LA photographer team, trust me, you will soon. Their burgeoning and impressive list of credits includes work on a number of cookbooks; numerous videos for authors and organizations (see their Shauna Ahern video here); and a wide array of images for culinary product clients and restaurants. Lately they've been working for Williams-Sonoma, a major coup, since the firm normally uses only northern California photographers.
The secrets to their success? For one thing, they are very focused and hard working. They say their goal is always to deliver clients more than they promise, and they certainly did in the case of the photos for my book. I'm sure Justin Schwartz, my editor, will be doing handsprings around the office when he sees just how many wonderful images they've created for him. I couldn't be more thrilled. (Some cookies waiting for their turn in the spotlight are at left.)
Todd with one of the trees he planted
Todd and Diane have a clean, contemporary style, and an affinity for fresh ingredients and the beauty of nature that help make all their food images sing.
The tangerine tree Todd is standing by (left) is just one of dozens of citrus vareities they've planted in their well-tended yard. They also grow and enjoy their heirloom tomatoes, peppers, and abundance of herbs. We snacked on the citrus and scarfed their tomatoes and herbs every day for lunch in the studio.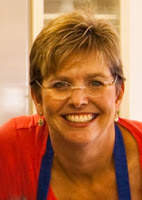 Nancy Buchanan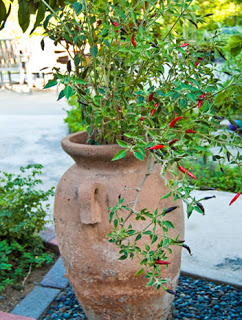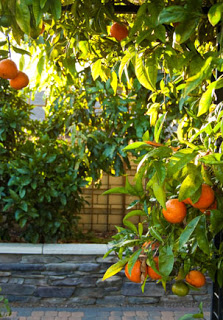 One other key to their success—they are a pleasure to be with and genuinely nice. We'll be teaming up on another project soon and I'll be delighted to connect again. In the meantime, they've probably already created more batches of beautiful images that I just can't wait to see.