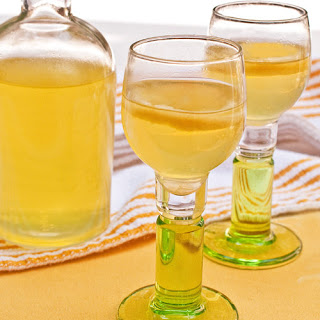 In between watching the rain pound down seemingly endlessly, building my ark, and checking to make sure our basement sump pump is still pumping, this week I've been brewing limoncello and dreaming of my recent sunny days on vacation in southern Italy. (That's where I took the pic of the store window shown below. The pic of a limoncello-orange juice cocktail at the very end of the story was snapped aboard our ship looking out on the Mediterranean.)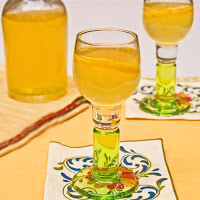 Finally today, the rain ceased for a short while. And, after seven days of steeping fresh lemon peels in clear grain alcohol, I finished making my first batch of limoncello. It came out perfectly, though it's quite strong for me to drink straight as prepared above right! That's the way the Italians prefer it– ice cold in small liqueur or shot glasses and served as a digestif at the end of meals. Apparently, even they find it too potent to consume on an empty stomach!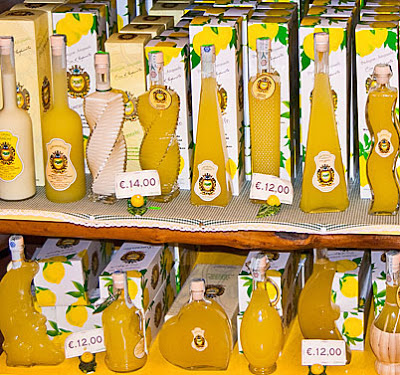 Celestina, our guide on our
day trip to beautiful Sorrento and Salerno
impressed upon us that, besides the tourists who flock to the region, lemons were an important money maker in Southern Italy. Even the cliffs and smallest gardens are put to work growing lemon trees.
She also told us that many people take advantage of the lemon crop by making their own limoncello at home. She even gave us the following recipe to try ourselves. And in both towns, we found dozens of bottles of limoncello, in all sizes, prices and shapes. The shops were also crammed with enticing lemon-scented soaps like those pictured, as well as with cheerful pottery decorated with lemons.
I succumbed and bought some of both. And a bottle of limoncello, too. (I felt I should do my share to support the local economy, of course!)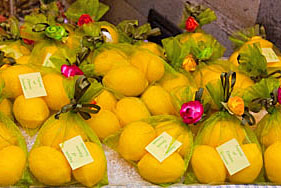 Purists say that clear grain alcohol is the best choice for making limoncello at home because it has very little taste and yields a lemon flavor most similar to the Italian versions. I used a 190 proof brand called "EverClear" grain alcohol, though I hear that plain, unflavored vodka will work, too. (Aside from being a little easier to find, it also yields a gluten-free limoncello.)
Limoncello is easy to make. You just need a bag of good lemons and a sharp vegetable peeler to remove the thin colored part of the peel and not the white, bitter pith underneath. The slight challenge is figuring out what to do with the left-over lemons. I suggest a big batch of fresh lemonade—it's much better than most you can buy.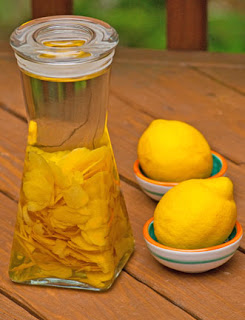 Fresh lemonade spiked with a little limoncello is wonderfully refreshing, although my preferred way to drink it is mixed with orange juice, for a sprightly lemon-accented screwdriver cocktail. That's how we polished off the bottle of limoncello we bought in Salerno. It was delicious, no doubt partly because we enjoyed it while gazing out on the Mediterranean sea!
The pic below shows three of the five bottles my recipe made. I'd already given away two as gifts. They were very well received!
10 to 12 well-washed, then dried lemons
1 liter (about 1 quart) clear grain alcohol (or substitute unflavored vodka)
650-700 grams (about 3 1/2 cups) granulated sugar
1 liter (about 4 cups) spring water, or a cup more for a less potent limoncello
Peel the yellow part of the peels from the lemons using a sharp peeler; be careful to remove only the thin layer of yellow and not the white pith underneath. Combine the strips of peel and the grain alcohol or vodka in a large jar or other non-reactive container. Set aside in a cool spot for at least a week and longer for an even more pronounced lemon flavor.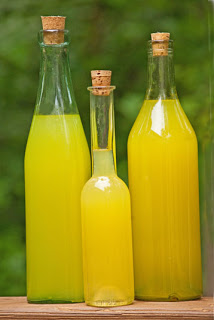 Combine the sugar and water in a 4-quart nonreactive pot or very large non-reactive saucepan. Stir until the sugar is just incorporated over medium high heat. Bring to a boil and let the mixture boil gently, without stirring, for 10 minutes. Let cool. Put the lemon peel mixture into the syrup, stirring just to blend the two.
Strain the limoncello through a sieve into a very large measuring cup or pitcher. Pour the limoncello into sturdy storage bottles; add corks; and store in a cool spot.
Before serving, put the bottle of limoncello in a very cold refrigerator or freezer until ice cold. Serve straight up in vodka or shot glasses, as the Italians do. Or combine 2 parts orange juice and 1 part limoncello (or half of each) with ice for a fine before or after dinner drink.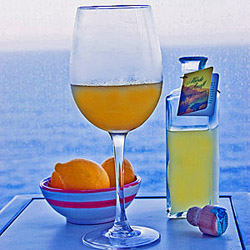 If you enjoyed this post, you might enjoy
making ratafias,
infused wine cordials, too.