You say you've been hankering for some old-fashioned baked apples, but can't wait 45 minutes for them to get done?  And that you think maybe they're too much trouble when you're rushing to get a meal on the table?
I have a great solution–these easiest-ever Microwave Baked Apples. Don't be skeptical; they are every bit as good as the regular oven-baked ones but can be on the table in less than 10 minutes if you're baking two at once; or in less that 20 minutes if you bake four at once.
Besides the apples, only one ingredient   is needed for this recipe—brown sugar.  (You do need to add water, but everybody has that on hand.)  Cinnamon is entirely optional—sometimes I add it, but with really fresh, full-flavored varieties like the Braeburn shown above and Honeycrisp sitting in the bowl below right, I prefer to just let the pure, sweet apple taste stand alone.
I've streamlined the prep time, too. Just wash the apples; core them; and set them in a deep-sided, microwave-safe dish. Or put them in individual shallow dishes (like those shown) set in a larger microwave dish that can catch any juices that boil up and over.  When you are readying only two servings, you can have microwave baked apples in only 10 minutes!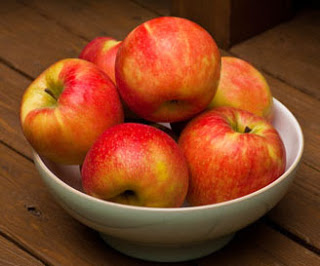 If you have a corer similar to the sturdy and effecient OXO model here, simultaneously plunging and twisting down through an apple and neatly pulling out its core will literally take less than 15 seconds. (I've found that because it makes coring so quick, I actually ready baked apples more often. I hated to give up the pointy, toothed one with a wooden handle that my grandmother always used, but, in truth, the new-fangled style does a much better job.)
I've been microwave baking apples to go with our suppers three or four times a week ever since I bought some in a Maryland farmers' market. I always think baked apples when I see the Honeycrisp variety (shown here), because I once did a side-by-side apple bake-off comparing of over 30 kinds (really!) to find the best ones for baking whole and they were among the winners.
If you check out the side-by-side comparison results of my test, you'll see that I gave Macintosh apples a low grade because they collapsed and looked drab, and the flesh had an applesaucey taste and texture. Some huffy Macintosh fans from New England actually e-mailed me to vigorously object, saying that this was the way baked apples were supposed to be. But I think they'd just never been served the better alternatives and am sticking with my original judgment. Honeycrisps, as well as Rome, Empire, Jonathan ande Braeburn apples, hold their shape and color well.
Easiest-Ever Microwave Baked Apples
2 to 4 large (9 to 11-ounce) full-flavored fresh apples, washed and dried
2 or 4 tablespoons packed light or dark brown sugar
2 to 4 generous tablespoons water
4 generous pinches ground cinnamon, optional
Some dishes are much better cooked in the oven than the microwave, but apples are delicious prepared either way. Serve microwave baked apples plain or with unsweetened table cream for breakfast, snacks, or as a lunch or dinner side dish.  Or top each with a scoop of ice cream for a simple, but yummy dessert. Tip: If you wish to ready only one apple at a time, bake for 3 to 4 minutes, checking after 3 minutes and continuing if necessary.
For each additional apple,  add 3 or 4 minutes to the total "baking" time. Be sure to check each apple for doneness by piercing the thickest part with a fork. Especially if you prepare different varieties or sizes at once, they will cook at different rates.Using an apple corer (or paring knife if necessary), remove the cores, leaving an open channel running from the top to the base of the apples.  Arrange  the apples upright in individual baking dishes or in a deep microwave-safe dish large enough to generously hold them. Don't crowd or their juices may bubble over the dish sides. Spoon a tablespoon of sugar, and, if desired a pinch of cinnamon into the center cylinder of each apple, pushing it  into the cavity. Drizzle about 1 tablespoon of water into the cavity. Cover the dishes or dish with a microwave oven cover or lid.
Microwave the apples, covered with a microwave-safe cover, at 100% power: The baking time will vary depending on the variety and the total weight of the apples. At 3 minutes check if baking 1 apple, at 7 minutes begin checking 2 apples; check the thickest part by piercing with a fork. Baking time may range up to 12 to 15 minutes for 4 large apples. Keep checking every 2 or 3 minutes until they are tender.  Let apples stand a few minutes before serving. If apples were not readied in individual dishes, transfer them to individual bowls and spoon the cooking juices over them, dividing equally. Makes 2 to 4 servings.