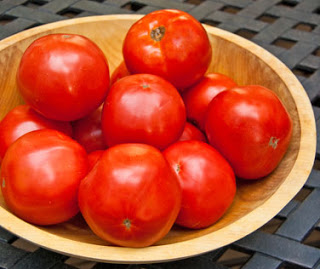 All summer I told myself I'd buy some extra vine-ripened tomatoes at the farmers' market so I could oven-dry them. Now, fall is coming and once the first frost zaps the local tomato crop,  we won't have local tomatoes in central Maryland again until next July.
So,  I finally stopped procrastinating.  By investing just a little effort, and a few hours of slow, gently baking, I now have a goodly stash of sweet, intensely tasty oven-dried tomatoes to enjoy once tomato season has passed.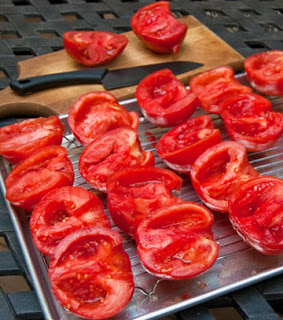 In case you're unfamiliar with the oven-drying technique, it's one of the simplest ways to capture, intensify, and preserve the goodness of summer garden tomatoes for enjoying after they are out of season. Homemade oven-dried tomatoes are reminiscent of commercially bottled sun-dried tomatoes, but they are much more succulent and tender. Even more important, they taste fresher and, yes, decidedly better! This is because they are actually not dried all the way through, just very gently slow-roasted for a number of hours until their surfaces slightly caramelize and their juices and flavor concentrate. They will  keep, airtight, in the refrigerator for up to two weeks, or in the freezer for up to a year.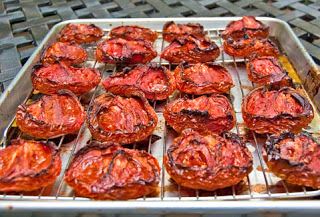 Oven-dried tomatoes substitute nicely for commercial oil-packed sun-dried tomatoes in dishes. Try simply chopping two or three and adding them, along with chopped onion and some good black olives, to a simple chicken saute. Or toss them along with some chopped basil and perhaps shredded cheese with a bowl of warm or room-temperature olive-oil-dressed pasta. Or add them to a vegetable soup. Their flavor will bowl you over!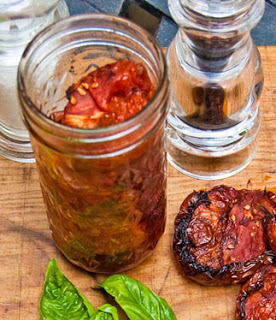 Although oven-dried tomatoes recipes often call for plum tomatoes, I usually use the regular 3- to 4-inch roundish garden tomatoes that are more readily available in markets where I live.  Other than being thicker and taking longer to dry, they are handled just the same way. The method will work for various quantities, but try to start with a minimum of 6 to 8 tomatoes, as they shrink considerably during drying. Also, a double batch makes more efficient use of the oven during the 5 to 7 hours of roasting time required.
Oven-Dried Tomatoes
Tip: Use a light hand when adding the salt. As the tomatoes dehydrate, the salt concentrates and can easily become overpowering.
Tip: Double the recipe if desired.
Preheat the oven to 275-degrees F. Wash the tomatoes well; pat dry. Core and slice in half lengthwise. Scrape out and discard seeds from the interior of each half. Lay the tomatoes, cut side up and slightly separated, on a wire rack set over a rimmed baking sheet. Lightly sprinkle the tomato halves with salt. Drizzle them lightly with oil.
Place in the middle of the oven. Dry for 5 to 7 hours, or until the tomatoes look shrunken and are the consistency of soft, very moist dried apricots. If the tomatoes appear to be burning at the edges at any point, reduce the oven temperature 25 to 50 degrees F and continue. Larger tomatoes will take longer than the small ones to dry out. Set aside to cool.
Lightly pack the tomatoes in very clean glass jars. If you wish, drizzle a bit of oil over the tomatoes to prevent them from drying out. Keep in mind that olive oil will solidify but corn oil will remain fluid during refrigeration. Close the jars with non-reactive lids. Refrigerate for up to 3 weeks or freeze up to one year.
6 to 8 tomatoes will yield 2 4 to 6-ounce jars.
For another good, but quick tomato recipe, check out my sliced tomatoes with oregano salad.