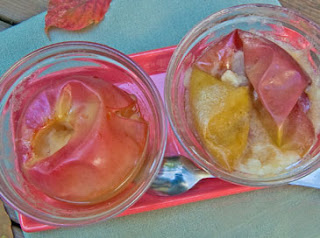 A while back I tested a lot of different kinds of apples and then posted the results on which ones were best for preparing baked apples. (They don't all bake up the same, as the pics here prove!) Among those I rated most highly: Honeycrisp, pictured below at right, Rome, Jonathan and  Empire (shown left, above). The ones I cited as the biggest duds were an old stand-by, the McIntosh (shown right above) and Granny Smith. The Mac tasted good but just didn't stand up, literally, to the heat; the Granny tasted tart but not much else. (You can read all the details of my great apple bake-off here.)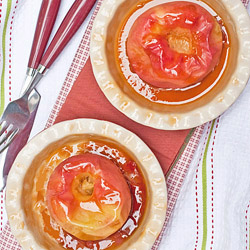 Another apple that baked up very attractively and tasted good was the Braeburn, pictured at left. Incidentally, the super-easy  recipe for them calls for only two ingredients (apples and brown sugar), and because you "bake" them individually in the microwave, an apple can be ready in about 5 minutes.  Really!  Here's the quick, microwave-baked recipe.As anybody who has ever expressed any opinion about anything on-line knows, even a statement supported by facts and thoughtful consideration will get blasted by somebody. The Internet is full of folks with axes they are always eagerly waiting to grind. And as it turns out, apples are as touchy a topic as whether or not an outfit makes the wearer look fat.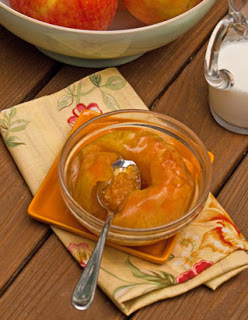 Several folks—all hailing from New England, interestingly—immediately responded that I was, let's just say, um, misinformed.  They felt that McIntosh apples were absolutely, positively the best ones for baking whole. That baked apples were supposed to slump down and lose their color during baking. That they liked their baked apples mushy and applesaucy.
Two peeps mentioned that this was how they remembered their mothers' baked apples. Which explains why it was utterly fruitless (sorry!) for me to argue further.  Our food preferences are profoundly shaped by what we ate as children—items served then often become our touchstones for how certain dishes should taste forever. Even if they actually weren't very good.  (It's probably best not to say more on that.)
Anyway, in the belief that pictures really can sometimes be worth a thousand words, here are some undoctored shots of several microwave "baked" apples to compare. Would you really rather tuck into the Empire baked apple on the left above, or the McIntosh on the right?  Besides looking more appealing, IMHO the Empire, as well as the Honeycrisp shown right above, have a fuller, more satisfying apple flavor.  On the other hand, the yellow Ginger Gold, below, held its shape during baking, but in fact, tasted a little bland.  (Here's the
quick, 2-ingredient microwave-baked
quick, 2-ingredient microwave-baked apple recipe
pple recipe
I used to ready it.)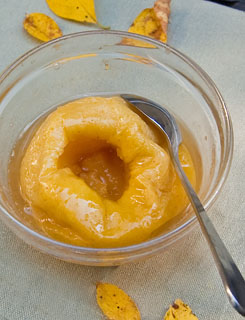 So, I'm still sticking with my original picks. But feel free to grind your ax and offer your alternatives to change my mind. I baked apples all the time, so will gladly try whatever apples you strongly recommend. Tip: Telling me your Mom always prepared a certain variety won't help your cause!