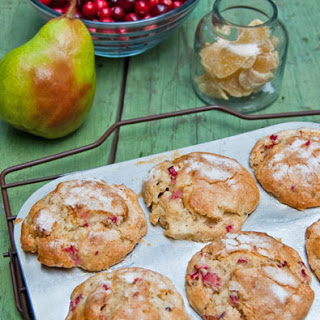 I just had to make this recipe again!  Fresh, succulent cranberries are back in my local markets and practically begging to be used. So are a bountiful array of pears. And I returned last night from a baking convention that inspired me to rush home and crank up the oven. Now, light, fragrant muffins are ready for serving with soup for lunch.
If you've only baked with dried cranberries, this recipe may surprise you–the chopped fresh berries add bold accents of tartness and beautiful color. Don't try to substitute dried, sweetened cranberries (not enough zing), although if they're on hand, it's fine to toss in some for a little added chew. The pears in the recipe contribute very subtle flavor and help keep the muffins exceptionally moist.
Another important ingredient is crystallized ginger, which heightens flavor in both cranberries and pears. Crystallized ginger is available prepackaged in jars or cellophane bags in spice racks and gourmet sections, and sometimes loose in baskets or bins near fresh ginger root in the Asian or Indian ingredients section of supermarkets, gourmet shops, and health food stores. If you can find it, crystallized ginger is usually much more economical purchased loose. It keeps well on pantry shelves, and enhances many spiced baked good, so I often buy a half-pound at a time, then transfer it to an airtight plastic bag or glass jar.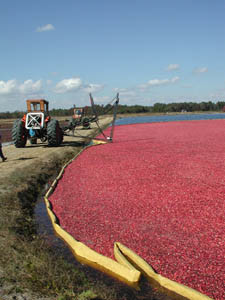 The harvesting of ripe cranberries usually takes place in early October along the east coast, and today only a small percentage are picked dry by hand and sold fresh and whole in stores. To reduce labor costs, most are wet harvested, after the bogs are flooded. Large wheels rotate through the water, loosening the berries, which then float to the surface. The pic show a flooded cranberry bog I visited in Whitesbog, New Jersey, several years ago. The floating berries are actually guided up a conveyor and into a truck, and because the wet fruits are highly perishable they are rushed to a local Ocean Spray processing plant and turned into juice and canned sauce. To see more pics/info on cranberries being harvested, click here.
These muffins are excellent served with soups and stews, at breakfast, as snacks, and, of course, with any Thanksgiving meal. For other cranberry options, check out my Cranberry-White Chocolate Cookies or try my Cranberry-Cherry Crumb Bars.

Cranberry, Pear, and Crystallized Ginger Muffins
Serves:
Makes 12 standard-sized muffins
Ingredients
2 cups all-purpose white flour
2 teaspoons baking powder
½ teaspoon salt
¼ teaspoon baking soda
½ teaspoon each ground allspice and ground ginger
Scant 1 cup granulated sugar, divided
1 large egg
⅓ cup corn oil or canola oil
¼ cup plain nonfat or low-fat yogurt
¾ cup low-fat or whole milk
2½ tablespoons finely chopped crystallized ginger
2 teaspoons finely grated orange or lemon zest (colored part of peel)
1 cup peeled and chopped ripe Bosc or Bartlett pear (1 large)
½ to ⅔ cup chopped fresh cranberries
⅓ cup dried sweetened cranberries, optional
Instructions
Preheat oven to 425 degrees F.
Coat 12 standard-sized muffin tin cups with nonstick spray.
Thoroughly stir together flour, baking powder, salt, soda, allspice, ginger, and all except 1 tablespoon sugar in a large bowl. (Set 1 tablespoon sugar aside for garnishing muffin tops.)
In a medium bowl, using a fork thoroughly beat together the egg, oil, and yogurt. When well blended and smooth, stir in the milk, ginger, and zest.
Stir the milk mixture and pears into flour mixture just until dry ingredients are moistened and fruits evenly incorporated; for tender muffins don't overmix.
Gently fold in the cranberries.
Using a heaping ¼-cup measure, or large spoon, immediately divide batter among 12 muffin cups. (Cups will be full.)
Sprinkle tops with reserved tablespoon sugar, dividing it among them.
Bake for 14 to 17 minutes or until golden brown on top and springy to the touch.
Cool on wire rack 5 minutes; remove from pan.
Serve warm or at room temperature. Best when fresh, but will stay moist for several days.