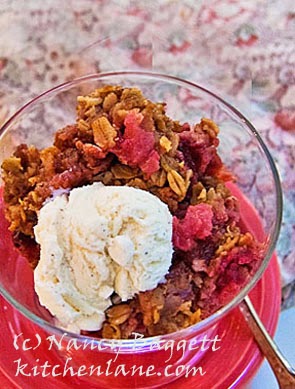 Last week I kept eyeing the bags of cranberries in the refrigerator, thinking I really should make something with them because nature's goodies deserves to be treated with respect and even cranberries won't sit in there forever. Then,  I thought that once I created this crumble recipe, I'd get you drooling with words like "festive" and "seasonal," and by pointing out  that the color of cranberries is so much deeper and richer (not to mention better for you) than anything out of a food coloring bottle. And that their flavor is so bracing and zingy and marries so perfectly with fresh local apples that when you take a bite you can almost feel  the cool autumn mist from crimson bogs on your face and hear the fallen leaves crunching underfoot in the orchard.
Yes, I craved a taste of the season mightily, but needing to dispatch some cranberries motivated me more.  The conventional wisdom is that cranberries are excellent keepers, and they are certainly on the far end of the spectrum from, say, pears, which go  from  too hard to exquisitely ripe to mealy-mushy in about 3 hours.  But in an impulsive gesture in support of our poor, over-productive  cranberries farmers (more on harvesting berries here),  when I first spied fresh berries in the markets in September I bought more bags  than I'm going to admit to here.  And now October is gone, and we're into November, and soon their smooth, shiny skins will wrinkle, and they'll be too soft to bounce when dropped.  (Did you know that some early American settlers called craneberries "bounce berries?") Flaccid is as unattractive a descriptor of cranberries as it is of most other things—I'll leave it at that.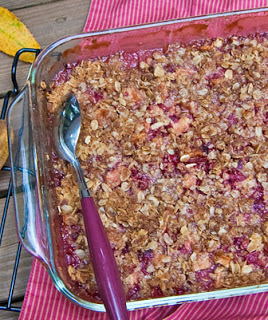 So here we finally are, one cranberry bag less in my crisper, and one large, sumptuous cranberry-apple crumble to consume.  As it baked, the smell of toasty oats, butter, brown sugar, and the fruit all bubbling up together grabbed hold and wouldn't let go of me.  It was hard not to find a spoon and dig in as the dish came out of the oven, but the flavor is fuller if you wait a bit. (How fitting that the leaves kept drifting down while the crumble cooled on my deck.)  I actually doubled the recipe, so the one shown here is humongous, but feel free to make it regular size if you're not trying to save so many good berries from coming to a bad end.
I dished up a serving and plopped on a scoop of ice cream to take a picture, deciding pretty quickly that instead of just having the dish of crumble sitting there, it should look as if someone was actually in the act of eating.  So, for art's sake, I took a spoonful, which led to a second, which soon led to all eating and no photographing any more.  What with the cold and creamy mingling with warm, sweet-tart berry-tinged apples and accents of chewy-crispy oats, if I have been a cat I'd have purred.  Like long walks in the woods and visits to a cider mill, this is the sort of indulgence autumn was just made for. (Another equally appealing indulgence is this cranberry streusel bar recipe.)
Cranberry-Apple Crumble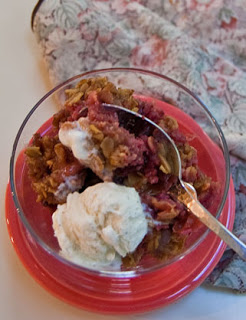 As presented, this is tangy-tart. For a tamer taste, add two or three extra tablespoons of brown sugar to the recipe. For best apple flavor, combine several kinds of apples–Stayman, Johnathan, and Rome or Honeycrisp are lovely together.  The recipe is an updated version of one that I created back in the 1990s for my Dream Desserts cookbook.
The servings really call out for a scoop of ice cream.
Tip: If you need a gluten-free version, simply substitute white or brown rice flour for the all-purpose flour and use certified gluten-free oats.

Cranberry-Apple Crumble
Ingredients
1 cup rolled oats
¾ cup plus 2 tablespoons packed light or dark brown sugar
3 tablespoons all-purpose or unbleached white flour
¾ teaspoon ground cinnamon
6 tablespoons unsalted butter, softened
3⅔ cups peeled and diced Stayman, Jonathan, Rome or other tart, flavorful apples
1 teaspoon lemon juice
2⅔ cups fresh or frozen (thawed) unsweetened cranberries, chopped
Ice cream for garnish, optional
Instructions
Preheat oven to 375 degrees F. Lightly grease a 7½- by 11-inch baking dish.
Stir together the oats, brown sugar, flour and cinnamon. Using forks or fingertips, cut in butter until thoroughly incorporated. In a large bowl, toss apples with lemon juice until well combined. Stir in cranberries. Reserve 1¼ cups oat mixture for topping. Add the remainder of oat mixture to the fruit, tossing until well mixed. Spread the mixture in baking dish. Sprinkle reserved oat mixture over top.
Bake for 35 to 45 minutes, or until mixture is bubbly and nicely browned on top and apples in the center are tender when pierced with a fork. Transfer to a cooling rack. Serve warm or at room temperature. Store, refrigerated, for up to 3 days.
Makes about 6 servings.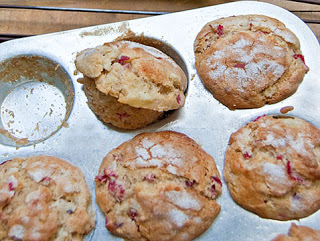 For another way to make use of fresh cranberries, check out the Cranberry-Pear muffins here.