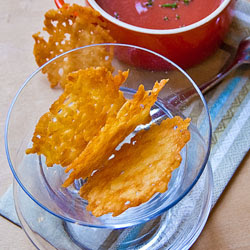 Like many home bakers, I've been focused mostly on cookies and similar sweets the last few weeks. But now I'm yearning for something savory to serve. The Parmesan wafers immediately came to mind.
As you can see, they are light, fragile-crisp, and enticing looking. And since they contain only Parmensan cheese and herbs, they are slightly salty and full of flavor. (And gluten-free, as well.) They are excellent munchies to serve with cocktails, or with a soup course (especially tomato soup–yum). Or offer them along with a glass of bubbly when you ring in the New Year.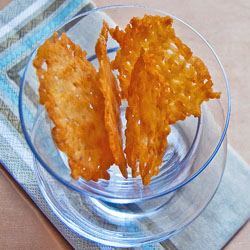 The most successful nibbles and noshes always seem to be highly addictive, and these are, too. So of you're serving a crowd, consider doubling or tripling the recipe.
Herbed Parmesan Wafers
The only key to success with these amazingly simple but tempting wafers is to use fresh, good-quality Parmesan cheese. The black pepper is optional; add it amply, or sparingly, as desired.
1 1/3 cups freshly shredded good quality Parmesan cheese
 1 teaspoon finely chopped fresh chives or 1 teaspoon dried chives or basil leaves
 Fresh, coarsely ground black pepper, optional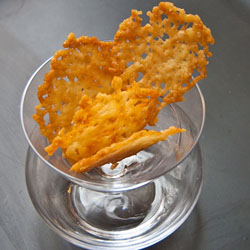 Position a rack in the upper third of the oven; preheat to 375 degrees F. Line two large baking sheets with nonstick foil or with foil sprayed with nonstick cooking spray.
In a medium bowl, stir together the cheese and herbs. Using  a 1 tablespoon measuring spoon filled about 2/3rds full, scoop up the mixture and place in 2- to 2 1/2-inch mounds about 2 1/2  inches apart on the sheets. Pat or spread out the shreds so they are evenly spaced and spread out in the round. Grind fresh coarse-ground black pepper, over the tops, if desired.
Bake (upper third of the oven) one pan at a time for 6 to 9 minutes; reverse the pan from front to back about halfway through, continuing until the wafers are bubbly and just slightly golden colored. Remove from the oven and let firm up about 2 minutes. Using a wide spatula transfer the crisps to paper towels and let stand until cooled to at least warm. Serve them barely warm or at room temperature. Makes about 25  2 1/2 to 3-inch wafers.
Or for another cracker recipe (it features peanuts), go here.